"Our new brand promise brings a real sense of meaning" | Insurance Business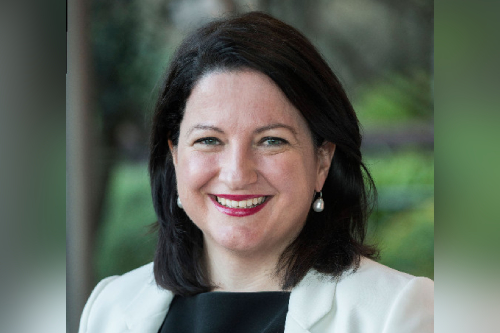 'Behind you for what's ahead' – that is the message that Allianz Australia wants to get across as the unit becomes the first within the global insurer to introduce a new visual identity in line with the group's purpose of securing people's future.
A product of creative start-up Howatson+White, the local campaign is aimed at 'exciting' Australians, said Allianz Australia marketing general manager Sophie Finn (pictured), who believes that it will also help form a deeper emotional connection with consumers while showing that, coverage-wise, there is what she called "a genuine choice".
As people look for stability, especially following a particularly challenging year not only because of the pandemic but also due to recent natural disasters, Finn cited the important role played by insurance in providing confidence.
"As our industry continues to navigate these challenges, evolving to meet our partners' and subsequently customers' needs, and ensure trust, is pivotal," she told Insurance Business.
"We have protected Australians for over 100 years," Finn went on to highlight, "and despite these changes to the world in which we live and operate, one truth remains the same, and it is that at Allianz we secure people's lives and give them courage for what's ahead, no matter what.
"This is why it was important for us to really connect with Australians through this campaign – to show them we're behind them for what lies ahead; but also empower brokers to have this conversation with their clients."
The goal, according to Finn, is to demonstrate the insurer's unique value to both its partners and customers with refined clarity. Specifically for Allianz Australia's partners, she said the insurer's promise comes with renewed purpose.
The general manager explained: "The idea of 'Behind you for what's ahead' is a message to all Australians about how Allianz delivers on our promise; how we enable and encourage our partners, customers, and the communities we serve to have confidence in tomorrow.
"Our new campaign demonstrates this – we focus on real and raw life moments where people courageously choose to determine their future in seemingly small but significant ways because we know it's not just in the big moments that we build trust, it's also in the smaller everyday moments."
Finn added that delivering the best experience for Allianz Australia's partners is living up to the vow, which in turn will lead them into what she said is "the next chapter" of a mutually beneficial relationship.
"The insurance industry has navigated the ongoing regulatory shifts with agility, and at Allianz we are evolving to meet partners' and customers' needs," asserted Finn. "Given these ongoing changes we're facing, we are thrilled Australia is the flagship for the new Allianz brand globally and are excited to see our brand promise come to fruition after over a year of co-collaborating with our global peers."
She said they collaborated at a global level on the development of the brand platform to ensure that it not only represents the Allianz brand globally but also resonates locally and strengthens the company's Australian presence.
Finn told Insurance Business: "We believe that in this challenging time many are facing, our new brand promise brings a real sense of meaning, and with it, we look forward to growing the already-strong relationships and offerings across our partner channels.
"Confidence in tomorrow is really about how we make our customers feel, through our actions, and our hope is that the customer experience only strengthens further with the introduction of this new promise; as well as contributing positive action to the insurance industry in this time of change."