Over 250 insurance professionals gathered at Austbrokers Conference 2022 | Insurance Business Australia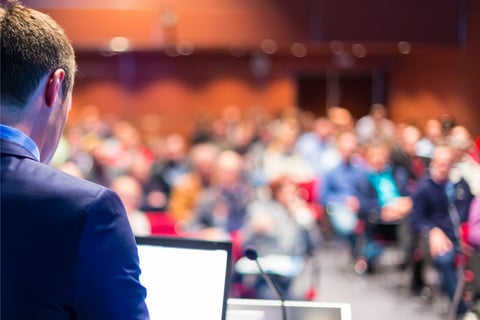 Austbrokers, a division of ASX200-listed group AUB Group, welcomed more than 250 insurance professionals at the Austbrokers Conference 2022, held from May 9 to 11 at the Mantra on Salt Beach, Kingscliff.
The conference had the theme "Stronger Together" to focus on the strength of the collective group through perseverance and resilience, as well as the strength formed by working with industry leaders.
During the event, brokers and partners listened to keynote speakers Alex Nobel and Ben Crowe and participated in educational breakout sessions hosted by their insurance partners.
Austbrokers also announced the winners of its prestigious awards at a Gala Dinner, recognising those who have demonstrated excellence in the insurance broking profession.
One of the winners was Barry Sonter of Finsura, who took home the Frank Earl Award. This award was re-established this year in memory of Frank Earl, a highly regarded broker who significantly contributed to the development of Austbrokers and the broking profession. He was also the director of Austbrokers Holdings from April 2005 until his passing in 2010.
"Barry has been a fantastic contributor to the Austbrokers network for many years and is highly regarded by clients and peers across Australia. He has also played an important role in mentoring young brokers within the industry," Austbrokers said in a statement.
Read more: Austbrokers Coast to Coast CEO Dale Hansen emphasises importance of mentors
Meanwhile, Jesse Thorp from Adroit Insurance & Risk received the Austbrokers Young Professional Award – representing the pinnacle of achievement for the Austbrokers young broker community – for her dedication to the industry, professional development, and passion for innovating and driving his business to support the network and customers for future generations.
Lastly, Ben Donald of ABFS Life received the Austbrokers Life Adviser Award due to his excellence in the financial advice profession in the life industry, particularly his technical skills as an adviser and contribution to the broader financial services industry in addition to the Austbrokers network.
Commenting on the winners, Austbrokers chief broking officer Ben Bessell said: "It was fantastic to see the calibre of those who were nominated for the awards. Congratulations to Barry, Ben, and Jesse for their outstanding service to our customers and the Austbrokers businesses they represent. The conference was a great success and reinforced the benefit of engagement with all our partners and experiencing 'stronger together' in action."