QBE leader on what has created "an extraordinary opportunity for all of us" | Insurance Business Australia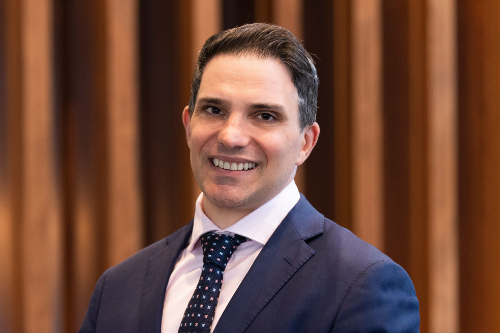 To say that the past 15 months have been interesting for QBE people risk general manager Rob Kosova (pictured) is perhaps an understatement. Here the Women in Insurance Summit 2021 speaker talks about his experience navigating the changes, and shares how business leaders can do the same without being stumped by over-analysis.
Kosova, who looks after QBE's lines of commercial insurance focussed on helping customers and partners better identify and manage risk to people, recalled: "The most immediate challenges were of course around self and family care, team care, and extending immediately into customer and partner care – that was intense! Since those early days though, to be honest, it's been much more about finding the opportunities among the challenge."
"For anyone working in, with, or around people – whether that be HR, safety & risk, personal injury claims, people leaders, etc. – it's created an extraordinary opportunity for all of us to challenge assumptions and care for and support one another much more deeply," said Kosova, whose remit spans workers' compensation and accident & health insurance.
"Not just because HR asked us to, but because we've seen this case study play out live right in front of us – something that will be the basis of scientific, behavioural, and economic research for decades."
The GM went on to assert that "healthy people equals healthy economies" should be the common understanding, if it isn't already. He believes having this view will allow us all to collectively do "amazing" things for health, well-being, and productivity as an industry and as a community. The insurance purchase cycle, in particular, provides that level of closeness with customers to facilitate people risk management discussions.
Moving forward, Kosova said he is most excited about "the rebasing of assumptions around the extent to which we are prepared to consult, care, and connect with our people and importantly why we do it," adding that the fourth industrial revolution will continue to drive a focus on people having higher-level thinking, which in turn will drive higher expectations around workplace experiences, for instance.
"COVID has taken this development to another level," he told Insurance Business. "The link is clearer than it has ever been: that if you can keep people healthy, safe, and well – and that's everyone's responsibility, not just government's – then people can operate 'at their best', which is great for culture and translates into better customer service, improved productivity, and people being in a state of mind and therefore more conducive to thought leadership and innovation."
At QBE, Kosova highlighted, there exists a programme called [email protected], which was in place even prior to the pandemic. It provides decision-making guidelines in relation to the workplace, featuring flexibility in areas such as location, dress code, schedules, tools, benefits, and even thinking.
The GM said: "COVID has obviously created the perfect opportunity to nudge this mindset towards 'work is a thing we do, versus a place we go'. We see this as much more permanent hybrid ways of work built on addressing three core aspects of people and performance – the work we do, working as a team, and working at my best."
Amid the changes, Kosova thinks it's crucial to overcome inertia and 'paralysis by analysis', and that it's important to be internally certain as external uncertainty persists.
"There are lots of opinions to weigh up, but the key thing for organisations is to start consulting with their people and to trust in that process," he noted.
"The dependent consideration is, therefore, 'Does the organisation listen well to its people? Is it diverse and inclusive, balancing out those perhaps with the loudest voice with all the voices, etc.?' Personal biases will be a big one here, particularly for leaders – be conscious of the bias and lean towards action over procrastination."
Kosova stated that if ways can be found to 'dial up' the certainty, then workplaces will come out of the crisis better, together.
He explained: "What I mean by this is people leaders saying, 'I might not know what the lockdown means for me, when it will change, when I'll be back up and running. What I can control, though, is how I care, consult, and communicate with my people. If I'm in touch with what they think and need from me and I'm able to be open and honest with them, at least I know I'm as internally certain as possible, despite the external uncertainty.'
"This really links in then to how we, as an insurer and more broadly as people in the insurance industry, can be there to assist our customers – with support, tools, resourcing, thought leadership, and connection into an ecosystem of providers who can help."
Kosova is among the speakers at this year's Women in Insurance Summit Australia taking place on August 05. Register now.