QBE supports indigenous youth education | Insurance Business Australia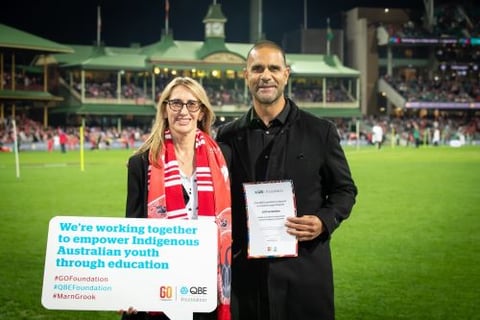 QBE Foundation, the charitable arm of Australia's largest global insurer, has donated $10,000 to GO Foundation's Indigenous youth scholarship program, to help create better learning experiences and outcomes for Indigenous youth.
The $10,000 donation was presented to Michael O'Loughlin, GO co-founder and Swans great, at the Swans' Marn Grook match at the SCG. The match was part of the Sir Douglas Nicholls Indigenous round, an annual AFL initiative that recognises and celebrates Indigenous Australian players and culture.
"GO's scholarship program makes a meaningful difference to the lives of young Indigenous Australians and directly aligns with the QBE Foundation's mission to help people overcome disadvantage, strengthen their abilities, and live more independently, successfully and productively," said Bettina Pidcock, QBE Australia Pacific Foundation chairperson.
O'Loughlin thanked QBE for its invaluable support of GO Foundation since 2014.
Read more: QBE backs Indigenous youth education with $10,000 donation
"QBE's donation provides much needed support to the GO Foundation's scholarship program, supporting students from kindy through to tertiary studies, helping us create brighter futures for hundreds of Indigenous Australians," O'Loughlin said. "Our scholarships provide resources and tools critical to our students learning experience including laptops, at-home Wi-Fi, books, uniforms, excursions, school camps, musical instruments, sports equipment, and coaching."