Taking flight to assess damage claims | Insurance Business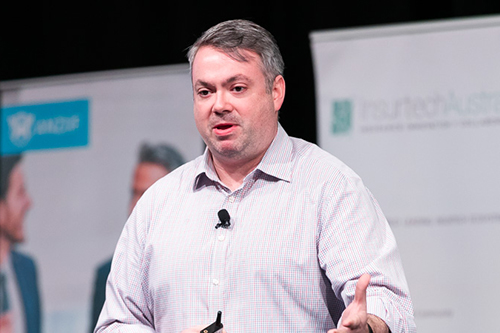 "The cameras are about the size of a keg of beer – about the same weight too," Ryan Bank (pictured), managing director of the Geospatial Intelligence Center (GIC), told Insurance Business. "They're super sensitive and we can use them to see down to 7.5cm resolution imagery."
Moments earlier, Bank was speaking at ANZIIF's Insurtech conference in Sydney, a two-day event bringing together leading industry figures to explore the usage of technology in insurance.
GIC serves the insurance industry with geospatial support and data collected annually, as well as following disaster events for first responders and insurers. It uses ultra-sensitive and high-quality cameras, attached to surveyor fixed-wing airplanes to view property before, during and after natural disaster events, to provide ultra-rapid claims response and information. It launched in Australia only last year.
GIC and the program prides itself on being at the forefront of claims and imagery technology. It can provide insurance companies with access to one of the most advanced aerial imaging libraries and geospatial data sets available today. With this intelligence, insurers can expedite claims processing through rapid, remote post-disaster property assessments, gain actionable insight into property risks and conditions with up-to-date digital maps, and streamline underwriting operations.
The company though has its roots back in United States – and its first outing was not your usual testing ground.
"The first time our planes flew, and cameras rolled, was in response to Hurricane Harvey," explained Bank. He remembered that during this first full flight, the board had convened to see what the planes and cameras could do and give the greenlight for the future. But with the hurricane circling, they would glance from the imagery provided by the planes to the live images on the news.
"They were looking from screen to screen and just said – 'just go ahead now, we give you the greenlight'," he explained.
In Australia, the planes and cameras were rolled out in Spring of 2019 – and were quickly called into action as the bushfires started to rage across the country.
"We flew over 90% of the population affected by bushfires," said Bank. "We were able to go over most of the areas and land masses affected." They were able to relay their images of damage to client property not just to customers themselves, but also insurers, the Insurance Council of Australia and even the government.
So in the future will we see this type of claims response and management become more frequent?
"Absolutely," said Bank. He explained that with Australia being a country suscepitable to natural disasters – and with people relatively spread out across the east coast and inland - the speed at which GIC's planes can respond to damage, to then kickstart the claims process, is hugely significant.
"This method makes the whole process much easier," said Bank. "Whether it be on the underwriting, pre-loss side, helping to mitigate risks, or the post-loss process after a natural disaster or catastrophic event."