Victoria's removal works of flammable cladding hits snags | Insurance Business Australia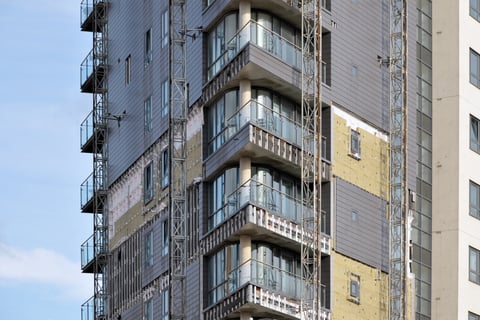 Victoria has not yet entirely removed flammable cladding in buildings, with less than a fifth of rectification works completed, according to Cladding Safety Victoria's (CSV) annual report.
By June 30, 2021, CSV had overseen the renovation of 107 buildings at-risk from using aluminium polyethylene-core and expanded polystyrene panels since December 2020. Specifically, it removed 25,524 square metres of cladding from 40 private apartment buildings and 67 government-owned buildings, equivalent to 1.25 times the playing surface of the Melbourne Cricket Ground.
So far, the removal program has removed flammable cladding from MCG, a major hospital, 10 public housing buildings, and 40 Victorian schools.
However, a significant bulk of cladding removal works remains unfinished. Of the 723 buildings referred to the statutory authority by mid-2021, including 176 over the last financial year, 536 were inducted into the program, as reported by Cowra Guardian.
CSV claimed the removal program faced several issues that resulted in a significant bulk of unfinished work, including cladding exclusions in professional indemnity insurance, original builders' unwillingness to come back and rectify the combustible cladding, and non-cladding building defects that made removal and replacement difficult.
CSV chief executive Dan O'Brien admitted that there is still much work needed to complete the program even though an industry-first private indemnity insurance scheme has allowed more builders to start the process.
"We face many complexities," O'Brien said, as reported by Cowra Guardian. "In the next 12 months, the organisation will continue to refine its processes and procedures while rectifying more buildings across both the residential and government programs through each of these issues throughout 2020/21."
Read more: Victoria spends $7 million to fix cladding insurance gap
In February 2021, Victoria's government announced it will spend $7 million on insurance to help builders and consultants rectify over 500 residential buildings earmarked with combustible cladding.
In a previous statement, CSV confirmed that it secured the coverage out of its $600 million budget, filling an insurance gap to help companies get cladding exemption-free professional indemnity cover during and after their work is completed.
"We're really looking at a program which has a heavy reliance on fire engineers, building surveyors, architects, [and] quantity surveyors. Those first three, in particular, have had significant limitations on their policies that make it very difficult to get a good depth of market," O'Brien told the Australian Financial Review (AFR) in February 2021.
Planning Minister Richard Wynne added in a previous statement that the lack of professional indemnity insurance covering cladding was an international problem. However, he claimed that the previous government was to blame for privatising building surveyors.
"We find ourselves in this situation because of the privatisation of building inspectors under a former Liberal government," Wynne previously told AFR.