Wotton + Kearney names first non-executive chair | Insurance Business Australia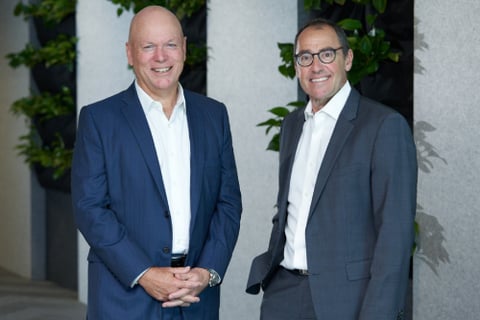 Specialist insurance law firm Wotton + Kearney has welcomed David Nathan, an experienced chair and NED, as its first non-executive chair. The key hire follows extensive market research and Wotton + Kearney's move to an incorporated model in July 2019.
Nathan (pictured, right) has worked across many industries, including insurance, professional services, and health. He is currently the chair of the RSL's National Board and the City Fertility Centre and a non-executive director at Momentum Life NZ, Campbell Page, the Australasian Foundation of Plastic Surgery, and the Australia-Israel Chamber of Commerce.
Commenting on the appointment, Wotton + Kearney chief executive partner David Kearney (pictured, left) said: "David's combination of insurance and law firm experience made him the perfect choice for Wotton + Kearney. We're confident given his expertise in both law firm management and as a non-executive director that he will guide Wotton + Kearney in achieving its strategic goals with an informed, independent perspective."
Nathan commented: "I have a long-standing passion for the insurance industry and professional services firms. Wotton + Kearney is a young, dynamic law firm that puts the insurance sector at the epicentre of everything it does. I'm excited by the prospect of assisting them to achieve their strategic objective to put their clients at the heart of what they do as they continue their impressive growth."