Insurers offers more disaster relief support for flood-affected Australians | Insurance Business Australia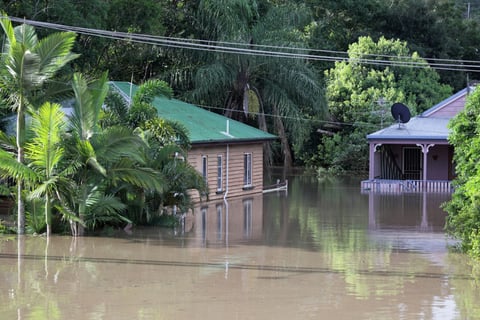 As communities in Queensland and New South Wales (NSW) recover from the recent catastrophic flooding, QBE Australia Pacific (QBE) and FM Global have announced their latest disaster relief support for affected communities.
Insurance giant QBE, which previously revealed that Australians remain unprepared for severe weather and natural disasters, said last week that it has partnered with leading mental health organisation Assure to provide disaster relief support for brokers and customers impacted by the devastating flood in the two states.
Since 2019, Assure has been providing three free confidential counselling sessions for psychological support for all QBE brokers and customers – and this offer has now been extended to include three financial counselling sessions until June 30, 2022.
Commenting on the boosted disaster relief support, QBE chief claims officer Jon Fox said Assure's practical, solution-focused support can help brokers and customers reach their best during difficult times.
"The extreme weather has had a devastating impact on families, communities, and businesses, and so access to tangible, impactful support is an incredibly important part of the recovery stage. By reaching out and letting Assure know you are a QBE customer or broker, Assure will be able to provide help with mental health management, building resilience, and more," Fox said.
"We understand the impact such a catastrophic event has on residents and businesses – not just from the damage on properties, but also the emotional and physical impact of cleaning up and rebuilding lives and communities."
The counselling sessions are part of QBE's response to the recent Queensland and NSW flooding, which includes a dedicated catastrophe team to help claims and repair partners already on the ground to support customers, emergency cash payments, and temporary accommodation. Moreover, the QBE Foundation has contributed $225,000 to community partners and their disaster support initiatives across the two states.
Read more: Flood-stricken areas in eastern Australia brace for more rain and thunderstorms
Meanwhile, FM Global, one of the world's largest commercial property insurers, has donated US$50,000 to GIVIT, an Australian charity helping those impacted by the recent flooding in Queensland and NSW.
GIVIT manages donations, goods and services offerings, and volunteering aid for people and communities affected by cyclones, floods, fires, and drought. It has a dedicated GIVIT Disaster and Emergency Recovery Service in the ACT, NSW, Queensland, and Victoria.
Aside from donating US$50,000, FM Global said it will double match its employee contributions to the charity through April 30, 2022.
"The widespread floods have affected thousands of families and businesses," said Lynette Schultheis, Australia operations senior vice president at FM Global. "We regret the circumstances that create this need and are grateful to GIVIT for the work it is doing to provide communities and people with immediate support where and when they need it during this difficult time."