Theft, burglary & robbery – are these covered by renters' insurance? | Insurance Business Australia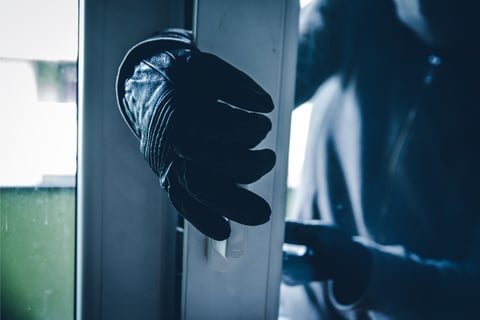 The latest crime victimisation survey from the Australian Bureau of Statistics (ABS) revealed that approximately 171,600 homes across the country have experienced a break-in in the past financial year – a figure that is equivalent to 1.7% of the nation's total households.
During the period, an additional 1.8%, or about 179,400 homes, have encountered an attempted break-in, 0.5% or around 47,100 households have been a victim of car theft, and 2.5% or an estimated 242,400 homes have reported theft from their vehicles.
These numbers represent a massive decline compared to 10 years ago, but what's concerning about the report's findings is the increased complacency among some of the victims.
While more than two-thirds of those who experienced a break-in in their homes and 84% of those who experienced car theft reported the crimes to law enforcement authorities, only 45% of those who encountered an attempted break-in in their households and 54% of those who had something stolen from their vehicles alerted the police about the incidents.
Many of those who did not report the crimes to authorities thought that "there was nothing the police could do or would be willing to do," or that the incidents were "too trivial or unimportant."
What they fail to realise, however, is that not informing law enforcement personnel about a crime that has occurred in their homes could greatly impact their ability to make a claim on their insurance policy.
Read more: Australian states and cities with the most motor vehicle thefts
What do thieves look for?
In an interview with Canstar, Darnielle Fioriti, acting senior sergeant of the Queensland Police, said that, unlike years ago, thieves were no longer stealing bulky items such as television sets and furniture from people's homes.
"Most offenders these days are looking to steal anything that is easily portable and can be readily exchanged for cash," she told the financial comparison website. "This can include items such as jewellery, wallets and cash, laptop computers, and mobile phones."
This level of exposure to theft highlights the importance of having the right kind of protection for many Australian households.
A recent survey conducted by the Insurance Council of Australia (ICA), however, has found that almost three-quarters of the country's renters did not have contents insurance. This figure indicates a huge coverage gap among Australia's renting population, which constitutes roughly a third (32%) of all households across the nation.
Read more: Renters most susceptible to storm damage, NRMA study reveals
How does renters' insurance work?
For rental properties, it is the owner's responsibility to take out insurance for the building and its fixtures and fittings. But this type of coverage – also known as landlord insurance – does not include the tenants' personal belongings. To be protected, they must purchase a separate kind of policy called renters' insurance.
This form of coverage works like a standard homeowner's contents insurance. This is why some home insurance providers also refer to this type of plan as renters' contents insurance. It covers a tenant's possessions, including clothing, furniture, personal electronics, and appliances. Jewellery, artwork, and other collectables may likewise be covered as an add-on.
Renters' insurance pays out the cost to repair or replace a tenant's belongings if these were destroyed or damaged by an insured peril such as fire, theft, vandalism, explosion, storms, earthquakes, wind, hailstorms, and other natural calamities. Flooding is not typically included in regular policies, although coverage can be purchased as an optional extra.
Standard tenants' insurance also provides financial protection against legal liability should an incident – such as an accident that causes bodily injury – occur at the rental property that results in a lawsuit.
Read more: Australians urged to recalculate their contents insurance
Does renters' insurance cover theft?
A standard renters' insurance policy typically covers incidents of theft, burglary, and robbery – terms that are often used interchangeably but actually mean different things.
The Criminal Code 2002 has set the following legal definitions for these terms:
Theft: This kind of act is committed when a person "dishonestly appropriates property belonging to someone else with the intention of permanently depriving the other person of the property."
Burglary: This is the act of entering or remaining in a building as a "trespasser with the intent of either committing theft of any property in the building, committing an offence that involves causing harm to anyone in the building, or to commit an offence involving causing damage to the property."
Robbery: This is a form of theft "committed immediately before or after the use of force, or threatened use of force… on someone else. The perpetrator would have to have used force (or threatened to do so) whether to appropriate another person's property or to escape from the scene of the crime."
Read more: Eight ways Australians households can safeguard against theft
How can renters protect themselves against theft?
Home invasions can have a serious impact not just financially, but also on the mental and emotional well-being of the residents. And often, the responsibility of minimising potential risks falls on the shoulders of the people living there.
To find out what industry insiders think are the most effective ways Australia's renting population can safeguard themselves against theft, Insurance Business searched the websites of some of the country's major renters' insurance providers. Here are some of their practical tips:
1. Keep all possible entrances locked
ABS's figures showed that a significant number of break-ins, or attempted break-ins, occurred through unlocked or damaged doors and windows. Because of this, insurers strongly recommend residents double-check if all possible entrances are locked before going to sleep or heading out even for a short walk.
"A great deal of property theft is opportunistic – thieves taking advantage of the fact your home is easily entered or obviously empty," wrote State Government Insurance Office (SGIO) in a blog. "Even if you are at home in the day, be aware that it only takes seconds for someone to walk in and take something, while you are in another part of the property."
2. Keep valuable items out of sight
Another way to protect the home from unwanted attention is keeping valuable items away from public view, Budget Direct advised.
"By placing valuables near windows, you're more likely to draw attention from anyone who manages to get close enough to look inside your home," the insurer cautioned. "Start by moving all valuables out of sight and especially away from the windows."
3. Never leave spare keys outside
Some renters – and homeowners even – have the habit of leaving a spare key in a concealed place outside the house in case of an emergency, but SGIO warned that this is tremendously risky.
"Thieves know all the hiding spots – under the mat, on a window ledge, under plant pots, in the letterbox or meter box – so don't take the risk, even just as a one off," according to the insurer. "If you want to have a spare key available in case of emergencies, leave a key with a neighbour or friend."
4. Steer clear of social media while away
One common mistake that people commit that makes their homes vulnerable to theft is letting everyone know that they are away, SGIO noted.
"Be careful not to advertise on Facebook or other social media that you are leaving on a trip," the insurer warned. "Same goes for advertising expensive items on sites like Gumtree."
5. Establish a good relationship with your neighbours
Establishing a friendly relationship with neighbours is another effective way of safeguarding one's home, according to Allianz.
"In tightknit communities, people look out for each other," the insurer noted. "Neighbours can report suspicious activity at your home and help when you're away – and you can return the favour."