Cover Genius's customer VP: "There is so much room for innovation" | Insurance Business Australia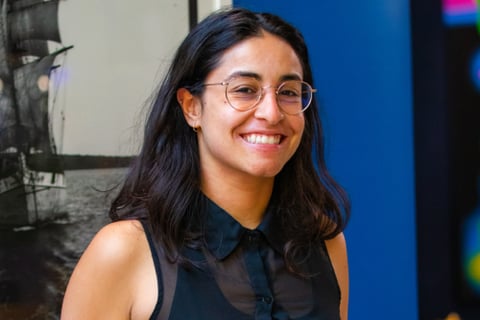 Luiza Gusmão (pictured) – the customer vice president at Cover Genius who is "very excited" to be part of the "Innovation: Evolving in a digital market" panel at the upcoming Women in Insurance Summit – recently sat down with Insurance Business, and here she shares her industry journey, how she has leveraged her engineering background, and how she is helping challenge the status quo.
"I have always wanted to work for a technology company that makes a true impact," said Gusmão of her beginnings. "During my studies for a Bachelor's degree in Industrial Engineering in Brazil, I was awarded a scholarship for the University of Sydney through an exchange programme. In 2016, after relocating to Sydney, I started a part-time job as a customer service associate with Cover Genius, whose vision was to transform the way insurance is done through the use of technology.
"I was really interested in growing and working in the dynamic environment of a start-up. Over time my role expanded into project management, where I had the opportunity to lead a project to improve our claims operations. The project was extremely successful, with our NPS (Net Promoter Score) increasing to +65 in just a couple of months. I was presented with the Founders' Award for that in 2019."
According to the former global customer operations senior manager, her contributions within claims and support at Cover Genius have assisted in achieving what she described as a "superior" technology that allows not only fully digital claims handling but also the ability to issue real-time payments globally.
Gusmão highlighted: "My industrial engineering background has helped me massively. Industrial engineers are responsible for designing products and systems to meet global demands. That is exactly what I do at Cover Genius – but instead of a physical product, we deliver best-in-class experiences for the global customers of our network of partners across multiple industries like retail, travel, fintech, gig economy, logistics, pet, and more.
"I also have a strong background in design thinking and human-centred design, which are vital for developing customer-centred services. I apply these principles in everything I do. Having a 'kaizen' mindset – that is, one that is focussed on constant improvement – has also helped, as our systems and operations are designed to change and adapt to the market demands and regulatory landscape."
Gusmão, who took on her current VP remit in March, said high on her agenda is continuing to build the systems and operations that best leverage technology to deliver solutions to customers while maintaining the insurtech's NPS, amid its ongoing focus on scalability.
Currently, Cover Genius has offices in Australia, North America, the UK, the Netherlands, Germany, Japan, Singapore, India, Korea, Indonesia, Malaysia, Thailand, and New Zealand. Last year, it landed on top of FT1000, a Financial Times listing of firms in the Asia-Pacific region with high growth between 2015 and 2018.
"Right now, the key priorities are hiring and attracting the right talent to support our global growth, building tech-first, customer-centric systems and continuing to build an organisation that is smart and continuously iterating," Gusmão told Insurance Business. "We also continue to be focussed on leveraging the right technology at the right time to provide the best experiences for customers."
Meanwhile, for her fellow 'millennials and zillenials', she had this to say: "The industry has a low carbon footprint. Insurance is a pretty traditional industry, and legacy insurers have really failed to keep up with the accelerated digital transformation or to meet the needs of today's customers. Working in an insurtech would enable you to challenge the status quo in everything you do. There is so much room for innovation and digitalisation."
Gusmão is among the speakers at the Women in Insurance Summit 2021 taking place on August 05 in Sydney. She will be part of a panel that will examine digital transformation and innovation as key pillars in staying relevant and competitive, and will also talk about how companies can create a culture of innovation and skillfully lead. Register now.