Brokers in control as flood claims begin | Insurance Business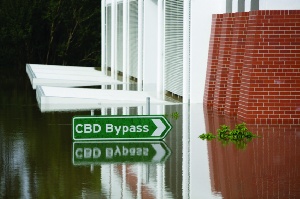 While brokers are bracing themselves for the influx of claims following the latest catastrophe to hit beleaguered Christchurch they have been glad to fall back on systems put in place following the earthquakes three years ago.
Insurance Business
spoke to several brokerages following this week's flooding to see how their own offices fared against the floodwaters as well as how they're coping with the increase in claims and enquiries coming in.
The hardest hit appeared to be the Marsh staff – while their Blenheim Road building wasn't flood damaged, the workers had only just been banned from their building two weeks ago following a seismic report which declared it was on the verge of falling down.
Now as well as having to work remotely from home, staff will have to contend with the extra workload from flood claims coming in, yet another difficulty to add to their woes.
Marsh spokeswoman Denise Moller was remaining upbeat: "It's definitely business as usual for our guys. All colleagues are available to action client queries as usual."
Regarding the office, she said: "We have global standards over seismic strength and the report we got didn't meet those standards so we are now looking for alternative premises."
Rothbury
assistant manager, Harry Eksteen, said only two of his staff made it into their office in the Mairehau area of the city and then the power went down leaving them unable to work.
"My own car got stuck and they towed it away," he said, adding: "Luckily the company's system transferred immediately to the head office in Auckland to field urgent calls."
Eksteen says this system was put in place following the September 2010 quake which helped a lot when the February 2011 quake hit.
"I think it's shown how important it is for brokerages all over the country that there needs to be some proactive measure in place to field the huge number of calls and client enquiries if there's a natural disaster. It would be a huge challenge for smaller brokerages especially if they don't have a national computer system or network to rely on," said Eksteen.
Most of the claims filed with them so far were much to be expected, including vehicle damage, vehicles being stuck, water damage within houses, eg wet carpets and furniture, and farmers who have had trees fall down on sheds.
He echoed what Insurance & Savings Ombudsman
Karen Stevens
had said urging clients to call their insurance broker or company before cleaning up in order to collect evidence.
"It's important that clients make sure they have enough evidence for claim damage and there are practical things that can be put in place to mitigate further damage," he said.
Executive director of Mike Henry Insurance Brokers, Jason Harkness, said their offices in the Arts Centre had only suffered a very minor leak and so far only a handful of claims had come in.
However he said the deluge had served as yet more evidence of why their post-quake action plan had been the best thing they'd ever done as a company.
"We're acutely aware that the building we're in now has got 76% new building strength plus the technology and data we run off a server in Auckland. We've also got detailed emergency response plans now whereas previously it was some words on a piece of paper gathering dust.
"The bigger thing we've done though is spend the last 12 months backscanning and forward scanning new stuff coming in so we're virtually paperless. Our whole office could explode in a ball of flames tomorrow and we'd literally just go to any new location in the country and still be able to access all our files," he said.
The new Ferret system was put in place 18 months ago after they heard of other brokerages who had been up and running the day after the February quakes.
He said paper costs had dropped by two thirds and they were more efficient as everything was kept in one central location.
"What was a disaster in Canterbury has driven us to not only have more data security but to incredibly more efficient," he said.
Andrew Dufton, a director with Abbott Insurance Group, just off Montreal Street, said the biggest impact the floods had for them was on staff getting in to work.
With two full time staff out of a total of 30 dedicated full time to claims work he said it was easy to gear up to cope with any influxes when they occur.
"They'll normally send something round to all the staff to let them know what the process is for flood claims so if they're busy on phone, we've got other staff who can be first the port of call on the basics of what to do. So that's what we've done over the past couple of days."
He said Abbott, which is part of the Allied Insurance Group, had switched to an electronic storage system before the earthquakes. "It certainly came into its own immediately after that," he said. "I think it's becoming more and more common as people realise the difficulties of relying on paper files."
IBANZ
CEO
Gary Young
said he had not received any reports of problems from any Christchurch members. "Perhaps given the size of
events
that they have had to cope with recently this one is well within their capabilities," he said.