Chief executive hails Suncorp NZ's performance amid "disruptive" year | Insurance Business New Zealand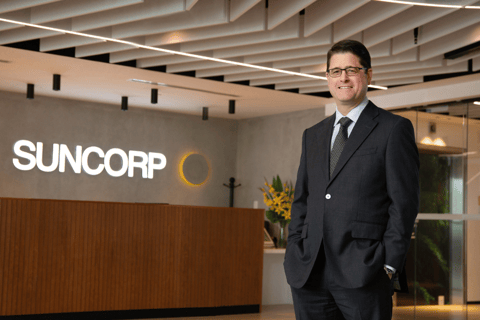 Finding itself in the black in the full year ended June 30 (FY22), Suncorp New Zealand has overcome a period of disruption, according to chief executive Jimmy Higgins (pictured) who is fully aware of the challenges that remain for the business and the wider industry.
In FY22, Suncorp New Zealand maintained its profitability, albeit at a lower level of $165 million. The figure represents a 23.3% decline from the profit after tax in FY21.
Compared with Suncorp Group's Australian insurance operations, the fall in NZ was less steep – the 'Insurance Australia' segment saw a 68.2% decrease in profit after tax. To-be-offloaded Suncorp Bank, meanwhile, took a 12.2% dip from the previous year.
Citing "solid" top-line growth and underlying performance, Higgins said the Kiwi unit delivered off the back of a disruptive 12-month span that affected staff and customers alike.
The CEO noted: "This disruption came from the impacts of COVID-19, including the war on talent in a tight employment market, the restrictive environment our people have had to work in, and employees being off sick with COVID.
"Multiple weather events experienced during the year resulted in the highest volume of claims since 2018; and customers experienced longer waiting times for repairs to their homes and vehicles because of the delay in getting materials."
Group-wide, according to Suncorp, there were approximately 130,000 natural hazard claims following 35 separate weather events across Australia and New Zealand during the period. As a result, the trans-Tasman insurer exceeded its natural hazard allowance.
In NZ, Suncorp's net incurred claims rose 17.2% to $1 billion. And with weather events only becoming more costly and frequent, Higgins believes the industry is facing into headwinds. Additionally, the chief executive stressed the pressure on materials and labour costs in home and car repairs, plus imminent levy increases.
Meanwhile, the Kiwi operations also suffered a $30 million net investment loss due to rising bond yields and volatility in equity markets.
"This year we've experienced a highly volatile investment market – the most volatile we've seen in a long, long time," highlighted Higgins. "Despite this, the underlying business has performed well, and we'll continue to be a strong, well-capitalised company that can support customers in their time of need."
Read more: Suncorp New Zealand CEO says business "in great shape"
As a group, Suncorp's net loss from investment market volatility totalled AU$190 million – a major tumble from the AU$453 million profit recorded in FY21.
Amid the challenges, particularly in the local market, Higgins is confident about the insurer's prospects in NZ.
"The strength of our reinsurance programme allows us to provide insurance protection to customers throughout New Zealand," asserted the CEO, "and we are continuing to provide support to those customers that experience vulnerabilities, particularly as they manage through the costs of living pressures that exist in New Zealand today."
Suncorp New Zealand's businesses include Vero Insurance, Vero Liability, AA insurance, and Asteron Life. The general insurance unit in NZ posted a profit after tax of $150 million, while that of life insurance stood at $15 million. The figures signify a drop of 15.3% and 60.5%, respectively.
Despite the decreases, Suncorp NZ said both the intermediated and direct channels within general insurance recorded strong growth, while its life proposition also delivered to expectations.
Higgins pointed out: "Our Asteron Life business continues to perform strongly, maintaining margins in line with growth and producing positive net experience profits. Its claims acceptance rates remain high at 95%, reflecting the business's drive to support customers and their families.
"The current environment presents challenges from economic factors and New Zealand's health system constraints, together with emerging risks around potential impacts of long COVID, and market disruption from the proposed New Zealand Income Insurance Scheme."
"On the scheme," added the NZ chief, "it is critical for us to think about the role advisers play in financial advice and literacy; equally important is ensuring customers have access to quality case management and rehabilitation services that are essential for good customer outcomes, especially for longer duration claims. Asteron is monitoring these risks and is well placed to meet these challenges."
Meanwhile, in support of growth across Suncorp New Zealand, the Kiwi insurer's operating expenses went up 7.2% to $504 million in FY22.
Headquartered in Brisbane, Suncorp Group reported a profit after tax worth AU$681 million in the period. The group's banking business, which is being sold to ANZ, is expected to be transferred to its new owner sometime in 2023, making Suncorp fully focussed on insurance when the deal closes.