Cigna names recipient of 2021 actuarial scholarship | Insurance Business New Zealand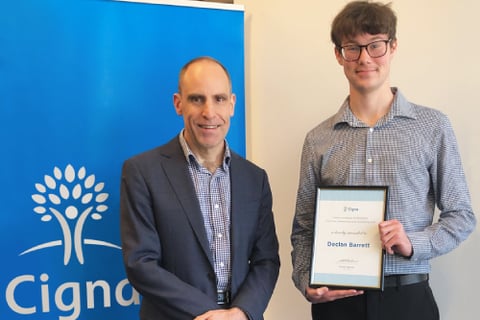 Cigna has revealed Declan Barrett (pictured right) as the recipient of its 2021 actuarial scholarship at the Victoria University of Wellington.
Launched in 2015, the scholarship has supported six recipients to date into careers as actuaries or roles within the wider finance industry, a statement from Cigna said. The scholarship includes $5,000, as well as a three-month internship over the summer of 2021-2022 at Cigna.
"Cigna recognises the importance of encouraging the development of new talent within this small and specialised profession," said Michael Bartram (pictured left), chief actuary of Cigna New Zealand.
"The actuarial profession is a lesser-known career option which suits people with strong technical, numeracy and data science skills, and who also hold an interest in finance and commerce. Actuaries are in high demand and play a crucial role assessing risks and helping formulate insurance policy for companies such as Cigna."
Barrett, 20, is a second-year student at Victoria University of Wellington, taking up bachelor's degree in actuarial science and mathematics. According to Cigna, Barrett has shown great promise, having made the dean's list for the Faculty of Science in recognition of his academic performance in 2020. Barrett also previously received the Victoria Tangiwai Scholarship and the Taranaki Scholarship Trust Board Award for his academic performance at NCEA Level Two.
According to Barrett, becoming an actuary is his ultimate goal.
"My pathways adviser at school steered me towards the profession. I've always enjoyed and have been pretty good at mathematics, economics and accounting so it feels very natural for me," he said.
"I was over the moon when I found out about the scholarship. The chance to work at Cigna is priceless. I'm looking forward to having the opportunity to get a look into the industry, to dig a bit deeper into actuarial science and work alongside some top minds."