Over half of advisers want more clarity on compliance – study | Insurance Business New Zealand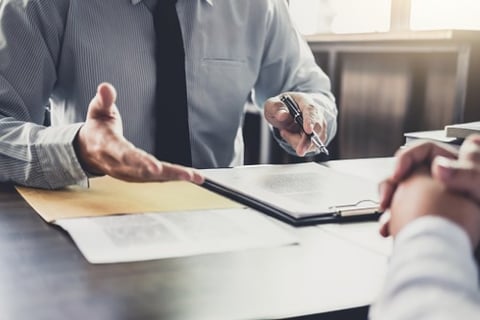 Compliance is an issue weighing heavy on every adviser's mind right now, though responses to the changing regime range wildly – some are determined to grab the bull by the horns, while others prefer to hang back, wait for instruction, or simply do nothing at all.
Crestone Compliance recently conducted a study of 77 adviser businesses representing approximately 400+ advisers, surveying them on the clarity of the current licensing situation, what their licensing plans are, and how prepared they feel for the changes to the financial advice regime. Their final results were a mixed bag: the average adviser business rated their preparedness at 5.8 out of 10, and 31% rated their licensing understanding as less than 5/10. Nonetheless, it seems the vast majority plan to remain in the industry despite the lack of clarity, with a very minor number suggesting that they might leave the industry altogether.
Insurance Business spoke to Crestone Compliance co-founders Charles Laing and Andrew Wilkinson, who discussed what the results tell us about the current mindset of advisers, and how the licensing situation might play out on an industry-wide scale.
"The objective of this research was to give us a better idea of where everyone is at this point in time, and this has shown us that we need to be a bit more active about explaining to brokers what their options are," Wilkinson said.
"A lot of advisers are still undecided as to what they are going to do about their licensing situation, and one of the reasons for that is because they're waiting for some direction from the professional bodies and adviser groups," he explained. "Some of them have been quite proactive in that space, but there still seems to be quite a lot of ambiguity."
"The reality is that the roadmap is here, the Code of Conduct is finalised, we have a timeline for licensing and we know more or less what it's going to look like," Laing added.
"But this idea of non-prescriptive, principles-based regulation takes some time to get your head around, because you aren't being instructed strictly on what to do. You're being told the outcomes you need to achieve, but how you achieve them is up to you. That's making people reel a little."
Laing says that the FSLAB legislation and the Code of Conduct have been produced to be deliberately vague. There is no set amount of CPD points that an adviser needs to acquire over the course of a year, and there are no specific processes set out with regards to clients – something which can leave advisers in a limbo, and leave them at a loss in terms of how to proceed.
"MBIE and the FMA have done a really commendable job in trying to communicate everything to advisers, but there's just so much information and it's hard to know where to start," Laing said.
"In terms of licensing, what's going to happen is this: transitional licensing will open around the end of this year, and that's a fairly simple process – almost like applying for an FSP," he explained. "Those will then all be granted simultaneously. Once that happens, there will be a two-year transition period whereby everyone giving advice will have to be completely compliant with the new rules and regulations, but the mistake some advisers are making is thinking they'll have two years to get up to scratch. That's not the case. They'll have to be completely compliant from day one, though the period does include a safe harbour to allow them to obtain their Level 5, and to prepare their full license application."
Aside from compiling statistical results, Crestone Compliance also interviewed its participants on their licensing intentions, and, despite a prevailing lack of clarity, the outlook seemed relatively positive. Few were looking to leave the industry altogether, and despite echoing warnings of a large-scale industry dropout, Wilkinson says these rumours seem largely unsubstantiated.
"From our survey results and our interviews, I was surprised at how few people were considering exiting," Wilkinson said. "There have been rumours that there will be massive dropouts, but from what we've seen, that's not happening. I suspect that a lot of that 'talk' is coming from organisations who want to use that as a scare tactic."
When it comes to brokerages facing the storm, a prevailing theme was that some are approaching the compliance challenge more head-on than others. According to Paul Munton, Executive General Manager – Broking Branches at Rothbury, brokers are now under an obligation to demonstrate that they are fully prepared to operate under the new regime and all its requirements, and this needs to be done sooner rather than later.
"The Hayne Royal Commission has naturally had a very large impact on the life and financial services sector, but we need to be very conscious of what's going on there, because those lessons are going to apply across our businesses too," Munton said.
"When you add that to the strengthening of our own legislation – that's going to drive more professionalism into the business, but it's also going to come at a cost. It's therefore our job to get up to speed very quickly, so there will be significant challenges that we'll be facing in the short-term."
"We ourselves are committed to taking our own brokers on that journey to get them the training and qualifications that they need," Munton continued.
"At the moment, we have approximately 170 brokers that we're putting through that Level 5 educational requirement, and we give them 3.5hrs of paid study leave each week. It's a good investment for us, as it means that we now have brokers who are up to speed from an educational perspective – but we don't just want them at the bare minimum. We spend a lot of time on training and education, and we're making sure that our people are suitably skilled, up to speed with the market and up to speed with the underwriters, and that they're able to represent a good value proposition for the market."
Despite this, Munton says interpreting the new Code of Conduct will be a significant challenge in and of itself. He says the vagueness of the Code will take some time to truly pin down, and, right now, a lot of it is still down to guesswork.
"Part of the challenge in the New Zealand market when it comes to being up to speed is this," Munton explained.
"The Code talks about, for example, demonstrating 'competence, knowledge and skill by reference to an alternative qualification or experience,' and states that they should do so in an 'objective, measurable and independently viable manner' – but what does that actually mean? It's all very vague, so we mostly end up having to resort to guesswork. The devil is still in the detail, and that kind of description doesn't make anyone any the wiser.
"There's still some discovery to be done in terms of how that fleshes out, but I think it's great that there is an increasing standard when it comes to consumer advice."