Southern Cross encourages Kiwis to exercise more | Insurance Business New Zealand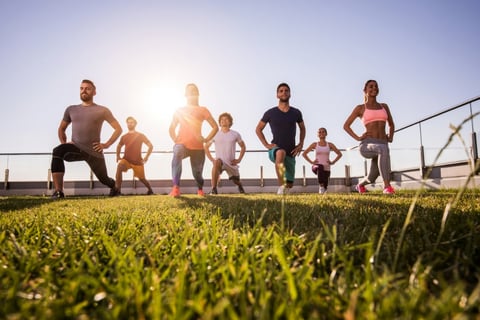 Southern Cross is urging New Zealanders to start and stick to an exercise routine, as its survey showed that many people are exercising less than the recommended amount.
According to Southern Cross' Healthy Futures Report, the average New Zealander is exercising for 30 minutes three times a week. This means that many people are not exercising enough, causing them to worry that they aren't as fit as they should be. Thirty per cent of respondents said they are considering moving more often (an increase of 3% since 2020) and 36% are planning to prioritise exercise – an increase of 4% since 2020.
With "becoming more fit" a common New Year's resolution that often falls to the wayside, Southern Cross Health Insurance chief medical officer Dr Stephen Child offered several tips to help Kiwis stick to their goals.
"It's great to see an increase in people planning to move more, and January is an ideal time," Child said. "However, after the slow pace of the holiday period it can feel particularly challenging to dive straight into a new plan, and the first step is overcoming that struggle to get started, particularly if you're setting your sights on an idealised sense of what counts as exercise."
Child said that plenty of activities qualify as exercise, each with their own benefits.
"It can be tempting to default to pounding the pavements or slogging it out in the free weights section at the gym, but walking, housework, going to the supermarket, mowing the lawn and weeding the garden all count as exercise," he said. "A good exercise plan starts with the aim of incorporating some physical activity into most days of the week."
The 2022 Healthy Futures Report also asked New Zealanders what types of activities they do to help them get enough exercise. Energetic housework emerged as the most common form of exercise, with 39% of people keeping fit this way.
Southern Cross listed several housework activities and the associated calories burned in a 30-minute span:
Vacuuming – 166 calories
Doing the dishes – 160 calories
Mowing the lawn – 200 calories
Raking leaves – 178 calories
Washing the car – 200 calories
Child also advised New Zealanders to start slowly to avoid injury, choose varied activities, enlist a friend or family member as an exercise buddy, and to form the habit by exercising regularly. He also advised older individuals and those with medical conditions such as heart disease or diabetes to consult a doctor before starting a new exercise routine.