Southern Cross on likely Not-So-Great Resignation in New Zealand | Insurance Business New Zealand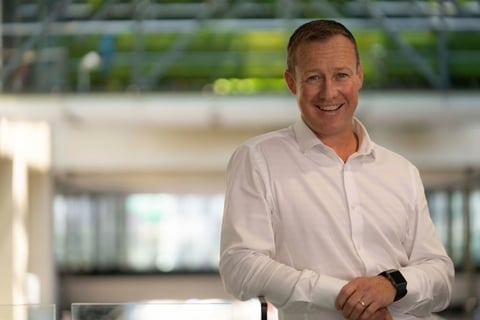 "Overall, I'm quite positive that we won't see the Great Resignation, but we may see some resignation."
That was the bold assertion made by Southern Cross Health Insurance chief executive Nick Astwick (pictured) when he sat down with Insurance Business to lift the lid on the insurer's recent research on job satisfaction across a wide range of industries in New Zealand.
As previously revealed, 46% of those surveyed in the Southern Cross study said they feel grateful to have their job while 35% enjoy going to work most days. Additionally, nearly a quarter (24%) love their job while 15% admitted to having reassessed their career because of the pandemic.
"There's a third that enjoy going to work and enjoy the role they're doing," highlighted the CEO. "So, that leaves a lot that don't, and there's a lot of work still to do to stop the Great Resignation from happening [here]. When you look at the data, it does show there's a lot of work to do to prevent the Great Resignation from hitting our shores."
According to the research, which was conducted in January, below are the best things about jobs in NZ.
| 'Best things' about job | Findings |
| --- | --- |
| Good work-life balance | 42% |
| Satisfaction in getting to help others | 36% |
| Supportive employer / team | 34% |
| Flexible hours | 32% |
| Work colleagues are like my friends/family | 30% |
| Positive work culture | 30% |
| Remote / flexible working | 29% |
| Variety | 28% |
| I receive fair/competitive pay | 28% |
| Challenging work | 27% |
"The biggest takeaway," Astwick told Insurance Business, "is there's a lot that you can do. When you look at the best things about your job, here is a beautiful list of things that businesses can do – the good work-life balance, having purpose in your role, a very supportive employer and team, flexible hours, a positive work culture – that's the recipe to stop the Great Resignation from happening. So, while there's the risk there, there is a recipe there.
"I'm also seeing a lot of employers leaning into this. Their two top things that they've got on the list is probably talent management – 'How do I create an environment that really looks after and retains my people, and how do I support them from a mental and physical well-being perspective?' That seems to be what's really rising above when we look at the conversations we have with our 3,500 business customers."
The insurance boss went on to stress that a business is nothing without its people, and that people are normally at the core of any business success.
He said: "The leadership's role is to create an environment where people don't want to leave, fundamentally. What we have seen is the rise of flexible working – that's probably been one of the key areas where businesses can do that. The ability to fuse work and life like a smoothie has been really, really important.
"The idea of flexibility in the hours of working; an employer that's really supportive of my needs, so not just a good leader but how they look after them, support them, those sorts of things. Yes, pay is important, but fair pay is what's really important. It's actually work-life balance and purpose in work is what really motivates people, and an employer that really cares."
"The discriminatory variable when you talk to people is where the organisation has a purpose," added Astwick. "So, it's no longer a job; it's more of a role. You're working for an organisation that's doing more than my salary, doing more than profit. And that's why education and healthcare seem to push out a bit, because this is causal-based work. The organisations that seem to be doing better are when they've created a culture that is bigger than just the profits or the work."
Under the 'grateful for their job' category, the Southern Cross research found respondents from the education and training sector (63%) at the top, followed by healthcare and social assistance with 49%.
"What I see is a lot of leaders of businesses are doing everything they can to make sure that they create an environment for people to stay," stated the chief executive. "But the real risk is here as we're not importing talent, or the borders are closed to people coming in. And if we get talent moving out of the country, then those two forces mean that there's got to be a scarce talent in New Zealand.
"But I also think businesses are very resilient and very adapting to the changing environment. And so, overall, I'm quite positive that we won't see the Great Resignation, but we may see some resignation."