Suncorp New Zealand "hugely proud" of successful initiative | Insurance Business New Zealand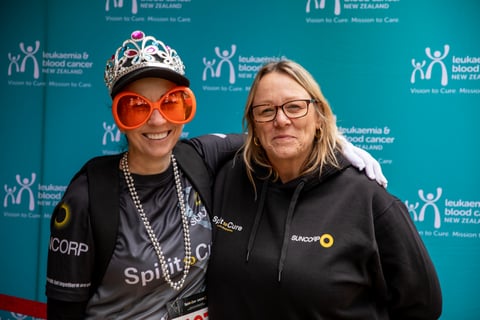 Nearly $260,000 – that's how much Suncorp New Zealand has raised, as of this writing and with still one event left, for the insurer's first go at Suncorp Group's "Spirit to Cure" (STC) fundraising campaign.
Initiated last year in Australia by Suncorp Bank chief executive Clive van Horen, STC is a community undertaking aimed at raising money for cancer research, support, and prevention. In 2021, in partnership with Tour de Cure, Suncorp raised AU$1.3 million towards the cause.
This year, in addition to the Australian edition, STC is joined by the Kiwi operations for the first time. Led by Suncorp New Zealand consumer executive general manager (EGM) Jane Brewer (pictured left with operational excellence manager Janine Jackson during the Christchurch leg), in partnership with Leukaemia & Blood Cancer New Zealand and Cancer Research Trust New Zealand, STC NZ has already breached its $200,000 target.
The Kiwi campaign features three onsite events, including the stair climb challenge happening on October 13 at the Sky Stadium in Wellington. The previous legs were at Eden Park Stadium in Auckland and at Christchurch Adventure Park on September 2 and 30, respectively. Those not able to attend on the said dates or at the locations had the virtual "Your Ks Your Way" option.
"I know a lot of us are impacted enormously by cancer in New Zealand," Brewer, a participant in all three events, told Insurance Business. "So, when [Suncorp NZ chief executive] Jimmy Higgins said 'We'd love to extend Spirit to Cure into New Zealand' and was looking for one of the senior leadership team to sponsor it and to lead it, [I volunteered]."
Read more: Suncorp NZ steps up support for cancer research
The EGM, who takes on the challenges while adorned as a princess, went on to share: "My story is my father died of cancer; he battled cancer for about 12 years. He was always super-optimistic and was always hopeful that there'd be a cure found, and that all he had to do was survive long enough and he'd be there for the cure. Unfortunately, that never happened, and he went through enormous suffering.
"So, [I took the opportunity] to get involved in an event that would be able to raise funds to help people and families going through cancer. That's what really inspired me, so I decided to volunteer into being the campaign's sponsor here… Then we basically crowdsourced other volunteers within the company to help me bring it to life here in New Zealand, and we had a fantastic response."
Aside from the internal backing from colleagues, STC New Zealand also managed to secure the support of more than 40 organisations.
"We had a target for the sponsorships," highlighted Brewer. "We thought we'd get maybe between 10 and 15 sponsors, and we were hoping to raise about $120,000 through sponsorships. But we've raised $143,000 through the sponsorships, and we actually have 42 sponsors."
Talking about why people get involved, Brewer declared: "The cancer research part is a fundamental part of it – that it's going into research to find cures or to minimise the suffering that people go through. We've found that it really does resonate, and it resonated with our sponsors as well.
"The fitness aspect, I think, is the second element to it. A very close third would be having fun and being with colleagues – it's been a great opportunity for us to reconnect as employees… So, we've found people have really got behind it, which has been amazing."
More than 500 "steppers" have joined Spirit to Cure in New Zealand. The number is expected to go up further, as registration for the Wellington challenge is still open.
"We've run surveys at the end of each event," said Brewer, "and the feedback has been overwhelmingly positive. So, we're hugely proud of that. And, mainly, we're just so proud of the funds we've been able to raise, and we know that's going to make a huge difference."