Suncorp's profits take 17% hit | Insurance Business New Zealand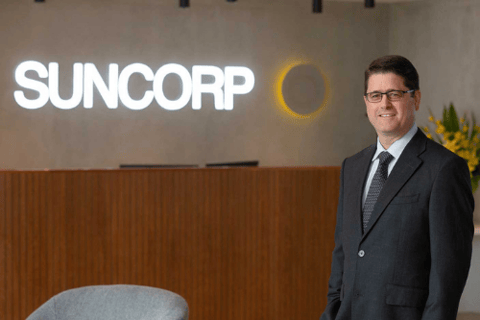 Suncorp New Zealand has reported a net profit after tax (NPAT) of $215 million for the 12 months ended June 30, down 17% year-on-year.
Meanwhile, its parent company, Suncorp Group, announced NPAT of AU$1.064 billion, up 42.1%.
According to Suncorp NZ chief executive Jimmy Higgins (pictured above), the dip in the New Zealand business's profits was due to natural hazard claims costs caused by the recent Auckland tornado, as well as the floods in Napier, Northland and Canterbury. These natural catastrophes led to an increase of $45 million in costs compared to the prior year.
Despite this, Higgins reported a "strong" underlying performance of the business, as the executive said that Suncorp NZ was able to achieve excellent progress in its key strategic priorities for the year, including investments in digital and data capability and growth for its brands and strategic partnerships.
"We're seeing unit growth in both our direct channel and the broker-intermediated lines, and solid new business growth and retention in our life insurance business," Higgins said.
"Our operating costs have remained stable, although there were some increases in areas that support the growth of the business. We continue to focus on improving outcomes for our customers, particularly through investment in people, technology and processes to deliver our strategic priorities."
Suncorp NZ's general insurance businesses, which include Vero and AA Insurance (a joint venture with the New Zealand Automobile Association), recorded NPAT of $177 million, down 19.2% from the prior period.
GWP increased by 7% on a normalised basis, with growth in new business and substantial retention in the motor, home and commercial businesses.
The life business delivered an after-tax profit of $38 million, down $2 million from the previous year. While the insurer reported an improved claims experience, this was offset by unfavourable market adjustments caused by a rising interest-rate environment. The in-force premium growth of 4% was driven by new business growth and strong retention rates. New business also grew by 2%, as a result of increased sales through independent financial advisors.
Over the past year, Suncorp provided financial support to customers who experienced financial hardship as a result of the COVID-19 lockdowns. These measures included premium relief and extended premium holidays for both general and life insurance customers.
With climate change becoming a prominent issue in the insurance industry, Suncorp sharpened its focus on the sustainability of its business and insurance portfolios.
"As well as our commitments to reducing our own carbon footprint as a business, we have been engaging on upcoming TCFD-related reporting requirements, and assessing the environment, social and governance risks and opportunities within some of our insurance portfolios," Higgins said.
In April, Suncorp NZ signed up to the Climate Leaders Coalition's 2019 Statement, a pledge which seeks to reduce emissions and support employees, suppliers, customers and the public to combat climate change.
The company is now trialling a programme with a pilot group of suppliers to help them measure and reduce their carbon footprint, as well as working with three community groups in the Whakatane region to develop natural hazard resilience support programmes.