Tandem boss: "We need to step up and we need to add value" | Insurance Business New Zealand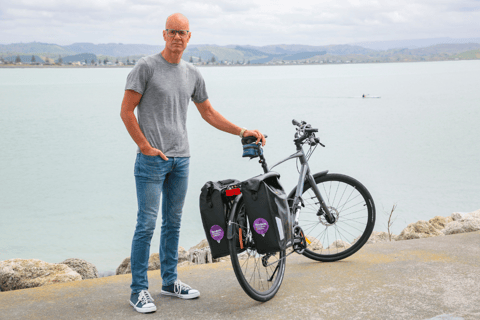 Slowly but sustainably – that is how Tandem Insurance & Advice director Glenn Marshall (pictured) plans to grow his two-month-old brokerage, and here the Napier-based industry stalwart talks about navigating his way towards providing personalised, advice-focussed service.
"Obviously I've got to build a portfolio from scratch," said Marshall, whose credentials span time spent at State Insurance and Vero, as well as two decades with Crombie Lockwood. "I'm still just basically working on getting my name out there and getting in contact with different people to say, 'Hey, this is what Tandem is and this is what I can offer people'.
"It's a slow process, but for me it's not a short-term goal. It's going to take a few years to establish the business. It's going well, but basically I'm concentrating on building my brand and building the profile… And I want it to be relationship-driven. It's only through forming a good relationship with your client that you understand what their needs are, and you can then come up with an insurance solution that fits their needs."
A member broker of Insurance Advisernet New Zealand, the newly established firm aims to operate with four key things in mind – trust, advice, integrity, and value – while working in tandem with clients where Marshall believes there's a synergy and being respectful to insurance partners at the same time.
The director stated: "One of the things that my business will be founded on – and I'm not the only one in New Zealand to do this – is there'll be no sales commissions. So, instead of doing the standard commission brokerage, I'll be doing it on a fee basis, like the likes of Donaldson Brown and Frank Risk Management up in Hamilton.
"Rather than just doing a sales commission, which, in my personal opinion, makes it feel a little bit more transactional, it's going to be an advice-based service for a fee."
Additionally, in Marshall's view, especially following periods of restrictions, people are seeking "a bit more of a personal connection" and will prefer that over phoning an 0800 number and feeling like just another transaction. "It's the opportunity to connect with people and build relationships," he said.
The experienced broker, who will bike to clients that are within a 10k radius of his house, also pointed to what differentiates his company and those like his from the large multinationals.
"Most of the businesses in New Zealand are still locally owned and operated," he noted. "The majority of businesses here aren't overseas owned or on the New Zealand stock exchange. So, one of the key differences that I see is that – not just me but all the other 100% New Zealand owned and operated family businesses – in terms of insurance broking we've got a synergy with the clients that we're trying to pick up; they're also 100% locally operated and family owned."
Read more: Brokerage co-founder on "very enriching" industry development
Meanwhile, more broadly, Marshall thinks there remains the "same old" challenge within the insurance industry.
"It's the perceptions about insurance in terms of it being a grudge purchase and a necessary evil for a lot of people," he told Insurance Business. "And with the pandemic, the financial implication is that interest rates are rising. So, we are in for some rough rides ahead, and everyone in the insurance industry has got a role to play in terms of stressing the value of insurance to people.
"I know it sounds cheesy, but when financial times are tough, that's when people need insurance more than ever. [Imagine] if something goes wrong and they're significantly underinsured and are already under financial pressure. It's like that old cliché – can you afford not to have the insurance?"
"In my opinion," added Marshall, "whether it's a broker or direct insurer, we need to step up and we need to add value. The gentleman that helped me come up with my logo and all the rest of it, he came up with 'Tandem Insurance & Advice' for a specific reason. I'd explained to him my vision and what I wanted to do, and that was I wanted to get away from being like an order-taker or a salesman."
More importantly, said the Tandem director, he will be by clients' side right up to claims time.
Marshall asserted: "Some insurance brokers basically take a commission and then if the client needs to have a claim, the client deals directly with the insurance company. With my model, that's something I'm definitely going to be really focussed on – at claim time, basically being heavily involved with my clients' claims, and acting as a strong advocate for the client.
"If I was the customer, that's what I'd want, as I'm paying for you to look after my insurance. The only reason people take insurance is, if something goes wrong, someone's going to be there to sort their claim out. And if their insurance advisor isn't there to sort it out, then it's like, 'What added value are you really bringing for the client?'"
Marshall is currently assisted by his wife, Fran, who has worked in legal offices throughout New Zealand and brings more than two and a half decades of secretarial and office administration support experience to the new brokerage.