Tower stalwart celebrates half a century in insurance; tells newbies to "give it a chance" | Insurance Business New Zealand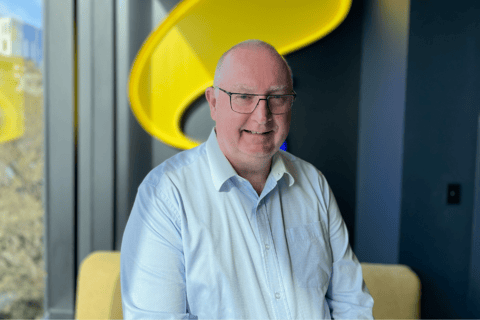 Mike Petrie (pictured) has been in insurance longer than some of his colleagues have been in existence, and here the industry veteran looks back at his journey and shares the learnings from his half-a-century-old career with Tower Limited.
It was in January 1973 that Petrie, then 18 years of age, joined Tower's former self National Insurance as an office junior in the Timaru branch. At the time, he was paid $59 a fortnight.
Lifting the lid on his decision to work at the insurer, Petrie told Insurance Business: "I went for four jobs after finishing school and got all four.
"The reason I chose National Insurance was when I asked the hiring manager what he liked best about his role, he shared that from one day to the next you never quite knew what you would be doing – and it was that variety and excitement that really appealed to me."
Sure enough, Petrie has since held a variety of roles in different locations. Within the same year of coming onboard, he found himself promoted and moving to Auckland where the then rising star sold insurance both through the direct and intermediated channels.
Over the past five decades, Petrie's posts included sales in Northland, branch manager in Waikato, partnerships manager for NZ, as well as being responsible for Tower's expansion into Vanuatu about eight years ago. Currently, Petrie is Tower's Pacific regional manager for broker partnerships – a remit he's had for nearly two years now.
Career milestones
Among the highlights of Petrie's (so far) 50 years in insurance was being the youngest ever to be appointed as branch manager at the time. Petrie, who moved to Hamilton then, is proud of what was achieved through that role.
"When I started in the Waikato, we were the eight largest branch in the country," he recalled. "When I left, we were the third. I had a very good and successful time while in the Waikato."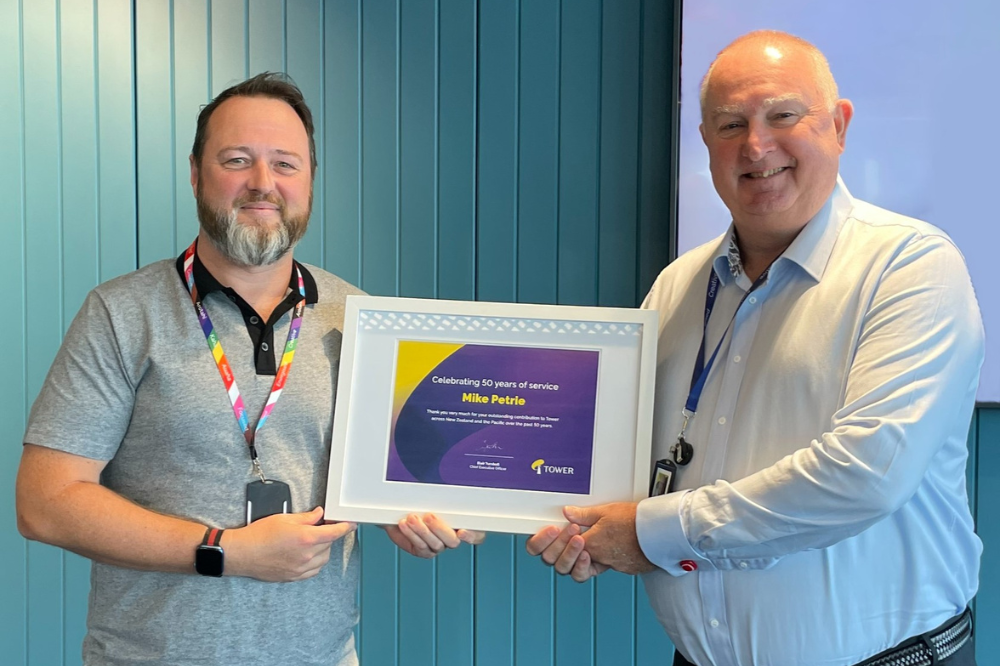 Setting up the operations in Vanuatu, however, is what Petrie (pictured immediately above with acting Pacific managing director Andrew Hambleton when the company stalwart was recognised earlier this month for his half a century of service) considers the "best thing" he's done.
"It was a challenging and exceptionally successful project," Petrie, who was based in Vanuatu for almost three years, told Insurance Business. "But more importantly, it was a chance to bring all my skills together, learn new ways of working, and experience a different lifestyle… Recruitment, property development, claims, sales – I had to figure out the whole lot."
He also shared: "I remember the first day driving to open the new office – we had sold a few policies before moving in – on that morning at 6am we had a major factory fire claim come through before we'd even opened the doors."
Learnings and piece of advice
Looking back, Petrie believes that the work experiences where you've made the change yourself are the best ones you'll ever have, and is encouraging people to do something new when the opportunity arises.
His advice for the young ones, meanwhile, is to give insurance a chance. "Don't treat it like a one- or two-year job," said Petrie. "Stick with it for a little bit. Get some skills and knowledge under your belt, then decide what you want to do. Give it a chance. Put the most in so you get the most out."
As for retiring, the prospect appears far from Petrie's mind. A true lover of what he does, Petrie has this response for anyone asking why he continues to work: "Why would I want to retire?" According to the hardworking granddad, there has not been a day during the past 50 years where he's grumbled having to go to work.
Lauding the long-time leader, Tower chief executive Blair Turnbull told Petrie on LinkedIn: "Congratulations, Mike. You epitomise the values of Tower and always putting our people first and customers at the heart of everything we do. It's been wonderful getting to know you…"
Colleagues and industry peers alike have offered words of congratulations, as well, commending Petrie's "amazing" achievement and milestone.
Do you see yourself working in insurance for five decades? Share in the comments below.