Tough conditions for global cargo market likely to continue | Insurance Business New Zealand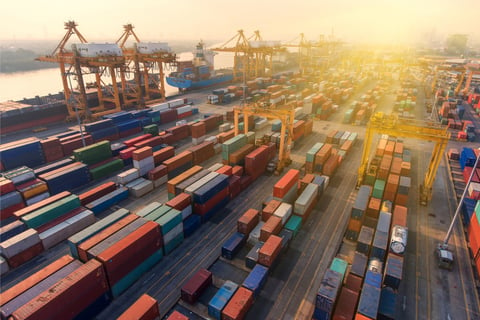 While the international cargo market has now somewhat stabilised compared to 2021, the war in Ukraine and continued pressure on ports and the global supply chain means there could be more tough conditions in the near future.
When the coronavirus pandemic first struck in 2020, cargo volumes and demand for container goods stayed strong, pushing up freight rates week after week, according to Michael Gemmell, marine insurance expert from Crombie Lockwood. However, as more pandemic-related restrictions emerged, global ports and supply chains had difficulty keeping up with the demand and volume, pushing freight rates even higher.
"The COVID-19 vaccine rollout early in 2021 did little to ease seafarer and port labour shortfalls," Gemmell said. "Instead, the supply chain crisis deepened, as cases of COVID-19 forced some major ports – especially in China – to temporarily close."
The huge demands on transport workers and a lack of warehousing space present major challenges to ports, which are still struggling to clear containers from site to keep up with the pace.
"In many locations around the world ocean carriers are waiting to enter ports and sailing schedules are in disarray," Gemmell said. "These inefficiencies are stopping workers from accessing container equipment. This has meant container shipping companies are severely short of containers, which continues to drive freight rates to record highs. The delays are now spilling over to airports, railways and national highways as the pressure to move goods across countries continues to mount."
All these present heightened risks for insurers.
The Russian invasion of Ukraine is also another major disruption to global supply chains. Many cargo ships are stuck in or around Ukrainian ports, while Russian ships are banned from docking in the US. Many global shipping companies, such as Maersk, Ocean Network Express, Hapag-Lloyd, and Mediterranean Shipping Company, have suspended shipments to and from Russia, excluding food and medicines.
"The situation is extremely volatile," Gemmell said. "We have seen Lloyd's and other global cargo insurers pull back coverage."
Companies operating outside Ukraine ports are able to buy back coverage, with rates varying from insurer to insurer. However, due to the extremely unpredictable situation, quotes are currently only valid for 24 hours and provide coverage for just seven days.
The obvious knock-on effect is shortages of certain commodities and spiralling prices, Gemmel said.
With this huge uncertainty hanging over the cargo market, Crombie Lockwood says the industry must work together to mitigate risks.
"Clients should work with their underwriters to maintain sustainability within the market, so that we don't see a return to the unpredictability of the recent past," Gemmell said. "We expect insurers will hold firm when it comes to setting their terms and policy coverages. It's also likely that they won't want to reduce deductibles to pre-2017 norms."