Are brokers doing enough to maintain their value in a digital age? | Insurance Business New Zealand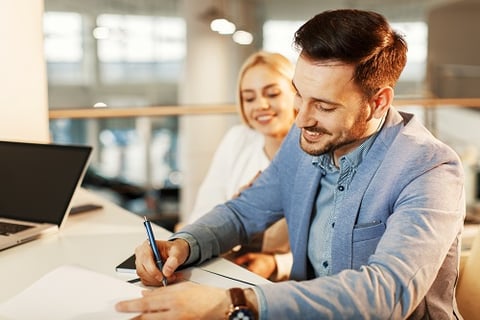 The rapid change of pace within the technology sector has been pinned as one of the biggest issues facing brokers, and with insurtech companies flooding on to the market – some to enhance, and some to disrupt – experts say now is the time to be investing in a digital future.
The insurance broking industry has remained largely unchanged over many years, and digital advancements up until now have been fairly thin on the ground. But the market is slowly starting to see new platforms making waves, though market players say brokers need to be much faster in adopting the new technology.
According to Jason Roberts, lead coordinator of the Insurance Working Group at InsurTechNZ, brokerages are still focusing largely on gaining customer books – and that focus needs to shift.
"Fundamentally, I believe the New Zealand broking sector is not doing enough to maintain the value proposition between the broker and the end customer," Roberts told Insurance Business.
"My view is that the broking sector – that is, advisers, broker groups, and even insurers to some extent – are making their money by gaining larger customer books. That's what the technology sector offers to improve, and potentially can displace. It offers something that's much more convenient for a younger generation, and, conversely, the insurance industry is populated largely by older brokers who are not necessarily meeting their needs.
"But what is fantastic about technology is that it offers broker groups the ability to use insights and data to improve that delivery of a personalised experience - but to do that, they need to embrace the technology," he explained. "They're competing against the experience of smartphones and the ability to transact online, so as soon as we can get the concept of a 'broker in your pocket' to become a reality, the adviser will be that much more powerful and robust against the powers of insurtechs who are working hard to take over that area of business."
Roberts says the industry has largely been sitting comfortably for generations, if not centuries, and so the lack of technological advancement is not necessarily the result of any conscious decision to avoid that market. Rather, the insurance sector is only just waking up to the various possibilities that it can present, along with the danger of displacement.
"When I started my first job with AMP I was going to an index file, pulling out paper slips and copying them into another index file," Roberts said. "When you think about it, that's largely what the insurance sector is still doing. We're asking customers to fill in forms that are a duplication of things they've already done, just because that's what the insurer needs. This is the power of platforms and insurtech offerings – the customer only needs to do things once, and they're given a much more personalised service.
"Customers need to be able to engage easily without friction, and through the innovation of tech companies working with broker groups, it's possible to have digital solutions to these friction points."
Roberts says broker groups can play a significant role in moving the industry forward, as relatively few have stepped up to initiate that conversation with their members so far. He says broker groups can take advantage of groups like InsurTechNZ which sees strong participation from insurtechs and insurance brokerages, and can help provide tools and insights to their members that will ultimately help them grow.
InsurTechNZ is expecting to release its first New Zealand insurtech report in collaboration with Ernst & Young later this year, and Roberts says there is a "high degree of anxiety" from the broker sector around the pace of change.
"The broker groups have a great deal to offer their members when it comes to developing tools and helping them understand the pace of innovations," he stated. "Many of them are definitely talking about insurtechs now, and their role of helping lead insights and provide tools ultimately helps the sector grow. There's definitely a leadership role for these groups to take on board.
"Ultimately, what's happening here isn't much different to what's happening overseas. There is a lag within the broker community, which is a shame because from a customer point of view, they undeniably provide value. Technology would allow them to be the voice piece of that insight in the modern age, and that's where tech partnerships really add value to a broker."
When it comes to back-end office support, Ryan Edwards of The Adviser Platform (TAP) says that part of the reason for the lack of technological uptake is simply to do with time and resources, especially within smaller brokerages. Many new platforms still rely on the adviser to migrate all their data and ensure the new systems are running correctly, and, as a result, most advisers find it easier to simply stick with what they know – even if it is less efficient for them in the long run.
"We really haven't seen a huge amount of innovation in the back-end processes area," Edwards said. "There are a few platforms available for transacting with an insurer, which is great, but it only serves with one part of the equation. We see a huge amount of advisers who are really struggling to keep on top of the whole business from top to bottom if they're solely relying on software that's hard for them to change.
"The issue is that a lot of the new platforms rely on the advisers themselves to migrate all their own data, which is a level of work that a lot of them simply don't have the time to do," he explained. "Software has a huge role to play, but unless you have someone consistently running it for you, you'll see that data becoming out of date and redundant reasonably quickly. When you are working across multiple systems and providers, it all becomes very difficult."
Ultimately, Edwards says that advice is undoubtedly going to become more meaningful in the lives of New Zealand businesses and individuals. But with the shifting technological landscape and new compliance requirements around transparency and customer care, workloads are only going to increase unless advisers get some solid help from the tech sector.
"The industry is still a fantastic career path, and demand for advice will definitely be growing," he said. "But there will be a huge focus on advisers running their business like a business, and with that comes a huge focus on documentation and process. How are you arriving at the recommendations that you're giving to a client? There will be a lot more onus on demonstrating that, and hiring more staff to deal with that is not always going to be viable.
"The industry is going to go through a very big change over the next few years, but we're confident that an adviser who can structure themselves well and be proactive about these changes is going to be really well placed to continue delivering value going forward."