Gallagher to offer FloodFlash's parametric insurance | Insurance Business UK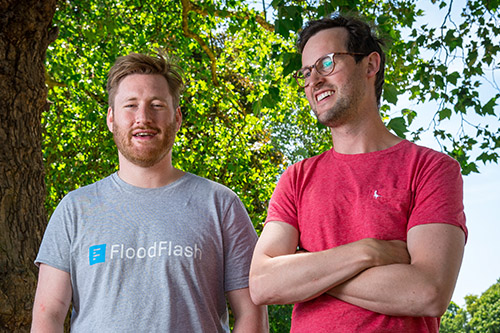 Last July, FloodFlash co-founders Dr Ian Bartholomew (pictured, right) and Adam Rimmer (pictured, left) told Insurance Business just how important brokers are to their business. Now they illustrate that further by partnering with global insurance broker Gallagher.
The tie-up will allow Gallagher to offer the insurtech's rapid-payout proposition, which features a defined trigger point or threshold and a pre-agreed settlement figure. Unlike traditional coverage, the parametric flood insurance policy is not based on an assessment of the cost of damages.
Read more about how FloodFlash works here
"Thousands of organisations across the UK are open to devastating costs from floods," said Rimmer. "We're proud to partner with Gallagher and bring rapid-payout insurance to businesses and landlords across the UK.
"The adoption of new insurtech products like FloodFlash shows Gallagher's commitment to bringing innovative cover options to its customers. With this partnership we are better placed to provide cover to the people that need it most."
FloodFlash, which officially came to the market in January 2019, is a registered coverholder at Lloyd's of London and is authorised and regulated by the Financial Conduct Authority. It provides fast and flexible cover by using the latest in data modelling and connected technology.
Commenting on the collaboration, Gallagher's Leeds branch director James Murray noted: "With the increasingly unpredictable weather, many UK businesses are likely to find themselves increasingly exposed to the risk of flooding. The good news is that there are solutions to help, even for difficult to insure businesses.
"Through our partnership with FloodFlash, we can offer our clients an innovative, technology-led solution, helping organisations obtain flood insurance in high-risk areas."
Gallagher is among the first brokers to offer FloodFlash to its clients.