Riskbook moves on to final round of ACORD Insurtech Innovation Challenge | Insurance Business UK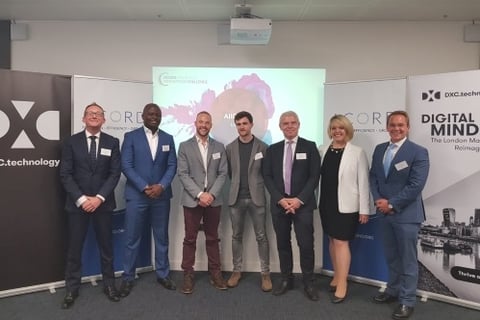 One down, two to go. Riskbook has emerged as the winner from Europe at this year's ACORD Insurtech Innovation Challenge (AIIC), meaning it will be moving on to the final round later this year against the winning camps from the upcoming semi-final rounds in the US.
Sponsored by DXC Technology, AXA XL, and Rainmaking InsurTech, the London leg of the competition saw Riskbook beat runners-up RITA and Optimiz.Claims. The European finalist is endeavouring to build a better reinsurance marketplace through a central digital platform for brokers and reinsurers.
"We had 13 very strong entrants and the standard of competition meant that the decision on our runners-up and winner was incredibly close," noted DXC Digital Minds head Caroline Bedford (pictured, second from right), who served as chair of the London judging panel.
"It was great to see so many demonstrations of the innovation that can drive the insurance industry forward. Collaboration is part of the DNA of the insurance market and working together to find how we can intelligently apply technology will undoubtedly improve our overall customer offering."
Submissions were judged in terms of ingenuity, impact, applicability, and quality of articulation.
"The AIIC seeks out solutions that benefit underwriters, brokers, and – most importantly – the buyers of insurance products and solutions," commented Chris Newman (pictured, first from left), managing director of ACORD in London.
"We were delighted by the breadth and depth of the entrants and to see so much smart thinking about issues that can be resolved all along the value chain."
Meanwhile Riskbook will be joined in Boston by other finalists from the June 26 and July 18 semi-final events taking place in Chicago and New York, respectively. The AIIC global finals will take place at the ACORD Connect conference in October.