Jump to winners | Jump to methodology
Congratulations from UAC
The Underwriting Agencies Council is proud to sponsor the 2021 Brokers on Underwriting Agencies survey. UAC congratulates all its member agencies that have been rated highly by the broking fraternity. Despite difficult times, agencies have shone through to help brokers with diverse risk placements.

The strong, close relationship between agencies and their supporting brokers is the key to success in the agency sector. Agencies offer specialist product knowledge and outstanding service targeted towards brokers' clients' specific needs. By accessing the agency market, brokers can source tailored solutions that meet their clients' risk profiles. The wide array of agencies that have been awarded in this survey attests to agencies' skills across a diverse range of products.
Broker rankings and feedback from the survey help underwriting agencies hone their offerings to brokers, increase their professionalism and expand their product ranges to fill specific niches.

Although the pandemic has restricted face-to-face contact between brokers and agencies, UAC's website (uac.org.au) continues to give brokers a variety of avenues to reach out to agencies with hard-to-place risks and source alternative security.
Congratulations to every award-winning agency for your exceptional service to the broking community.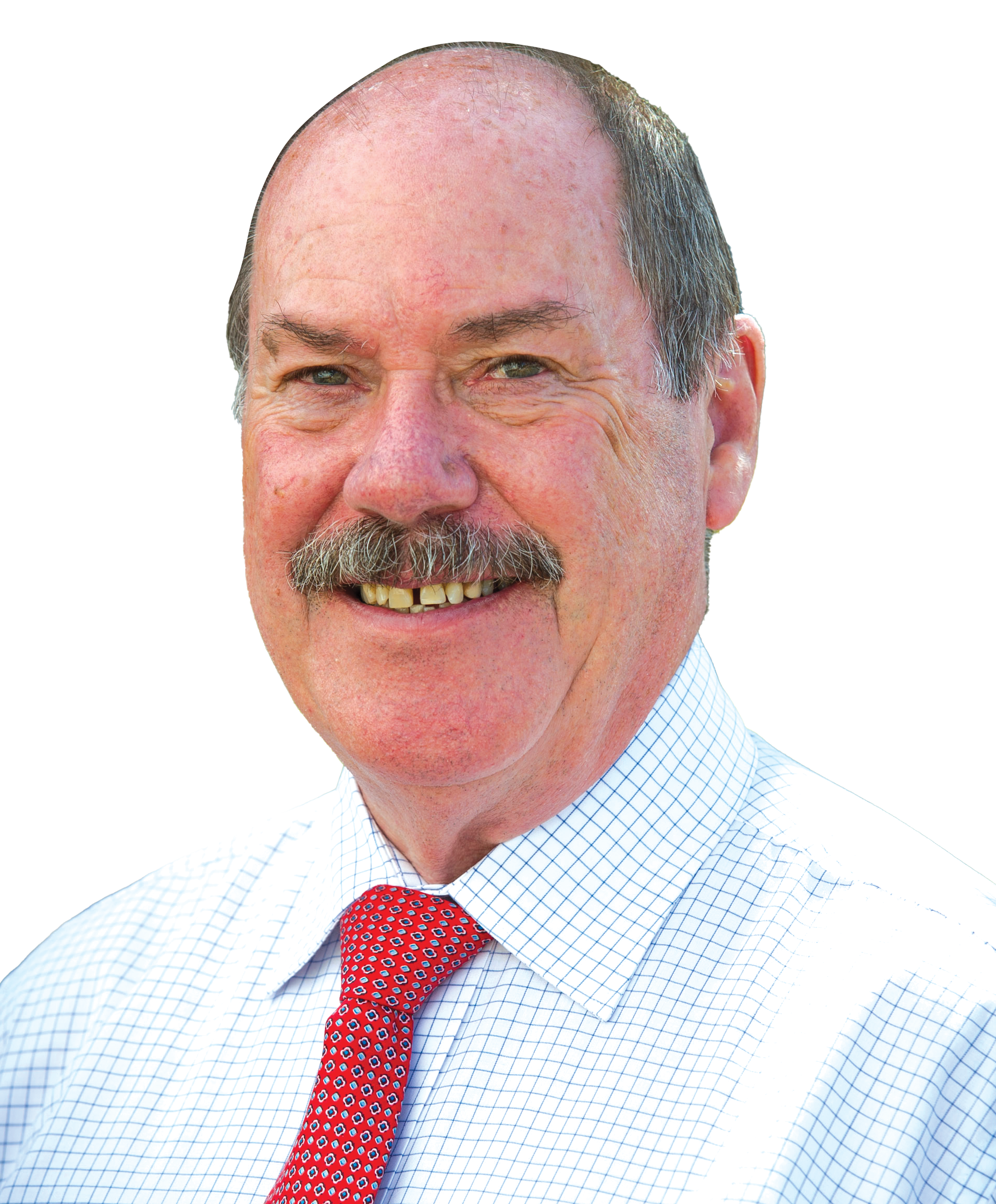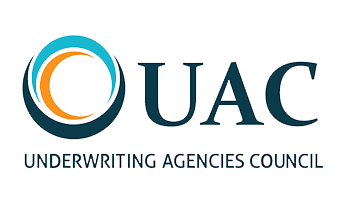 William Legge
General Manager, UAC
For seven years running, Insurance Business has given brokers the chance to identify Australia's outstanding under-writing agencies. Once again, brokers have ranked the underwriting agencies they work with across 11 different insurance offerings, from construction and property to cyber and professional indemnity. Brokers also identified the best products from under-writing agencies and offered suggestions on what agencies can do to get more business from brokers.
It's been another testing year for both brokers and underwriting agencies. COVID-19's grip held firm on the global economy, and the insurance industry experienced the ongoing impact of a hardening market with rising premiums. Underwriting agencies have endured shrinking capacity and a rising tide of complex risks – cyberattacks continue to be one of the most serious challenges, with premiums rising by as much as 60%.
And just when it looked like natural catastrophes were taking a break, a string of disasters struck the country. There were floods in NSW and Victoria, cyclones from Queensland to Western Australia, and storms in Perth. Despite the difficulties in the market, the 2021 Brokers on Underwriting Agencies survey saw consistent performers from previous years continue to shine. AHI and DUAL are now among the exclusive group of agencies that have won seven consecutive gold medals in certain categories. And as in previous years, brokers ranked coverage as the criteria that's most important to them when choosing an underwriting agency to partner with.
Read on to find out which underwriting agencies earned top marks from brokers for 2021.
ACCIDENT & HEALTH
Accident & health is a fi eld dominated by direct business, so to attract broker attention, under-writing agencies have to deliver the goods. All three winners in the category garnered rave reviews from brokers for their level of customer service. "In a time when underwriters and their agents are becoming increasingly more difficult to deal with, AFA are a breath of fresh air," said one broker.
The medal winners in this category have remained remarkably consistent over the years. AHI added another gold to its now seven-year winning streak, earning praise from brokers for its fast turnaround times. AFA claimed silver, also for the seventh year running, attracting numerous positive comments. "Just an excellent insurer," said one broker, while another described AFA as "easy to quote and bind, [with] excellent service both in underwriting and claims". The bronze medal, meanwhile, went to DUAL for the third year in a row.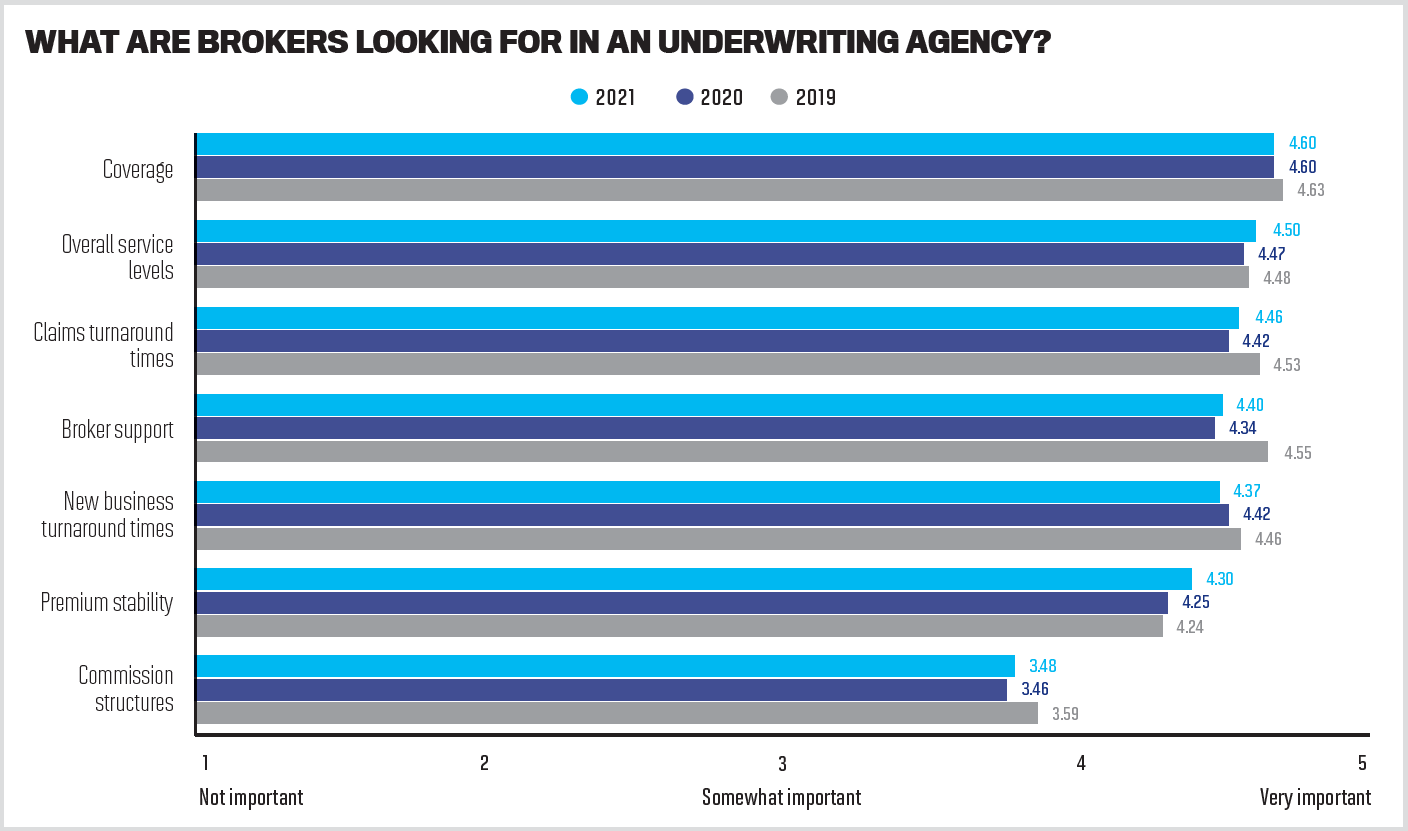 CONSTRUCTION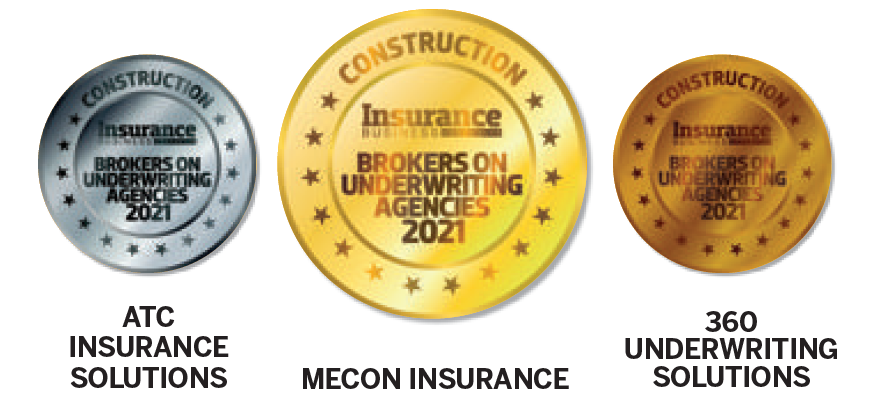 Construction is a highly complex industry to insure – but MECON Insurance appears to have found the winning formula, taking out the gold medal for construction for the sixth consecutive year. One broker's comment under-scores why MECON is perennially successful in this category: "MECON's service, technical questions, quoting support, general response, coverage options and pricing sharpness for my clients has remained at a high level of service all year. MECON's claims people and loss assessors are all equally supportive, responsive, technically knowledgeable, and personally kind and respectful towards all clients."
ATC Insurance Solutions retained second place in the construction category, making it three years of silver medals. The bronze medal went to 360 Underwriting, which, since the end of 2020, has been part of the same parent company as SURA, a four-time medallist in the construction category.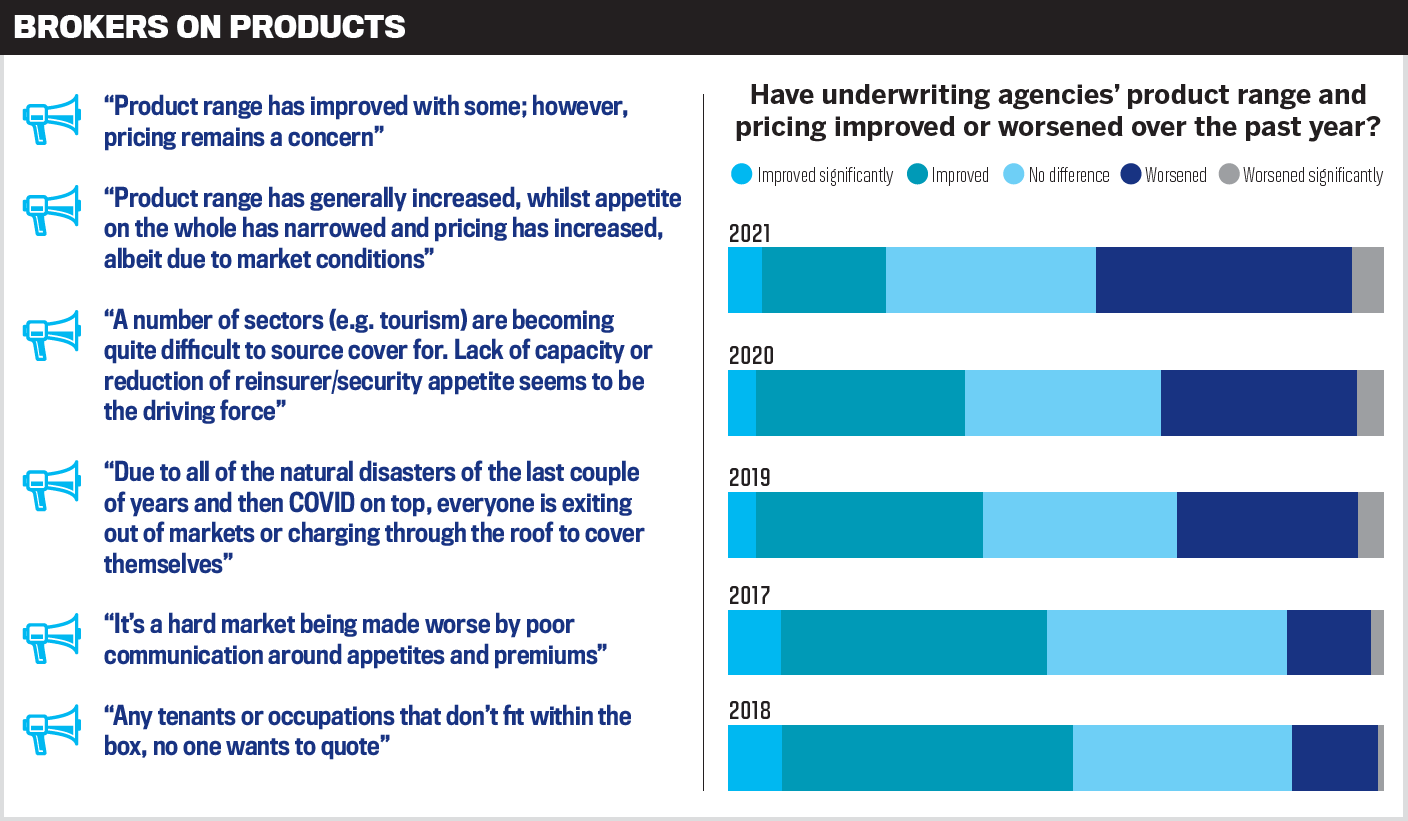 CYBER INFORMATION & TECHNOLOGY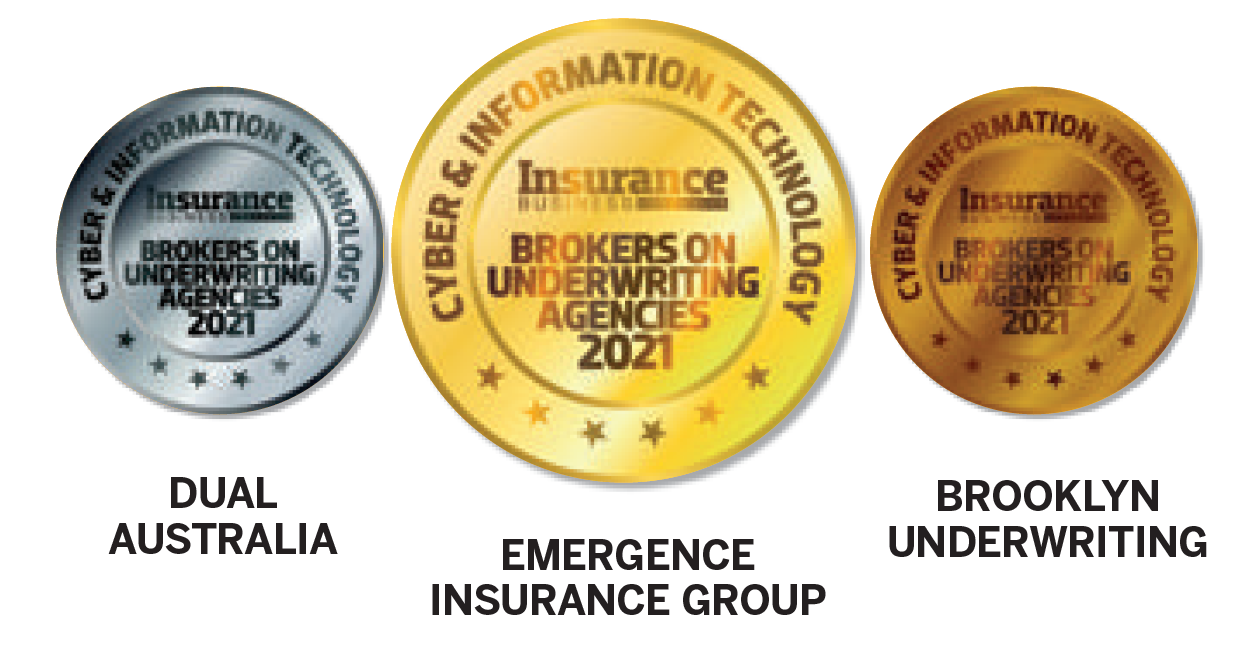 At a time when cyber threats are continually evolving and premiums are going through the roof as the market adjusts to increasingly large losses, cyber insurers are under a great deal of pressure. Nonetheless, Emergence Insurance held onto the gold for the fourth year in a row and also earned a spot among the Brokers' Picks for the sixth time. The responses from brokers suggest that Emergence's sole focus on cyber is paying off. "Emergence proves that being a niche underwriting agency and focusing on one product class is the right formula," one broker said.
DUAL also demonstrated its staying power with this year's silver medal for cyber, marking four years in the runner-up position. One broker called DUAL's cyber offering "a dynamic product of extreme importance – a reliable product and competitive premium with a very high service level". The bronze medal for cyber went to Brooklyn for the fifth year in a row.
DIRECTORS & OFFICERS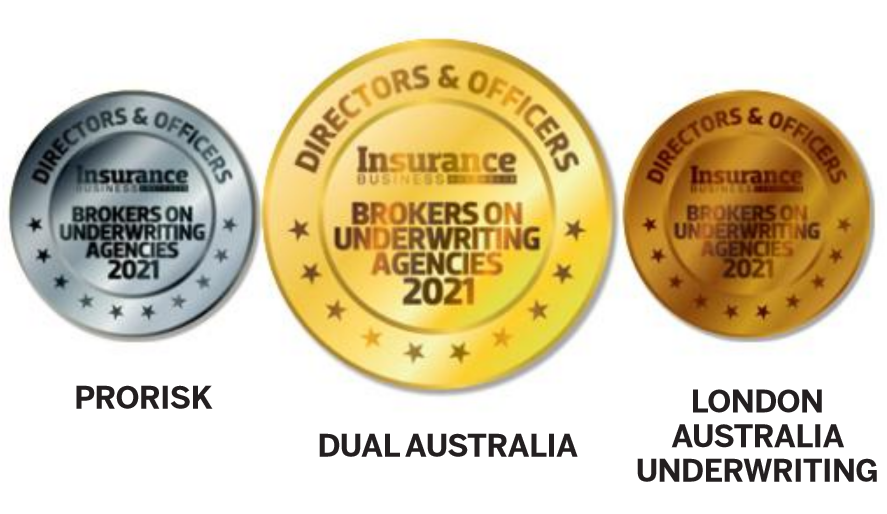 D&O is another volatile category where premiums have been pushed upwards, in this case by class actions. DUAL made it seven consecutive years of gold medals for D&O in 2021, dominating the category with more than 10 times as many votes as other underwriting agencies. The company won a total of six medals across 11 categories in this year's Brokers on Underwriting Agencies survey, which "shows DUAL's ability to underwrite different risks," one broker pointed out.
ProRisk took out the silver medal, returning to the podium for D&O for the first time since 2017. "ProRisk's broker portal is very easy to use," raved one broker. "Fantastic coverage, good range of options to select from, premium is very reasonable, and the under-writers I have dealt with are always warm, friendly and helpful."
London Australia Underwriting earned the bronze – its first medal in D&O since claiming silver in 2018.
MANAGEMENT LIABILITY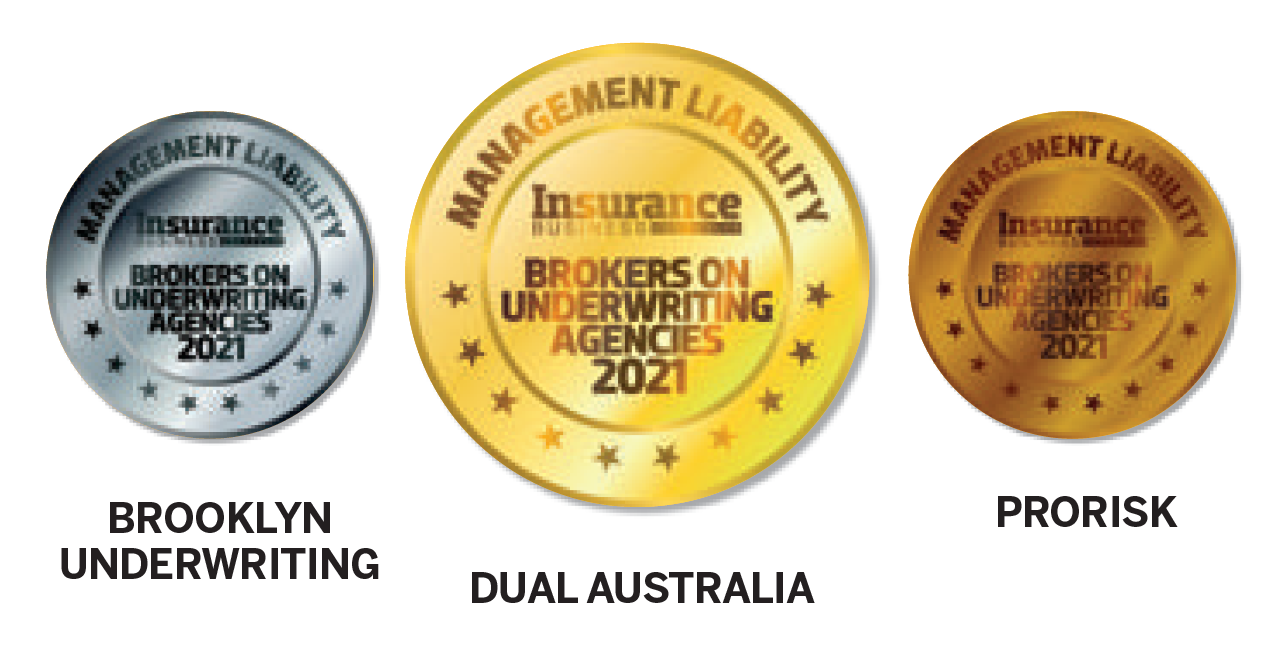 The exposures that arise from running a business are plentiful, and that's where management liability insurance comes in. Last year, DUAL dropped back to silver in this category after fi ve years of consecutive golds, but this year, the company came back with a bang.
DUAL received more votes from brokers for its management liability product than any other underwriting agency in any category. "Extremely easy system, good wording, pleasant to deal with, efficient and professional with claims handling," one broker said of DUAL. "Very good cover, excellent service, great staff," said another.
Last year's gold-medal winner, Brooklyn Underwriting, took out the silver this year, winning praise from brokers for having a "good product and a fair price". The bronze for management liability went to ProRisk, which returned to the podium in this category for the first time since 2016.
NOT-FOR-PROFIT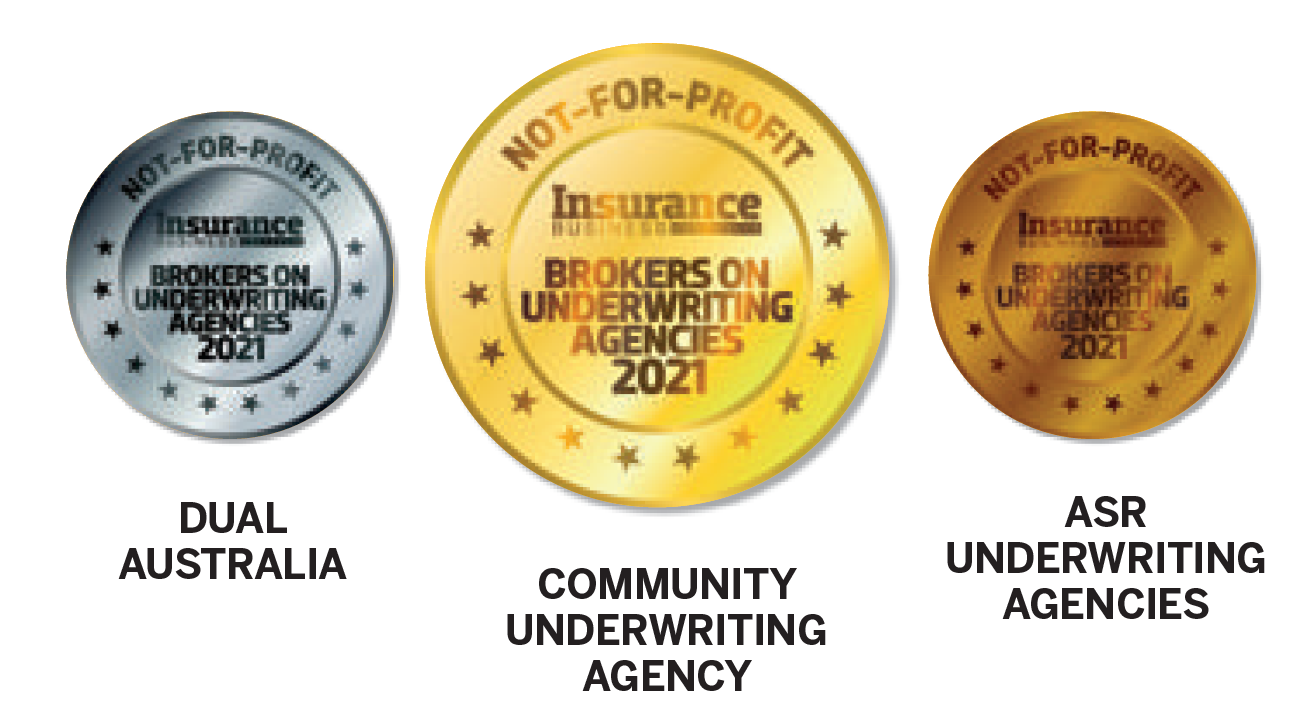 The not-for-profit space can be a challenging one for any insurer because of the precision of terms and the broad range of coverage – so it's hardly surprising that brokers tend to favour specialists in this space. Community Underwriting, which only insures not-for-profits, took out gold in this category for the sixth consecutive year.
Brokers appreciated the wide breadth of classes covered under Community Underwriting's policy. "We provide cover for an abundance of the not-for-profi t sector, and Community Underwriting has by far the most superior product available. In addition, all personnel are an absolute delight to engage with," said one broker. Another praised Community Underwriting's "excellent industry knowledge".
Also making it six in a row in the not-for-profi t category was DUAL, which took out silver. The bronze went to ASR, which has earned four bronze medals in this category since 2015.
PRODUCT LIABILITY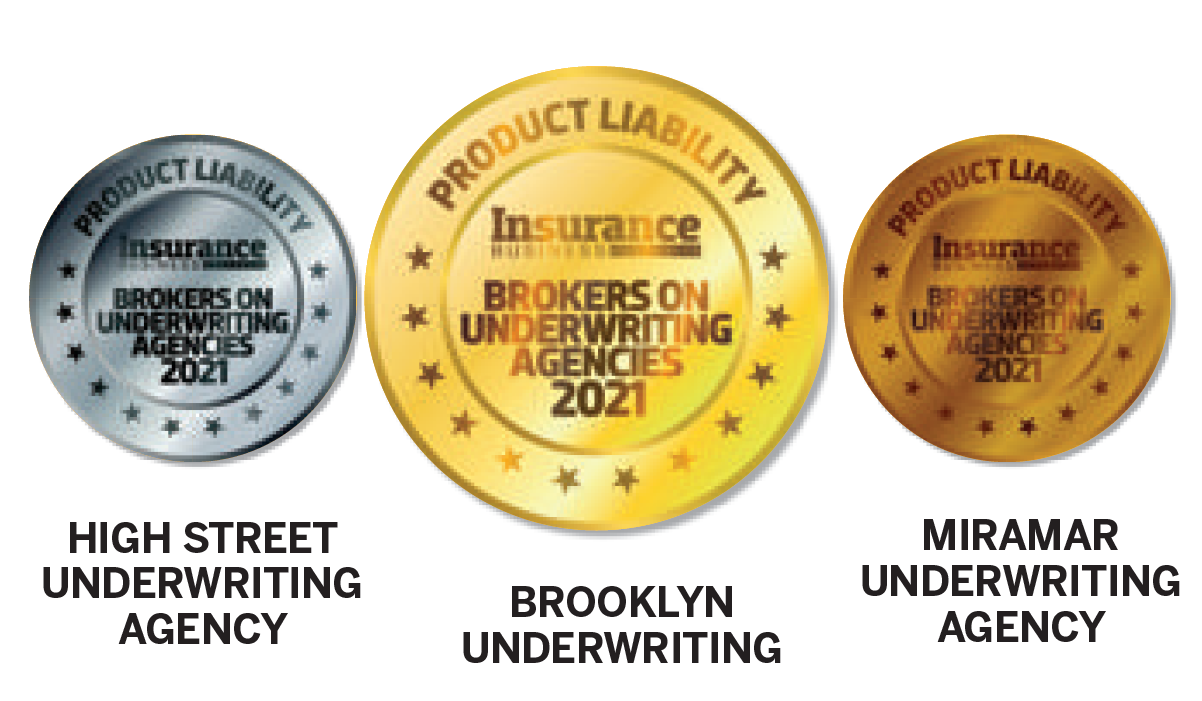 Product liability is another demanding category – not only do underwriting agencies need to be aware of clients' specifi c needs and exposures in this space, but they also need to stay on top of a complex regulatory environment.
After falling to second place in 2020, Brooklyn Underwriting reclaimed the gold medal 2021. "Premiums are competitive, turnaround times are excellent, service is great, and the online portal is handy – can't fault them," said one enthusiastic broker.
Trading places with Brooklyn on the podium was High Street Underwriting Agency, which fell from gold to silver in 2021, but still won plenty of praise from brokers. "I fi nd High Street very accommodating, and they really understand the risk placed," one said, while another commended High Street for its "extremely attentive underwriters who communicate consistently and effectively".
The bronze went to Miramar Underwriting Agency, which has earned three bronzes and two silvers in product liability since 2015.
PROFESSIONAL INDEMNITY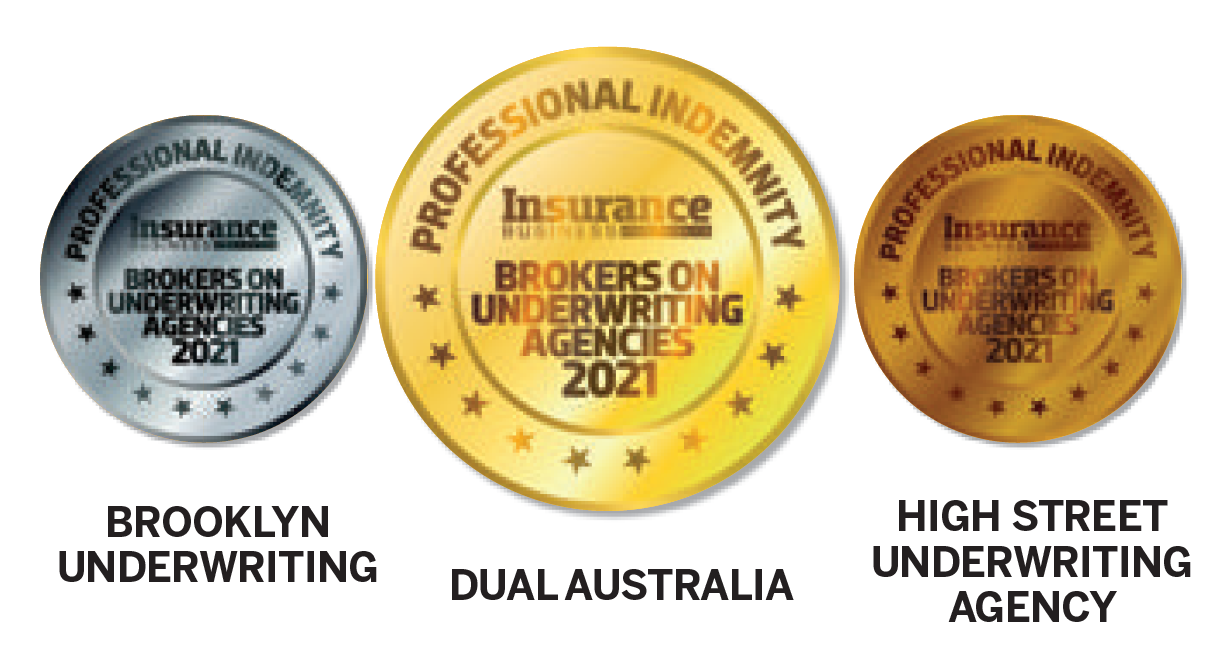 In recent years, more and more Australians have been choosing to invest in professional indemnity coverage to protect their professional reputations – and brokers have come to rely on certain underwriting agencies to deliver the goods in PI.
DUAL took out the gold medal in this category for the seventh year in a row; brokers cited good pricing and impressive coverage as the reasons for their votes. "Very competitive premiums and covers," said one broker, while another said of DUAL: "They're always trying to expand cover and also try to be flexible on underwriting."
After rising to second place in 2020, Brooklyn Underwriting made it two for two with another silver medal for professional indemnity in 2021. The company's customer service was highlighted by one broker: "It has always been great dealing with them, as they have been diligent and responsive."
High Street also repeated its 2020 performance, taking out the bronze – its fifth medal in professional indemnity since 2015.
PROPERTY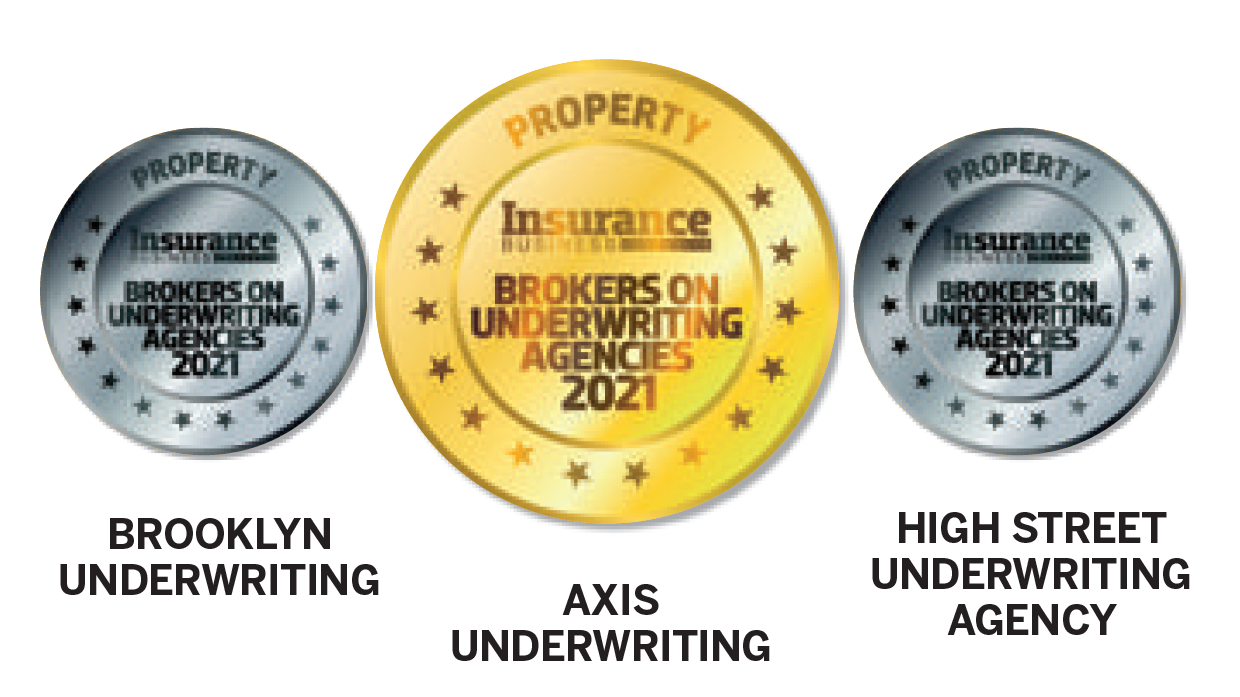 Property insurance is a massive category, which means brokers are often looking for under-writing agencies with commensurably large capacity. After falling to silver in this category last year, Axis is back on top in 2021 – its fifth gold since the inception of IB's Brokers on Underwriting Agencies survey. Brokers praised Axis for its "coverage and competitive rates" and "awesome service and understanding [of] clients' needs".
Brooklyn took home its first medal in the property this year, winning silver and attracting broker praise for its customer service. "They went out of their way to help with the placement of an EPS risk," said one broker.
High Street now has back-to-back bronze medals for property; brokers praised the agency for meeting the needs of their SME clients. "Very good coverage for their property café and small restaurant package," said one broker, while another noted that "the cover is very good and fully equipped with what the client needs for SME. The affordable premium also makes it more attractive."
PUBLIC LIABILITY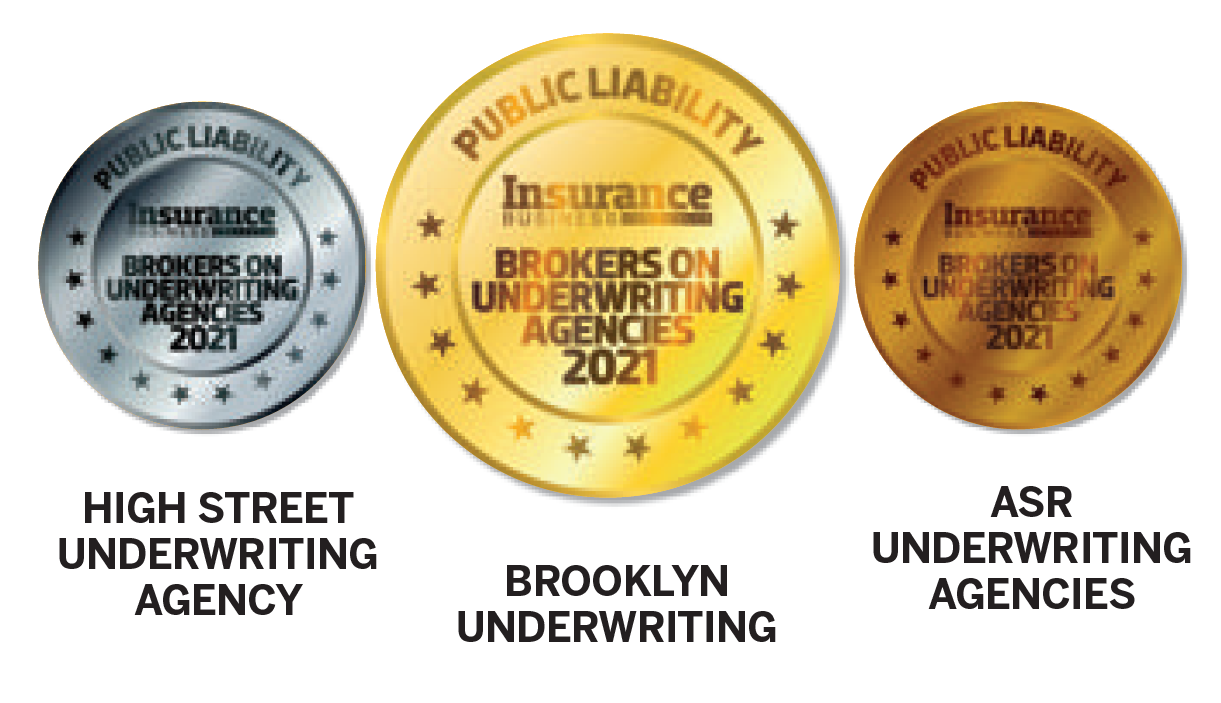 Public liability cover is especially important for businesses that interact with the public, and Brooklyn and High Street have both marked themselves out as experts in this sector, trading the gold and silver medals for the past three years. This year, brokers awarded the gold to Brooklyn for the second year in a row.
The silver medal is High Street's seventh total medal for public liability – it also has five golds and another silver to its name. High Street garnered a lot of positive feedback in this category, winning praise from brokers for its speedy turnaround times and excellent customer service. "A great underwriting team with broad knowledge," said one broker, while another noted that "High Street have been extremely helpful in placing some more diverse risks".
ASR took out the bronze for public liability this year, marking its first appearance in the category since 2016.
STRATA COVER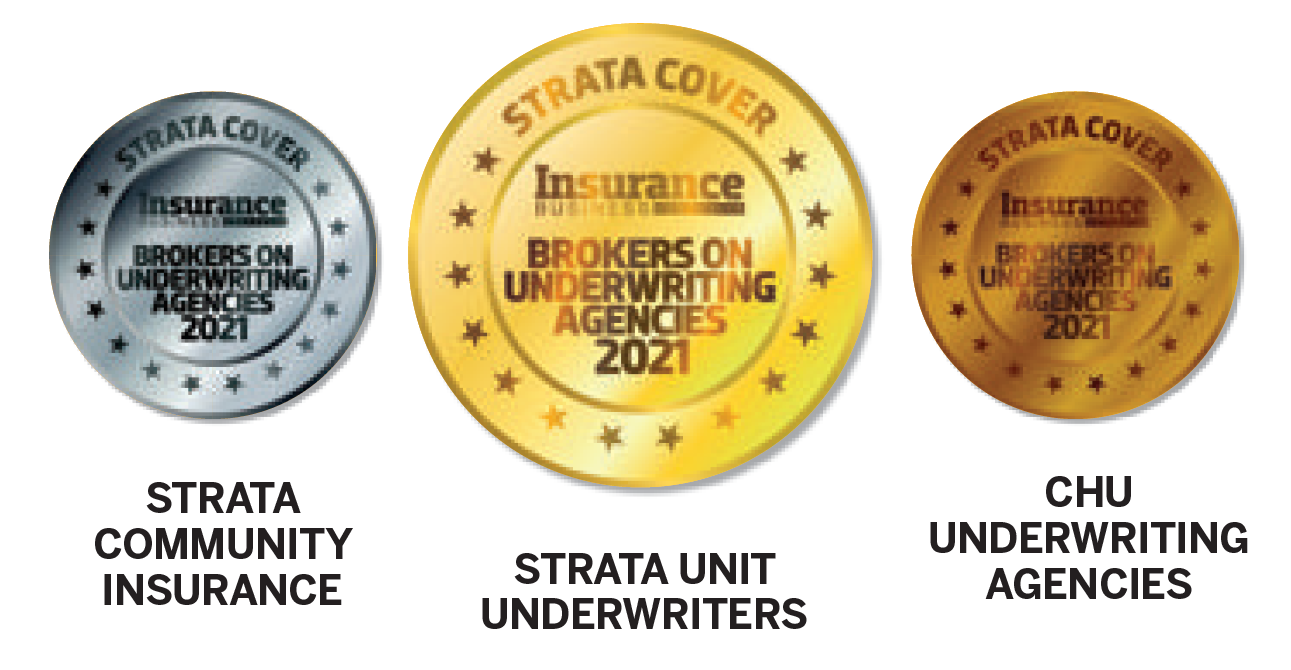 As with many other categories, the winners for strata cover have remained consistent throughout the duration of IB's Brokers on Underwriting Agencies survey, reflecting the importance of specialist expertise in this segment.
Strata Unit Underwriters took home the gold for the second year in a row; the words "flexibility" and "best service" popped up frequently in brokers' comments about the agency. One broker described Strata Unit Underwriters as "proactive and willing to work with me … upfront with [their] decision", while another praised the agency for being "flexible in their approach".
The silver and bronze medallists flip-flopped from 2020: Strata Community Insurance took out the silver this year, while CHU earned bronze – and plenty of praise from brokers. One broker noted that CHU is "the go-to-market for commercial strata for Insurance Advisernet. Good product, consistent appetite, and claims service is excellent." Another broker was pleased that "CHU actually make an effort to underwrite policies rather than having a 'computer says no' attitude".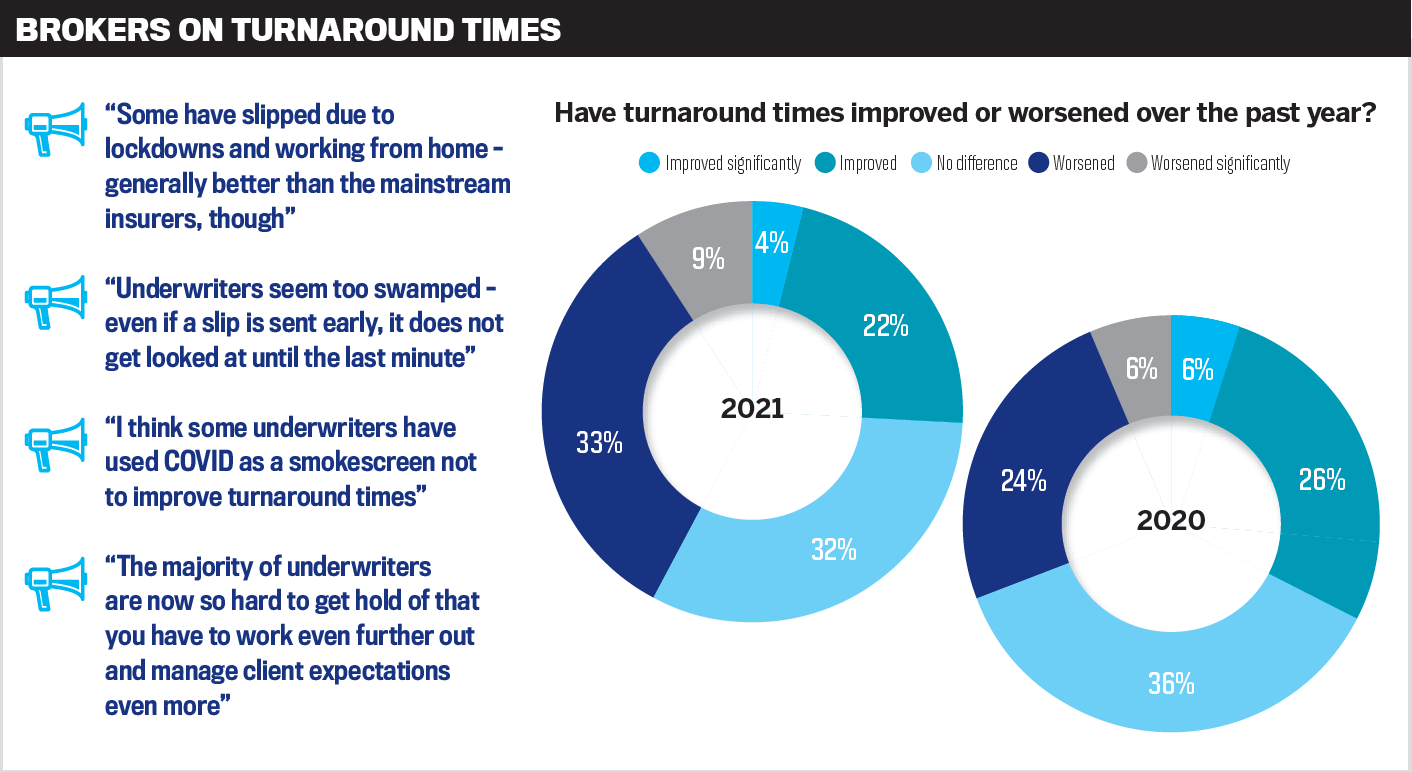 BROKERS' PICK
In addition to voting for the top underwriting agencies across 11 product lines, brokers were also asked to name the best insurance product provided by an agency. Here are the Brokers' Pick award recipients for 2021

Emergence Insurance Group
Cyber
In addition to a fourth gold medal in the cyber & information technology category, Emergence landed among the Brokers' Picks for the sixth year. Brokers' comments suggested that Emergence is a well-deserving victor on the basis of service, product and cost. "The product is comprehensive, easy to understand and to convey to clients, as well as extremely cost-effective," said one broker. Another noted that Emergence is "constantly listening to the market and adapting their product accordingly. It is a tailored product, and the service levels and pricing are good. They react to claims quickly. They provide very good education sessions on the product, including claims examples."

High Street Underwriting Agency
Public Liability
High Street narrowly lost out to gold-winning Brooklyn Underwriting in the public liability category, but when it comes to the product itself, High Street clinched the Brokers' Pick. In addition to its willingness to provide cover for niche industries, brokers were also impressed by High Street's service. "The team at HSUA are supportive and understanding and look to solutions, not problems," one broker said. Another praised High Street's "excellent personal service, friendly team, quick turnarounds, great response to hard-to-place risks and reasonable rates".

AFA Insurance
Personal Accident & Illness
It might have been the runner-up in the accident & health category, but AFA's Personal Accident & Illness product clearly has a high number of fans. "This is a wonderful product for individuals who are new in business and don't have a financial record if they have a claim in the first couple years in business," one broker said. Another added: "Their agreed value cover is brilliant, and none of the other insurers can compare with this policy benefi t. Their service is always amazing – they respond immediately. Their system is simple and quick to use. Overall, fantastic."

CHU Underwriting Agencies
Residential Strata
CHU's residential strata plan has appeared among the Brokers' Picks in every Brokers on Underwriting Agencies survey since 2015. Why? One broker praised CHU's comprehensive cover and extra benefi ts: "Coverage is the most extensive in the market. PDS is well set out and easy for clients to understand." Others were fans of CHU's quick response and turnaround times, praising the company for its "response times, turnaround, exceptional claims handling and overall efficient service".