Jump to winners | Jump to methodology | View PDF
The Future is Bright
If the 2021 Insurance Business Young Guns are anything to go by, the insurance sector is in great hands. These 41 rising superstars – all age 35 and younger – were nominated by their colleagues, managers and mentors for demonstrating excellence in the field. The many detailed submissions IB received made it clear that these young practitioners are not simply consummate professionals with impeccable technical expertise. They go above and beyond in every sense. In an increasingly complex and competitive sector, they have managed to lead, innovate, mentor their colleagues, build relationships, develop professionally, place their clients' needs front and centre, contribute to the wider industry and give back to the community.
On the whole, this year's Young Guns possess many 'soft' skills that have translated into rock-solid performance: great communication, emotional intelligence and the ability to walk in the client's shoes. Together, these allow for the management of complex claims and the building of strong, collaborative relationships with clients and colleagues.
Another common denominator for these stellar performers is what one nomination described as "bringing an inquiring mind to every claim" and leaving no stone unturned in finding a solution.
And when the market or circumstances get tough, the Young Guns' resolve gets tougher. Take, for example, Ben Johnston-Bradford, underwriter/responsible manager at Specialist Underwriting Agencies (SUA). "In a market that is currently seeing a contraction in capacity for statutory liability, Ben is working overtime to fill the void left by other insurers," read his nomination. "Ben has overseen continuous year-on-year growth in his own portfolio, as well as the overall product portfolio for SUA."
John Deane, national operations manager for self-insurance at Gallagher Bassett, likewise showed excellent leadership in challenging times. "With the COVID-19 pandemic severely restricting service delivery to the Northern Territory, especially to remote and indigenous populations, John led his team to adapt and innovate the service delivery," says a colleague. "Despite the decreased access to traditional services, this enabled the delivery of improved year-on-year return-to-work outcomes."
Learning and leading
As well as resilience and adaptability, common to all of our winners is a dedication to education and professional development – not just their own, but also that of their colleagues.
Ellie McGrory, a lawyer at Hall & Wilcox, is just one example. "In addition to her insurance practice, Ellie assists her supervising partners by supervising and settling work prepared by paralegals, law graduates and junior lawyers," her nomination read. "Ellie is currently mentoring two law graduates, assisting them in goal-setting, career development and adjusting to life in the law after completing university studies. Ellie also mentors young lawyers before their first court appearances."
Mentoring is a key activity for all of this year's Young Guns, who regularly volunteer their time to coach and nurture less experienced team members. Many see mentoring as not only a necessary investment in the future of the business, but also a pivotal step in their own leadership development.
Ellen Li, a technical services officer in QBE's NSW liability claims team, has participated in numerous business improvement projects within the company. As well as managing a portfolio of complex claims and being the first point of contact for her team for technical advice, Li uses her legal background and technical claims experience to coach colleagues. "With a passion for developing her team members, she has championed a project to create practical training material that will assist new starters and junior team members with learning about various aspects of liability claims," Li's colleague says.
A thirst for knowledge and self-improvement is another hallmark of this year's Young Guns. Doris Mihajlovic, junior short-tail claims adjuster at Berkley Insurance Australia (BIA), typifies a learning model that combines formal qualifications with seeking out mentors within an organisation. "While at BIA, I have worked diligently to educate myself on top of my university degree," Mihajlovic says. "I believe my university training enables me to optimise outcomes through problem-solving and critical thinking. I shadow my senior colleagues, should one of my claims have complex legal issues, and have attended a few mediations and informal settlement conferences."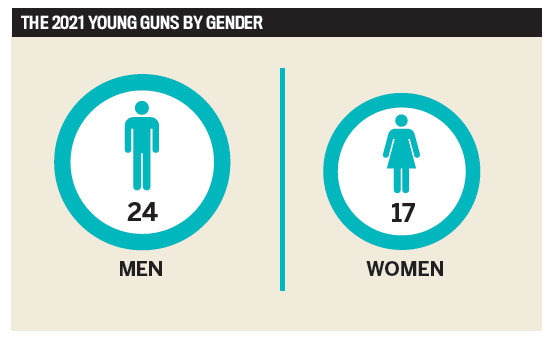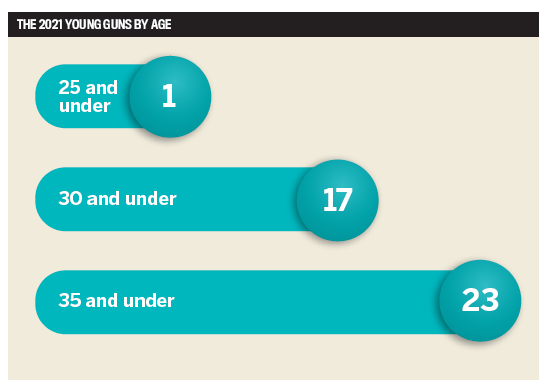 As well as helping to cultivate the next generation of insurance professionals, our winners are forward-thinking and proactive, providing thought leadership at a time of great change and uncertainty. Rising stars like Clancy O'Donovan, senior associate at DLA Piper, have "one eye on the current landscape and another on future and emerging issues," says a colleague. "Clancy is building his career as both a future leader in DLA Piper's insurance practice and as a trusted adviser to other industry leaders. In November 2019, Clancy jointly wrote the annual AILA Geoff Masel Lecture, 'Insurance: Facing a Change of Era', with Michael Gill. The well-received lecture discussed a range of challenges facing the insurance industry, including the conflict between shareholders and customers; the impact of developments in artificial intelligence and the 'information age' on insurers and consumers alike; and whether the future of insurance, and its value, lies in it being a purely commercial contract or rather a social promise."
This drive to anticipate change, to constantly improve and move the industry forward, was seen across this year's Young Guns, who are challenging current thinking and pushing for innovations in process and practice.
Clients come first
A strong client focus was evidenced in Young Guns who went not just the extra mile, but several thousand if need be, upping sticks across country to gain experience and expand their learning.
Jeff Williams, senior technical claims lead at Gallagher, was described by a colleague as "one of the best client advocates around – he will go out of his way to ensure the client gets the best possible result on their claim, and he does this by working with adjusters, insurers and anyone else involved in the claims process. He puts himself in the client's shoes; he will hold their hand through what can be a very difficult and at times complex claims process."
Jonathan Yogarajah, corporate accounts manager at Gow-Gates Group, garnered this praise from his colleague: "Jonathan's thirst for knowledge and self-improvement has underpinned his success in being recognised as an industry leader who is not only seen as an exceptional insurance broker but a true extension of his clients' business. His enthusiasm towards protecting assets, people and livelihoods can only be described as forming part of his DNA."
This year's Young Guns are also pushing for the betterment of the wider industry. The winners include 17 inspirational female role models who are active and vocal in their support for women in the industry, regularly attending forums like IB's Women in Insurance Summit and striving to open up opportunities for women in the workplace.
The professional expertise and technical prowess of this line-up goes without saying. What makes them Young Guns is that they are stellar all-rounders: always learning, teaching, innovating, giving back and helping the industry to evolve.
Aimee Williams


Commercial broking manager, Austbrokers Coast to Coast

Belén Dalvit


Relationship manager, Bell Partners Insurance

Ben Johnston-Bradford


Underwriter/responsible Manager, Specialist Underwriting Agencies

Ben Richardson


NSW product lead - financial lines, QBE Insurance

Benjamin Lee


Risk Analyst, Australasia, AIG Australia

Clancy O'Donovan


Senior associate, DLA Piper Australia

Doris Mihajlovic


Junior short-tail claims adjuster, Berkley Insurance Australia

Ellie McGrory


Lawyer, Hall & Wilcox

Harleen Bhasin


Business relationship manager, QBE Insurance

Jeff Williams


Senior technical claims lead, Gallagher

Jeshri Lulla


Commercial portfolio analyst, DUAL Australia

John Deane


National operations manager – self-insurance/GB Assist , Gallagher Bassett

John DePeters


Head of middle market and small commercial division, Asia-Pacific, Chubb

Jonathan Yogarajah


Corporate account manager, Gow-Gates Group

Joshua Hawkins


Account manager, Brookvale Insurance Brokers

Laith Parissi


Account executive, Gallagher

Luke Davidson


Performance, technical and complaints manager , Mapfre Insurance Services Australia

Marian Parzakonis


Branch services manager, Chubb

Martin Maguire


Head of operations, Australia and New Zealand, Claim Central Consolidated

Megan Duckworth


Co-founder and head of underwriting, Mitti Insurance

Michael Pham


Client manager, Aon

Michelle De Cruz


Assistant underwriter, financial lines, Agile Underwriting Services

Nick Daffy


Branch manager, McLardy McShane

Nicole Pallavicini


Managing principal, cyber, Marsh

Patrick Selle


Authorised representative, Arcuri & Associates

Peter Syme


Account broker, Dynamic Insurance Brokers

Raymond Loh


Senior claims specialist, AXA XL

Rebecca Bowman


Senior claims specialist, global lines – specialty, AXA XL

Sarah Ellis


Portfolio manager - Northern Territory, QBE Insurance

Taela Bloemers


Sales manager, Austbrokers Coast to Coast

Tate Harris


Partner, allinsure

Taylor Burstow


Insurance broker/account manager, Willis Towers Watson

Timothy Trandafilu


Client manager, Aon

Tom O'Hara


Manager - forensic advisory services division, Sedgwick
Nominees were asked about their current role, key achievements, career goals and contribution to the shaping of the industry. Recommendations from managers and senior industry professionals were also considered. The Insurance Business team reviewed all nominations, narrowing the list down to 41 of the sector's most outstanding young professionals.