Broker reveals his keys to customer service | Insurance Business Australia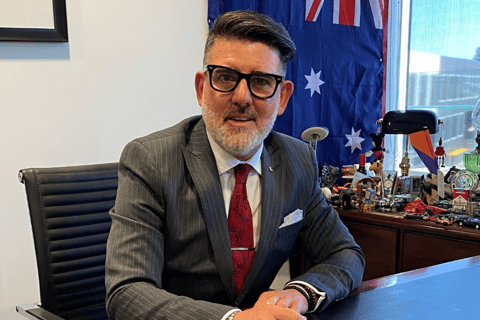 Having worked in the industry in one capacity or another since he was just 16 years of age, Max Cuzzocrea (pictured) knows what it takes to deliver optimal service as an insurance broker.
"For me, the best brokers are those who are seen by their clients as a trusted advisor," he told Insurance Business. "They stay in touch with their clients not just at renewal time, but throughout the year to ensure that they're up-to-date with any changes in their business model and needs. The best brokers are always there when the client needs you the most."
The co-founder of Adelaide-based Maxton Insurance Brokers, Cuzzocrea has grown the business over the years and has now established a small but close-knit team of insurance professionals that includes both of his sons. The elder of the two, Joseph, was brought into the fold in 2012 as a broker assistant, a role that his younger brother Justin has recently taken up. Their presence means that Maxton has a "built-in succession plan to ensure the company's future", in the words of Cuzzocrea. With Joseph having been honoured with an excellence award in the Young Gun of the Year – Independent (1-19 Staff) at this year's Insurance Business Australia (IBA) Awards, it appears that this future is in safe hands.
Read more: A human touch in a hard market
As Maxton's managing director, Cuzzocrea sets a standard for the company's workforce. This entails meeting the needs of each client, no matter their size, with diligence and honesty.
"Whether we're dealing with an SME or a larger enterprise, brokers must be sure to obtain all of the material facts, understand the risks at hand, and be able to use every tool in our box to achieve the most comprehensive coverage for our clients," he stated. "My approach has always prized understanding that the client is placing their trust in you, the broker, and that their future income and lifestyle are in your hands. Therefore, it's crucial that you provide the same level of high-quality advice and service, no matter the size of the risk at hand."
This emphasis on service was highlighted during the early stages of the COVID-19 pandemic, when the Maxton team went out of its way to ensure that clients were set up to continue their businesses remotely.
"It was a wonderful opportunity, as a broker, to really see how clients were doing and to not just give them insurance advice, but to help them with their staff's set-ups at home and ensure that they were creating safe and compliant work spaces," he said. "These are the times that you feel really good, knowing that you have benefited your clients and their staff by putting them in a position to succeed in a healthy way."
Read next: The importance of maintaining constant communication with clients
Cuzzocrea's dedication hasn't gone unnoticed by his clients, either – just recently, he was recognised as the Australian Broker of the Year at the 2020 IBA Awards, an award that he described as a "proud and humbling accolade" and one that has helped him "feel a sense of achievement and satisfaction among quality brokers and peers in this wonderful industry."
Looking forward, Cuzzocrea sees preparing for an ever-changing environment, technological advancements and adapting to new ways of doing business as focal points for Maxton. "Cyber is a hot spot and a particular area of growth. With people still working from home, passwords and sensitive information are at risk of exposure, and it's about educating our clients in what we know to be 'the new normal'," he noted.
The brokerage has also extended its offerings to include a claims advisory service for non-clients who are having difficulty with their existing claims. According to Cuzzocrea, "this year alone, we have settled around $1 million in claims that were previously denied."
In the view of Cuzzocrea, though success comes in many forms and can be judged in many ways, client satisfaction remains essential. "For me, one of the ways I measure success is through referrals and recognition and by continuing to communicate with clients and not only give them advice, but to also listen to them when they are concerned," he said.