Fighting the virus in "three main buckets" | Insurance Business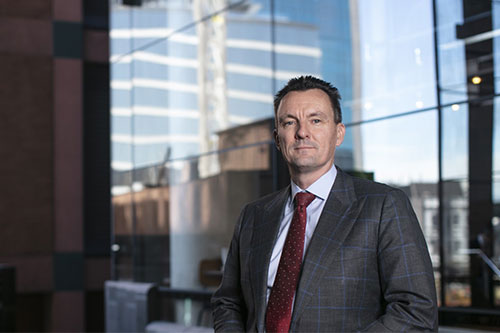 In the middle of COVID-19 restrictions and a new Melburnian lockdown, Grant Peters (pictured), Ernst & Young's (EY) Asia-Pacific and Oceania insurance leader, says the insurance sector's response to the pandemic falls into three main buckets.
"We're now in about week 18 of our COVID-19 lockdown and response here in Australia and, moving forward, we see the impact on the local insurance industry as falling into three main buckets: operational resilience, financial and capital management, and supporting customers and intermediaries," Peters said.
"From the outset, the local insurance industry has been focused on supporting their customers and intermediaries during this crisis. Unsurprisingly, early on they were receiving very high levels of enquiries from their existing customers, intermediaries and brokers – particularly around areas such as premium affordability and policy coverage.
"That initial volume of inquiries has come off a bit now but still remains higher than normal in the current environment. We've also seen a number of insurers coming out with various relief packages and other support offerings for their customers."
Read next: Broker on the efficiencies brought by the coronavirus pandemic
According to Peters, one of the biggest areas impacted across the insurance value chain has been in relation to face-to-face interactions with customers. This is particularly evident, he says, with brokers and intermediaries, who have often relied on these in person interactions for both existing customers and to secure new business.
"The various lockdown measures and the need for social distancing has required a reworking of some of those intermediary activities that are usually done face-to-face," he continued. "This has involved putting in place more digitised processes and an increased use of technology. So, we're definitely seeing an evolution in how some of those immediate customer and intermediary needs are being met. Customers are willing to adopt these new processes, but they do bring with them new challenges as well."
Insurers are also becoming "more forward-thinking" and looking at how they can utilise new technologies and processes to help attract and retain customers in the longer term. Peters says we're likely to see some more "new product initiatives coming out over the next few months" to support that as well.
But just, like any industry, the insurance and broking sector is also focused on its own operational resilience in the wake of the COVID-19 crisis and beyond.
"At the moment, they're still very focused on the health and wellbeing of their own staff and there is still a large portion of the insurance industry working from home. It's probably fair to say switching to working remotely without much warning put some of the insurers' business continuity plans and operational resilience to the test," Peters continued.
"In broad terms, the industry managed the change pretty well; albeit with a few little wobbles in some cases where insurers were relying on third parties, for example."
Read more: Broker on the risk many are putting in the "too hard pile"
Moving forward, insurers and brokers will be considering how some form of return to the office might play out. Peters says that move back to the office, in what some are calling "work reimagined" will have a number of dimensions to it.
"When it comes to operations, insurers will have an increased focused on process simplification and automation. The trend towards more digitisation of processes was already underway, but this COVID-19 period has really acted as an accelerator for that digital transformation," he explained.
"The pandemic has already changed the habits of even some of the more reluctant customers. For example, my parents are 80 years old and until now they've always paid everything with cash, going into the bank once a week – basically doing everything with cash and in person.
"These habits, which they hadn't changed in over 20-years of digital advancements, suddenly had to change and, a week into the pandemic, they were doing online appointments and automated bill payments. So, that digital customer experience is going to be very relevant for the insurance industry going forward."