From CFO to CEO: New HCi boss shares journey and priorities | Insurance Business Australia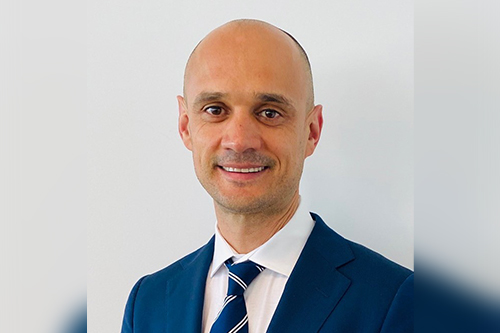 'Numbers man' Jack Joubert (pictured) took the helm at Hollard Commercial Insurance (HCi), first in an acting capacity, in July before officially assuming the chief executive role two months later. Insurance Business spoke with the former chief financial officer to find out how he's transitioned to the post and what's on top of HCi's agenda under his reign.
"My goal is to build on the success of our commercial business and to continue to drive the best outcome for all," said Joubert when asked what targets he has set in his new capacity.
"This includes a combination of the appropriate products and processes in place to best address the changing needs of customers and developing our service proposition to brokers by continuing to save them time through reducing quote times or promptly handling claims."
The CEO added that, internally, he plans to reduce any non-value adding complexity in the business. The aim is to free up staff and resources to spend more time on making value-added improvements to benefit HCi's key stakeholders.
Joubert, who has more than a decade of insurance industry experience, also wants to ensure that their proposition remains relevant and HCi sustainable over the long term by not only dealing with, but also evolving with, what he described as the ever-changing regulatory landscape, customer and partner needs, and economic climate.
Read more: Hollard Commercial Insurance names interim chief executive
"Over the last few years, we have seen rapid growth as we've become one of the top five business package insurers in the market," noted the chief executive, who revealed that they have embarked on a simplification strategy that spans a reassessment of the long-term viability of all HCi products, systems, and processes.
"We've achieved this by focussing on delivering custom-made SME insurance through low-touch electronic platforms and other broker channels. Our success on these electronic platforms is proving we are a strong challenger to the major players in the market. This will further facilitate our aim of being a market leader in small business insurance."
As for his transition from being the company's CFO to CEO, Joubert highlighted the benefits of having a supportive and competent roster, as well as the wealth of his experience with HCi and its parent Hollard Insurance Company.
He told Insurance Business: "Following my tenure as CFO, I have been fortunate to have the opportunity to carry out the role as interim CEO with the support and assistance of the current leadership team, which has been invaluable.
"As a qualified actuary, I am a numbers man, but I have also had the luxury of experiencing several other leadership roles within Hollard that helped me gain a broader understanding of the business. I have the support of a great team who are empowered to make decisions."
Read more: HCi announces new CEO
As ex-finance chief, whose credentials include time spent as Hollard's head of capital, Joubert enjoys detailed knowledge of the numbers that sit behind the insurer and what he called "the many levers available to leadership that can be adjusted and balanced to drive better financial outcomes."
Additionally, the new boss has learnt that many other considerations – such as risk, the customer, people, partner, and brand – apart from the financial ones, come into play when making decisions.
Post-pandemic, Joubert sees opportunity in further enhancing and simplifying what HCi does well for its key partners, given that the current crisis has shone a spotlight on the pace of digital change and need for innovative products and automated processes.
"In the future," he said, "we will continue to focus on improving our core products and service standards while appropriately transforming and automating our low-touch electronic platforms. This will enable us to grow the business further while remaining relevant to the customer and staying agile in responding promptly to the needs of our brokers.
"I see our success resting on a combination of well-designed customer propositions, robustly executed, and appropriately modelled in light of the regulatory changes. This will require the help of our brokers, while at the same time ensuring we appropriately manage the internal burden it places on our systems and staff."