Hail hits Canberra to increase insurance workload | Insurance Business Australia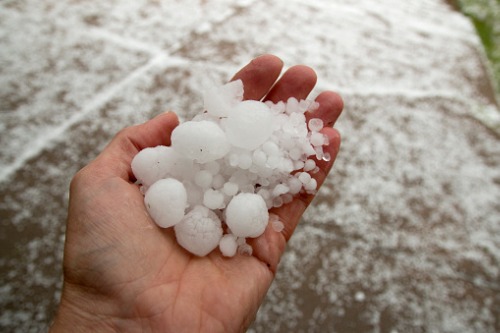 Hailstorms hit Canberra and parts of both Victoria and New South Wales on Monday with the resulting damage leading to an increased numbers of insurance claims, further stretching the industry amid the continuing bushfire crisis. Hail the size of golf balls and ferocious winds of more than 115 kilometres per hour resulted in more than 1,000 homes losing power and up to 2,000 calls to the Emergency Services Agency as more extreme weather hit Australia.
ESA Commissioner Georgeina Whelan said the damage to the ACT had been "quite considerable," with the areas most impacted including Belconnen, the city, the Australian National University and the inner south.
"The damage ranges from electrical threats and power lines that obviously have fallen over, right through to a lot of damage to sky lights in homes, pergolas being significantly damaged and of course flooding," said Whelan.
A specialist intelligence-gathering helicopter flew over Canberra in the late afternoon, conducting a damage assessment from the sky.
"A combination of aerial surveillance and our damage teams will be out there on the ground assessing and prioritising the tasks," Whelan said. "It will take us some time to get to all of those particularly challenging jobs."
A recent property insurance market loss estimate by PERILS put the 2018 hailstorms in Sydney and surrounding regions at $798 million. So what sort of effect on the insurance industry will the hailstorm damage have - especially during the ongoing bushfire crisis?
Paul Muir, founder and director of Compliance Advocacy Solutions, spoke to Insurance Business soon after the ceasing of the storm and believes that a number of factors will impact insurers dealing with the aftermath.
"It will be an end-to-end claims process – but hailstorms are normally easier to deal with (compared to bushfires) from an insurance perspective," he said. Physical damage that has been caused by hail is clearer to see while it is possible to find out which postcodes were affected by flooding associated with the storms.
"It is easy to see which postcodes have got hit by flooding, and to go and see if it is actually storm related damage," as opposed to existing damage or fraudulent claims.
One significant issue is just how much the insurance sector is already stretched amid the bushfires, and how well it can now respond to a new event.
"That will be an issue – just how many claims people are actually available," explained Muir. "I think the overarching issue I would be worried about is that given the hailstorms happened during the bushfire crisis, how is the insurance system as a whole going to cope?"
Muir, however, believes that even during the most strenuous times, affected clients should take some comfort in knowing that the insurance industry is well equipped to tackle events such as these on multiple fronts.
"Australia and the industry, during the summer season, is well geared up to deal with bushfires and storms," he said.