Insurance Business Awards: 2018 winners revealed | Insurance Business Australia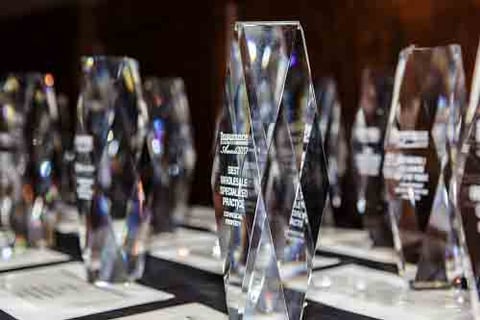 The Insurance Business Awards were held at The Westin Sydney on Friday with the best brokerages, authorised representatives, insurers and underwriters across Australia honoured for their hard work.
The inaugural event was attended by a full house of over 600 of Australia's top insurance professionals from across the country. Awards were presented in 25 categories recognising the work of authorised representatives, brokers, brokerages, underwriting agencies and insurers that are setting the standard in the industry.
Australia's favourite comedian Tom Gleeson was in the hot seat as MC for the night. Guests were entertained by acoustic band Luke Zanc Duo, who created a unique spin on classic tunes; and danced the night away to the funky tunes of the Gotham City Horns.
After much anticipation, Maria Parry from Austcover was revealed as the winner of the inaugural Insurance Business Australian Broker of the Year and Aon was named Insurance Business Australian Brokerage of the Year.
In a hotly contested category, Adam Ware from BJS Insurance Brokers, Gippsland, took home the trophy for the London Australia Underwriting Australian Young Gun of the Year, showing that the future is bright indeed for the insurance industry.
Finally, showing it continues to be the best, CGU picked up the Blake Oliver Consulting General Insurer of the Year award.
Congratulations to all of last night's award finalists and winners. Photos and video coverage from the event will be available next week at www.ibawards.com.au and in the June edition of Insurance Business.
2018 Insurance Business Awards winners:
Best Community Engagement Program - Insurer
Best Community Engagement Program - Broker
Winner: Adroit Insurance and Risk
Most Effective Internet Presence – Underwriting Agency
Most Effective Internet Presence – General Insurer
Underwriting Agency Claims Team of the Year
General Insurer Claims Team of the Year
Underwriting Agency BDM of the Year
K2 General Insurer BDM of the Year
Winner: Rebecca Gumm, CGU
Highly commended: James Pennetta, Vero
Best Customer Service from an Individual Office
Winner: Trade Risk
Highly commended: 20:20 Insurance Brokers
Young Gun of the Year – Independent (1-19 Staff)
Winner: Jonathan Ross, Aviso WA
Highly commended: Aimee Williams,
Austbrokers
Coast to Coast
Young Gun of the Year – Independent (20+ Staff)
Winner: Adam Ware, BJS Insurance Brokers, Gippsland
XL Catlin Young Gun of the Year - International
Broker of the Year – Independent (1-19 Staff)
Broker of the Year – Independent (20+ Staff)
Winner: Maria Parry, Austcover
Broker of the Year – International
Winner: Russell Boucher, Gallagher
SURA Broker of the Year – Specialist
Winner: Racheal Tumelty, Gallagher
Broker of the Year – Authorised Representative
Winner: Simon Feldman, Sound Insurance
Specialist Brokerage of the Year
Winner: BAC Insurance Brokers
Authorised Representative Network of the Year
Brokerage of the Year (1-5 Staff)
Winner:
CPR
Insurance Services
Lloyd's Brokerage of the Year (6-20 Staff)
JAVLN Brokerage of the Year (20+ Staff)
Highly commended: Centrewest Insurance Brokers
Gallagher Bassett International Brokerage of the Year
Winner: Aon
Australian Underwriting Agency of the Year
Winner: NTI
Highly commended: DUAL Australia
Blake Oliver Consulting Australian General Insurer of the Year
Winner: CGU
London Australia Underwriting Australian Young Gun of the Year
Winner: Adam Ware, BJS Insurance Brokers, Gippsland
Insurance Business Australian Broker of the Year
Winner: Maria Parry, Austcover
Insurance Business Australian Brokerage of the Year
Winner: Aon