LMI Group names new CEO | Insurance Business Australia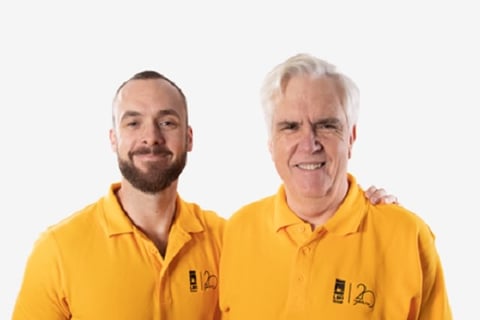 A major insurance industry service provider has named a new CEO this week, with the firm's former director stepping into the top job two years ahead of schedule.
LMI Group, which offers a broad range of solutions and services to the insurance industry, confirmed yesterday that Steven Manning (pictured above, left) will be taking on the CEO role – effective immediately.
Dr Allan Manning (pictured above, right), who spent 20 years at the helm of LMI and is largely responsible for building the firm from the ground up, will be moving into the role of executive chairman.
"Selfishly, while I will not be changing my work hours or commitment to LMI Group, or the group's many loyal customers, it does allow me to concentrate on the areas of general insurance I love," said Allan, who has worked in the insurance industry for almost half a century.
"In particular, I want to give back to the next generation of insurance professionals and the change will allow me to focus on education, mentoring, championing the industry, advocacy, technical and claims support and to spend more time on the charitable endeavours sponsored by LMI."
Allan also noted that LMI began planning this transition in 2011, with an eye to move Steven into the CEO role in 2021 – however, his progress has been well ahead of schedule.
"Steve has spearheaded the company's international expansion in the last five years and has demonstrated his strong leadership, innovation and strategic vision – all skills which are paramount to the ongoing success of LMI," said Allan.
"I have been so impressed with Steve's progress that I decided to offer the position to him, two years earlier than originally planned," he added.
Commenting on his new appointment, Steven said he's eager to maintain the same service level customers have come to expect while also pushing the firm forward.
"I look forward to building upon this wonderful foundation by not only bringing the same high level of attention to each and every one of our customers but to bring new and exciting offerings to the market," he said. "Watch this space."
Earlier this year, LMI was named Best Service Provider at the Insurance Business Awards and, speaking to Insurance Business last month, Steven said it was the company's drive to keep innovating and improving which sets it apart.
"We, as a company, are forever looking for areas in which we can offer further systems to assist the market," said Steven. "We tend to, when looking at a new project or offering, ask 'why not?' rather than 'why?' and it's certainly this attitude which has led LMI to the point we currently sit, with an extremely wide range of auxiliary insurance services to assist the industry."
Steven also told Insurance Business he was committed to maintaining and cementing the reputation that LMI has forged for itself over the years.
"I believe that our reputation of saying 'yes', or at the very least assisting the customer to find the right external resource, has led the many in the industry to make LMI one of their first points of call," he said.
"One of the best calls I received this year was a broker who called up asking for something and said; 'I don't know if you do this but you do everything else so I thought I would ask.'"