TAL determined to get vital message across to Australia's beachgoers | Insurance Business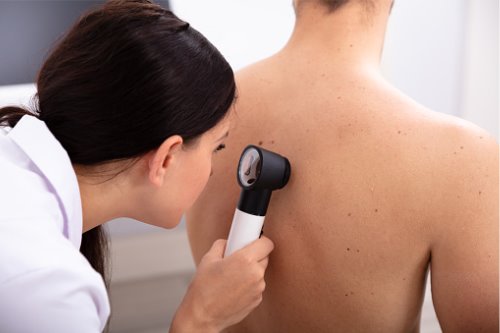 Large swathes of the country may have been hit by a downpour last weekend, but that does not deter from the fact that this Australian summer has been another period of unrelenting hot, dry weather. And with summers continuing to get hotter, and with climate change accelerating extreme weather, Australians are advised to lather up on the sunblock.
Now, one insurer is making sure we take precautions, by helping Australians check their skin for anything dangerous.
TAL, a leading Australian life insurance specialist, has just completed the fourth year of its national skin check initiative, TAL SpotChecker, having performed 750 free skin checks for both its own customers and the wider Australian public. The annual initiative is aimed at raising the awareness of the importance of skin checks, to encourage and enable more Australians to embrace skin safety and commit to regular checks.
TAL visited three states during the course of the summer months and provided skin checks by specialist skin cancer doctors for beachgoers. The doctors performed 287 skin checks at Bondi Beach, 216 at St Kilda Beach, and 247 at Cottesloe Beach, respectively. One in six of the people who received a skin check was referred for further testing.
Dr Sally Phillips, TAL's general manager of health services, said that the initiative was designed to deliver better health outcomes for all Australians by reinforcing the importance of skin safety and early detection of skin cancers.
"The annual program has continued to drive conversation around preventative health, and in particular regular skin checks all year round, to help tackle one of the nation's most common cancers," Dr Phillips told Insurance Business. "Over the past four years, TAL has provided more than 4,000 free skin checks. We're proud to have continued our commitment to driving awareness and action among Australians around skin safety."
Read more: GB releases new posters to battle skin cancer
"TAL SpotChecker was born out of TAL's annual Innovation Challenge, with the idea initially coming from a TAL employee," she continued. "The annual company-wide Innovation Challenge drives innovation from within the business by providing an opportunity for employees to put forward ideas to help TAL solve customer problems and make a real difference - the idea was chosen because it aligned well with TAL's own commitment to supporting preventative health."
But some of the findings from this year's campaign make for uncomfortable reading and offer a reminder of the dangers of excessive sun and the importance of healthy skin.
"The finding that one in five Australians (22%) aren't self-checking their skin for signs of skin cancer, suggests the importance of regular skin checks given the high incidence of skin cancer in Australia is a message that may not be getting through," Dr Phillips explained. Almost 90% of Australians are unaware that two in three people will be diagnosed with skin cancer in a lifetime while the self-checking of skin is not a common practice.
"At the beginning of last summer, 72% of Australians said they didn't know the four signs to look out for when examining their skin for skin cancer – a number that now sits at 64%," said Dr Phillips.
But why is this initiative of such importance to TAL?
"As a business, TAL cares about the health of Australia, during the good times and in the bad," Dr Phillips said. "We are committed to helping people live healthier lives by providing best practice prevention to everyone - we want to help our customers change their odds when it comes to their health by encouraging them to be more proactive."