Advisr CEO: "We want to do more in the industry" | Insurance Business Australia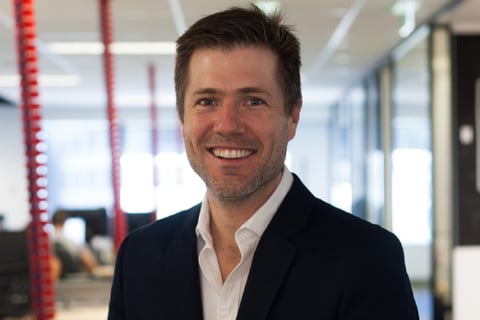 Five-year-old independent broker platform Advisr, which currently connects roughly 4,000 brokers with SME clients, has its sights set on growth – and with the Australian insurtech recently completing a seed investment round, there are prospects aplenty.
"We're very broker-focussed here," said Advisr co-founder and chief executive Andy Jamieson (pictured) in an interview with Insurance Business, "because that's where we started. But we see the ability to utilise our technology in other markets where there are agent models.
"We've already had interest from overseas in regards to exploring how Advisr could be utilised there. So, we want to just make sure we're giving that adequate time to explore those opportunities and work out where our product would really fit well and deliver value."
Of interest, noted the CEO, are the millions of insurance agents across Asia.
As for the broker listing function, Jamieson highlighted the fact that even insurance brokers from New Zealand, the UK, and the US have found Advisr and added themselves on to it despite the platform being a dot-com-dot-AU website. "There's that sort of opportunity as to how we internationalise," he said.
Additionally, Advisr can also white-label certain aspects of its technology for use by insurance companies. In fact, part of Advisr's continued development is the planned expansion of its platform-as-a-service offering.
"We've grown really quickly already, and we see key opportunities to grow even faster," stated Jamieson, who also serves as a board member at Insurtech Australia.
"We want to do more in the industry, connect with lots of the industry participants, and [spend] more time with brokers helping to educate them on how to best utilise Advisr to maximise their opportunities. For us, it's about enabling us to connect further into the industry. Sales and marketing at its core will be where we'll use those funds."
Without disclosing financial terms of the funding round, the Advisr boss added: "It's a significant amount that we've raised, which will give us a really good runway, and it puts an enterprise value on the organisation of between $3 million and $4 million."
According to Jamieson, the accelerated shift to digital has helped in growing Advisr further.
He told Insurance Business: "If you don't have a strong presence online, customers won't find you and won't connect with you. And brokers really understand that and now are seeing Advisr as the place through which to build that."
With more and more customers turning to online as their preferred channel, Jamieson believes Advisr's Google-searchable ratings and reviews play a role in enhancing the world of insurance broker referrals.
"Often, insurance broking is a referral business," he noted, "but the nature of referrals has changed. So, someone might say, 'Who should I use', and that customer now turns to online to validate that. So, we actually enhanced referral business through digital, and we've seen that shift happen and that will continue to accelerate.
"Secondly, Advisr is a platform that enables brokers to educate the market about their specific area of expertise and their knowledge. We see customers coming through to read, connect, and engage with that educational content, and education is a key way to build trust. If you read something and someone helps you solve a problem or understand something further, then often that leads to reaching out and connecting."
Advisr Jobs, meanwhile, is also proving to be a hit. Launched in February, the portal has already had more than 70 jobs placed on it, which Jamieson's camp sees as a good start.
"We're seeing really good take-up and we're hearing great stories of candidates finding roles through there and being successful applicants, which is really pleasing," said Jamieson, who describes the brokers using Advisr as the best in the industry.
"Candidates tell us that, as well as the brokerages that have gone through that process – they're actively telling us, 'Oh, this is great, we've had these applicants who have come through, they've been really high-quality, they're the right kind of people we're looking for, and we wouldn't have reached them any other way'."