Coordinated response required for coastal areas | Insurance Business New Zealand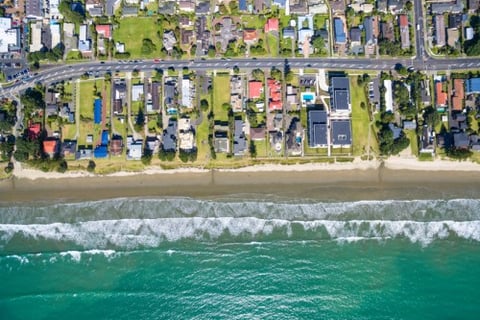 As climate change, particularly a sea level rise, threatens the country's coastal areas in a very real way, the question that comes to the fore is how to deal with the risk.
Already in 2015 a report to the Parliamentary Commissioner for the Environment found New Zealand has 43,683 houses within 1.5m of high tide and 8,806 within as little as 50cm. Now, the co-author of a report by Motu Economic and Public Policy Research, Ilan Noy - also a disaster economics researcher at Victoria University - stated that it is no longer sustainable for those houses to remain there.
The insurance industry, whose very survival is dependent on correctly anticipating risk, has warned about the uncertainty around this risk for years.
It's a particularly hot topic for Dr
Michael Naylor
, an insurance expert at Massey University, who strongly advocates an urgent "need for coordination between central and local government and insurers about where it would be unwise to construct new buildings or where risk has changed and what to do about it."
The view of Local Government NZ is that decisions need to be made in a consistent way and with adaptation required immediately, and that it should especially be taken into account that any actions taken will be precedent setters.
Some solutions, according to Naylor, include building improved flood defences, building or lifting houses above ground level, or red zoning land.
"Why wait until disasters occur before moving people," he queried.
Naylor added that red zoning land would require that inhabitants abandon their homes.
"And if homes are red zoned, government may need to step in to offer buyouts for homeowners who want to leave.
"The earlier decisions are made, the more time householders have to adjust."
The National Institute of Water and Atmospheric Research advises people to move away from the shore, while the Insurance and Financial Services Ombudsman talks to consumers and educates them as to the risk.
However, as both bodies know, and Insurance and Financial Services Ombudsman
Karen Stevens
can attest to, "some consumers and agencies steadfastly have their own view as to the correct course of action."
This was highlighted in the 2015 report which alerted the country as to the need to prepare for the impacts of a rising sea on its coastal towns and cities by Dr Jan Wright.
In the report Wright stated that perhaps the most difficult aspect is the impacts on people's homes, which for many are much more than financial security.
The difficulties inherent in the situation are already becoming clear as residents of affected areas promise to fight relocation all the way, while flood recovery officials state their intention to have yellow-stickered Edgecumbe houses fixed and habitable by Christmas whether insured or not.
Related stories:
Coastal hazards could cause "extreme poverty"
Time to ban new builds near NZ waterways?