IAG gets Shine's DVFREE Tick | Insurance Business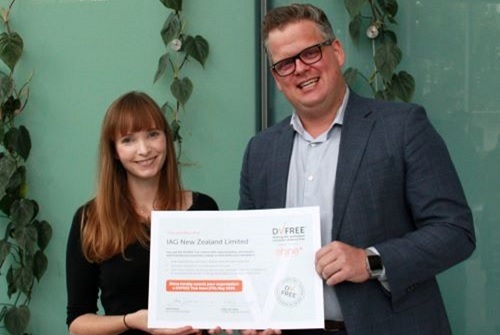 Insurance giant IAG New Zealand has been awarded Shine's DVFREE Tick, becoming the first insurer and fifth employer to receive the award.
According to IAG general counsel and executive general of external relations Blair Williams, the executive sponsor of IAG's DVFREE Tick work programme, it is an important part of making the world a safer place for IAG's people and its communities.
The DVFREE Tick has seen IAG create a new domestic violence policy and also saw key IAG staff trained as "first responders" equipped to deal with domestic violence issues and create safety plans for staff at risk.
Williams noted cases where IAG has supported its people who have been brave enough to ask for help. By working with Shine to achieve the DVFREE Tick, IAG hopes to make it more accessible and safer for people to come forward and know the support is there for them, he said.
"As the country's largest general insurer, providing insurance to more than 1.7 million Kiwis, we take our role in the community very seriously," Williams said. "To be recognised with the DVFREE Tick for how we support our people and their whānau is very humbling and a privilege and I want to thank Shine for the vital work they do for Kiwis.
"The business community has an important role to play in improving the safety and wellbeing of their people, and to be part of the solution to New Zealand's epidemic of domestic violence," Williams added.
Read more: AMI proposes closing branches across NZ
Meanwhile, Shine DVFREE advisor Holly Carrington said she is thrilled to welcome IAG to the DVFREE Tick family.
"As a collective force, employers can play a massive role in addressing New Zealand's epidemic of domestic violence," Carrington noted. "I have been so impressed with IAG's team who have paid attention to every detail to ensure they are doing everything they can to get this right and provide the best support possible for their people."
Shine is a New Zealand violence non-profit organisation, committed to creating a domestic violence-free workplace where staff can feel safe and supported.