NZ insurance industry unfazed by Cyclone Debbie | Insurance Business New Zealand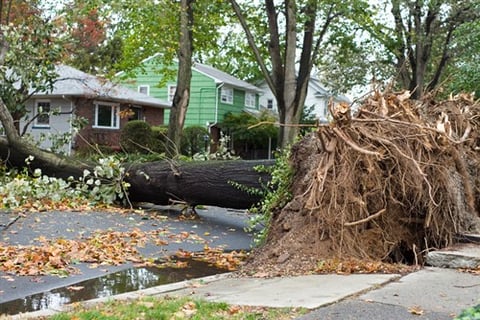 The media has been awash with stories and images of the damage caused by the remnants of Cyclone Debbie, which has already brought floods and landslides to North Island. Now it is making its presence felt on South Island, with Christchurch residents deploying more temporary water pumps as a result of the rainfall in one day than the norm for the whole of April.
Yet despite Central North Islanders being told to keep survival items nearby and a state of emergency being declared in Whanganui accompanied by
Defence Force, Red Cross and emergency officials helping to evacuate the town under water, the insurance industry and its brokers remain unfazed and on top of the situation.
And this is not because insurance claims are not pouring in as
Jimmy Higgins
, executive general manager of claims at
Suncorp
, can attest to after receiving 300 claims by Thursday morning, with more assuredly on their way.
Amelia Macandrew
,
AA Insurance
spokesperson, says the AA has already received more claims for this incident than for the floods in March.
According to
James McGhie
, managing director for
Apex
Insurance, it is business-as-usual though.
"We have a good claims team that sorts through claims quickly and efficiently," he says.
He adds that claims have not spiked notably and attributes this to increased claims over the past few months as a result of earthquakes in Wellington and building subsidence.
This sentiment is echoed by
Myles Noble
, head of insurer relationships and broker claims at
Crombie Lockwood
, who says the most notable observation he has made is that "assessor resources have become tighter in an already stretched situation."
For Pete Russel, general manager of the
Abbott
Group, it is also business-as-usual.
"The biggest inconvenience is contending with people who lodge claims − even though no damage has been sustained − with the idea of pulling them if need be," he says.
According to
PSC Connect
national manager
Dave Penfold
, his network of 30 brokers is coping well with the situation.
"We provide them with support as required but for the most part they're not overwhelmed with high call volumes and therefore are managing their client expectations well," he says.
"The media reports are very worrying though taking into account that as much as a third of the affected population may be underinsured or not insured at all."
Want the latest insurance industry news first? Sign up for our completely free newsletter service now.
Paul French, general manager for Willis Towers Watson Queensland, adds that as a result of all the disasters of late, residential premiums have become very expensive, with many people unable to afford them. However, he emphasises that on the positive side previous experience has developed the industry's ability to cope well with the situation.
"The insurance industry doesn't flail and flounder under the influence of natural disasters or big events as it has become used to them over the past 10 years," he says. "At Willis Towers Watson we have a streamlined centralised claims team to take first incident reports from clients, and thereafter the process flows smoothly."
Brokers agree that the true impact of the flood damage only becomes clear some weeks later, especially taking into account that property assessments can only take place under favourable conditions.
According to
Tim Grafton
, Insurance Council of New Zealand CEO, it takes about six weeks to understand the scale of the insured losses from extreme weather events.
"While these events place pressure on insurers, they have demonstrated their capacity to meet these challenges and look after their customers in the past," he says.
IAG
warns that Cyclone Debbie's impact will be more prevalent than the rain that flooded Auckland in March, and the heavy rain is not yet over. By early Wednesday morning the company had received about 100 claims for water damage sustained in Northland and Auckland.
Most of the claims to date have originated from the Auckland region, followed by Central North Island, Lower North Island and South Island.
Related stories:
Flood alert for people on North Island
Monthly claims cost of global disasters tops $7 billion