Full licensing: A smooth transition takes time | Insurance Business New Zealand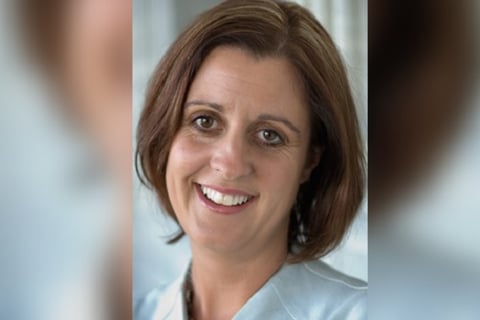 With just a few weeks left until the end of a year marked by unprecedented legislative and regulatory change, insurance advisers can now look forward to a well-deserved holiday break. But before we all close our office doors behind us, it's a good idea to think about the months ahead and have a return-from-holiday action plan ready to roll out.
Of course, for the most part, we don't know what 2022 has in store, and the past two years have taught us not to make assumptions. But what advisers do know is that the cut-off date for full licensing is approaching fast, with next year essentially being the last leg of the journey.
So, I'd like to acknowledge the road that brought us here and the signposts up ahead – the target dates, some tools available, and what recent FSPR numbers tell us about our sector. Let's start with the first point.
Target dates to follow
In October, the Financial Markets Authority (FMA) set the target dates for FAP full licence applications, namely June 30, 2022, for Class 3 applicants, and September 30, 2022, for Class 1 and Class 2 applicants.
We know all too well how fast time moves when competing priorities take over our plans. And by applying within these timeframes, applicants can ensure that their full licence is processed well ahead of the transitional licence expiry date (March 16, 2023).
The end-goal of the regulator, and we support it fully, is to avoid a bottleneck of applications towards the end of the transitional period. Applying early is the best way to remove the business risk of not obtaining a full FAP licence by March 2023, which could have potentially devastating commercial consequences for adviser businesses. What's more, once FAPs have addressed their compliance obligations, they can focus on growth and client experience, armed with a coherent vision and a robust structure.
How full licensing is progressing
According to the latest data, as at the end of October 2021, there were 112 approved full FAP licenses and 1,706 active transitional FAP licenses, for a total of 1,818 FAP Licences.
Most full FAP licences were issued in Auckland (49 licences), followed by Canterbury (17), the Waikato (14), and Wellington (10). For more details, check out the table below.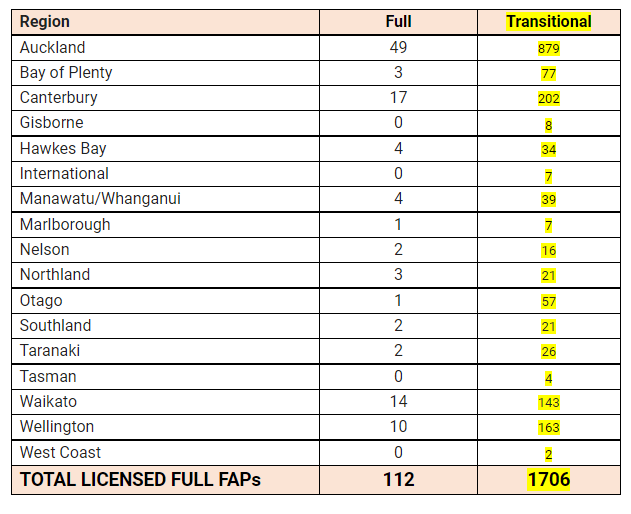 Not quite sure where to start?
For those who are not quite sure where to start, there's help available. We've been working closely with the FMA to ensure that our Financial Advice NZ members are 'in the know' with the full licensing requirements – and we'll continue to do so in the new year. And as part of our 'Bring in the Experts' webinar series, we have been hosting a multitude of industry experts, including FMA leaders, sharing information on a variety of topics relating to the new regime and its compliance obligations. Financial Advice NZ members can access previous webinars at all times on our members site.
In the meantime, as you may have heard, the FMA has recently released some handy self-assessment tools to help FAPs identify gaps within their compliance approach: visit the FMA's FAP page to learn more. January could be a good time for advisers preparing for their FAP licence to use these tools to review how they are tracking: a useful exercise in determining what areas of the business may need to be strengthened, and to move compliance plans forward with confidence.
A look back and a look ahead
Before we bid farewell to 2021, I'd like to acknowledge the road that we travelled together to date. We started the year with high hopes, but also many unknowns, and I'm happy to say that the advice sector has stood strong despite all the challenges and uncertainties.
What's also important is that the 'mass exodus' from the sector that some were anticipating didn't happen. Recent FSPR statistics have confirmed that most of the advisers who registered in 2010 have remained on the register. It's a vibrant profession, full of passionate and empathetic people who have Kiwis' financial wellbeing at heart. And it's been great seeing so many of them embrace the new regime as a catalyst to build consumers' trust and confidence in advice.
To more and more Kiwis across New Zealand, advisers are the confident voice on the other end of the line – the sense-makers in an increasingly uncertain world. More challenges and opportunities await around the corner, from the DHB delays through to rising mortgage rates and evolving underwriting rules. And I know that the insurance advice sector has the stamina to guide New Zealanders through it and towards success.
Like to try the self-assessment tools from the FMA?
Taking the form of a checklist, the self-assessment tools released by the FMA can be used to assess existing business practices and identify areas where compliance standards are yet to be fully implemented.
The first few tools focus on record-keeping, cyber security, and outsourcing arrangements – three of the seven standard conditions to apply for a FAP full licence. And more will be added in due course to the FAP page, fma.govt.mz/compliance/role/financial-advice-provider.
Always in advisers' corner
At Financial Advice, we're here to provide financial advisers with the tools they need to do their job at the highest level possible and build a better financial future for New Zealand. Visit financialadvice.nz learn more about our adviser support and resources.