Allianz Holdings begins hybrid working graduate programme | Insurance Business UK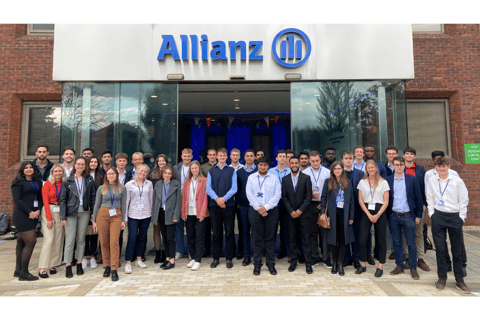 Allianz Holdings, which owns the principal insurance operations of Allianz SE in Great Britain, has commenced its first hybrid working graduate programme.
In addition to gaining wide-ranging skills and knowledge and extensive exposure to the insurer's UK business, the 37 participating graduates will also get to enjoy flexibility in line with Allianz's new "ways of working" model.
"We're really proud of our longstanding graduate scheme and didn't want it to be a casualty of COVID-19 restrictions," said Allianz graduate talent manager Jules Harrison. "We adapted the programme so that our 2020 and 2021 cohorts could work virtually, and we've taken the learnings from those two years so that our new intake will get the best of both worlds.
"However, it's been really exciting to start running more in-person events again, and we've noticed that many current graduates are choosing to come into the office to be part of the wider Allianz community. Regardless of virtual or in-person, we support all of our graduates, and the amount of talent the scheme continues to attract demonstrates how important it is."
For this year, the apprenticeship spans six schemes: Allianz rotational graduate programme, underwriting graduate programme, data, pricing, finance, and actuarial. The graduates, who are enrolled across all the schemes, will also study for professional qualifications.
"I'd like to say welcome to the 2022 intake and wish them all the best of luck as they begin their Allianz careers," said Harrison.