Insurance at centre of £52 million Garden Bridge project debate | Insurance Business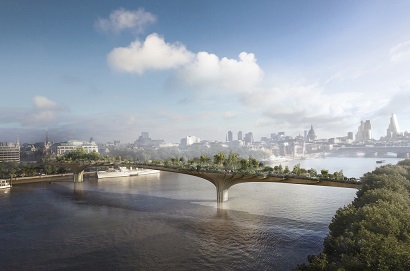 The Garden Bridge project over London's River Thames is certainly eye-catching – but the feasibility of its costs has been open for debate. Now however, the concept has received the green light – but with an insurance-related catch.
Theresa May's new government has now backed the project with Transport Secretary Chris Grayling confirming that it will underwrite the £175 million that's needed for the horticultural oasis.
However, requests have been refused to increase the amount of underwriting "insurance" needed for the project – the Garden Bridge Trust wanted to raise the figure to £15 million but this has now been kept at £9 million. As such, the pressure is on trustees to increase their fundraising efforts to ensure the project remains on schedule.
In total, the project needs to raise £52 million – should that money be found then the masterpiece created by Thomas Heatherwick should begin later this year.
However, a report in the
Evening Standard
suggests that behind the scenes trustees have been urged to "pull their socks up" with their fundraising in order to ensure there is no delay that would ultimately increase costs further.
According to the publication, former mayor Boris Johnson said the project should have no troubles raising the money stating that "there's no difficulty raising money in London – you just have to shake the tree and catch it."
Related Stories:
Government OKs Royal London's controversial office expansion