Mosaic Insurance celebrates 100-employee milestone | Insurance Business UK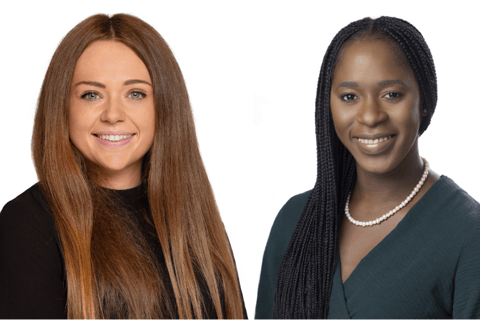 Mosaic Insurance has hit its 100-employee milestone with two new hires.
The specialty insurer entered the market in February 2021, and, barely two years in, it has already managed to expand in Bermuda, London, New York, Chicago and Toronto – with more offices to open in Frankfurt, Dubai and Singapore later this year.
The 100-employee honour is split between Emma Denny and Derrieka Johnson (both pictured above), who join Mosaic Insurance in London and New York, respectively.
Denny is named the assistant vice president for cyber underwriting, supporting Mosaic's growing international cyber unit. Earlier in her career, she worked at Ascent Underwriting for five years before moving to AXA XL as a member of the London and Lloyd's cyber team for a year.
Meanwhile, in New York, Johnson is hired as a financial accountant, supporting Mosaic's accounting and financial reporting functions. Prior to joining Mosaic, she was a financial reporting analyst at Glencore for four years.
Read next: Mosaic Insurance installs board chair
There's no doubt that Mosaic Insurance is moving at lightning pace. Another one of its most recent developments includes appointing financial services executive Caroline Foulger as chairman of the board in June.
Needless to say, co-CEO and co-founders Mitch Blaser and Mark Wheeler are thrilled to have reached this milestone in just 18 months.
"Every employee brings a terrific diversity of ideas, perspectives, and backgrounds to Mosaic that further energizes our culture," Wheeler said. "We welcome Emma and Derrieka on board –they're joining an exceptional team."
"It's a remarkable milestone and a cause for celebration at this point on our exciting journey," Blaser said. "When we started, the vision was to attract a team of highly talented experts who would set this company apart, and we're doing that across business lines and geographies. We're proud of our team, and it's really only the beginning."