NDI reveals outlook and Brexit plan following London team's move | Insurance Business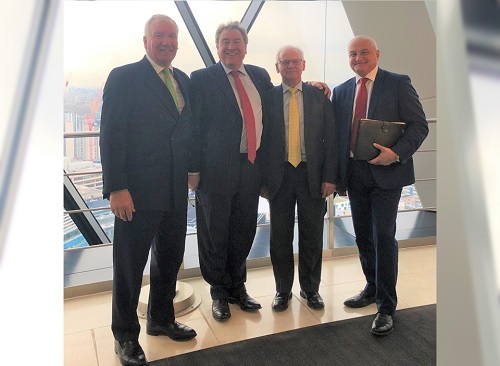 NDI Insurance & Reinsurance Brokers, which was formed by chairman Peter Greengrass (pictured, second from left) in 1995, has shone a spotlight on what's to come ahead of its silver anniversary.
First off, the Norwich-headquartered Lloyd's broker believes it is on track to double turnover to £4 million by the end of 2019. Contributors to this outlook include last year's expansion in Argentina as well as the launch of specialist division Takaful & Retakaful Ltd.
Meanwhile the group's London team – which has direct access to Lloyd's and the London markets – has relocated to the iconic building The Gherkin.
"Our move into The Gherkin in the capital's financial sector is a strategic move for our business due to our international presence and clients are enjoying visiting the UK's most recognisable building from across the world," noted NDI managing director Chris McManus (pictured, furthest right).
As for what lies ahead for the rest of 2019, McManus said they will be recruiting brokers in the summer and also rolling out new products.
In addition, NDI is gearing up to establish a presence in Malta as part of the firm's Brexit strategy. The CEO cited the island-state's proximity to Italy, Africa, and the Middle East as among the reasons for the pick.
"I am delighted to celebrate our 25th anniversary and year-on-year growth which demonstrates the hard work of our team and our strong business relationships developed over the years," added McManus, who also pointed to "a very successful" first quarter.