Thirty join Allianz UK's 2019 graduate programme | Insurance Business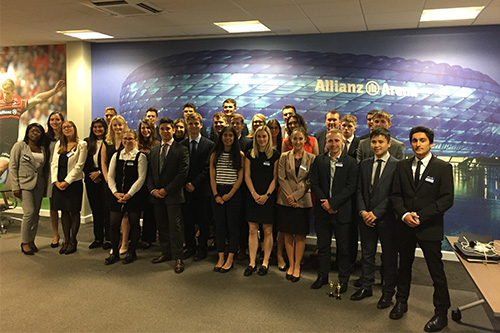 "We're really proud of this scheme and the amount of talent that it attracts."
Those were the words of Allianz Insurance Plc graduate talent manager Jules Harrison when the insurer welcomed its graduate intake for 2019. Thirty new graduates (pictured) have come onboard to gain extensive exposure to Allianz's UK operations as well as wide-ranging career skills.
The graduates are enrolled across the actuarial, underwriting, finance, IT, claims, and management trainee schemes. This year Allianz incorporated data-driven technical underwriting as part of the training, as it acknowledges the growing importance of data and pricing skills in addition to traditional underwriting methods.
The programme, which also delves into core professional skills, will see each graduate study for a relevant professional qualification such as CII, CIMA, ACCA, and FIA.
"More than 500 graduates have joined the Allianz programme since it began in 2000 and many remain with the business today, which really demonstrates the value of investing in our people," said Harrison.
"I'm delighted to welcome the 2019 intake and it's particularly pleasing that eight of our former summer interns will be among them. The experiences they will gain over the next few years will be invaluable and we wish them the very best of luck as they start their placements."
Meanwhile, applications for the insurer's 2020 graduate and internship programmes are now open.