Aston Lark-Howden – a merger, a rebrand and what's next? | Insurance Business UK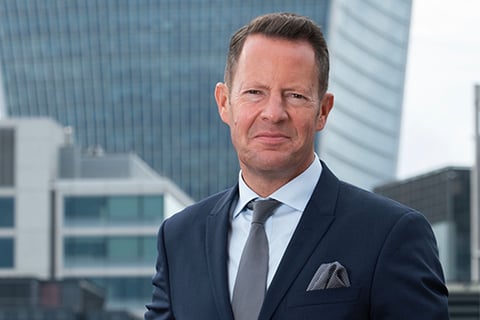 You might think that news of a broker's acquisition might slow down the number of prospective vendors looking to discuss a potential deal. But this has not been the case for Aston Lark, which since the announcement that it is due to become part of Howden, has only seen these market conversations increase.
It makes sense, suggested Aston Lark's group CEO Peter Blanc (pictured), as the key concern that brokers considering selling their business may have about private equity is the question mark over what happens next. During preliminary discussions, a broker who is very happy with the direction proposed under new ownership may well be worried that, in a few years, the group could be sold and they'll find themselves operating under a new banner. Being able to give a potential vendor the peace of mind and clarity that comes with having a secure 'home' has a tangible benefit.
"Now, we can paint a really clear picture that we're going to carry on as we are," he said. "We're going to rebrand as Howden but, fundamentally, we're going to carry on doing what we're doing. So, come and join us and you will know exactly where you're going to be for the next 20 years plus."
Read more: Aston Lark announces first acquisition of 2022
It's a message that has resonated well across the broking market, as evidenced by Aston Lark's streak of announcing two acquisitions in the first week of January alone. The deals, which were finalised at the back end of last year, are a taste of what is to come on that front as, in addition to having so many early conversations on the go, he said, the group has several more deals in due diligence.
It's not just on the M&A side that the Howden deal is already reaping benefits, Blanc said, as the global powerhouse promised by the union of Howden, A-Plan and Aston Lark has already proven itself as a positive for clients as well.
"We've already won business because of being part of Howden, which is lovely to see," he said. "There was a large construction company [opportunity], where we were up against Marsh, and Marsh has got fantastically well-qualified construction people. The client asked us to give full details and CVs of all our senior construction folk and, of course, now we can actually lean on Howden and say, 'OK, here's all these top-notch Howden construction guys'. And it was enough to win the day. That's a great living and breathing example of how it will help us, being part of Howden."
Read more: Howden announces UK acquisition
Aston Lark has already hit the ground running in 2022 and looking to what the rest of the year has to hold, Blanc highlighted that underpinning all the group's activity is the integration process with Howden. Right now, the wait for regulatory approval is on, he said, and once that happens work can really begin. At the moment, Blanc, Howden's David Howden, and A-Plan's Carl Shuker are putting their heads together to visualise exactly what this broking powerhouse will look like.
It's all preparatory work for when they get the official go-ahead from the regulator, he said, but it's "good fun" to be part of that process. Most importantly, however, that planning process is reassuring for all the team's staff as it cements that this is a growth play, not a cost-cutting play. The focus is on looking at new ways to grow the business – whether that's via acquiring talent, finding teams, making acquisitions, launching new schemes, developing digital sales tools, or digitising some schemes and facilities.
"In the meantime, we've got plenty of acquisitions that are already in diligence that we hope will complete over the course of the next few months. We're rebuilding the pipeline for future acquisitions so we're having lots of discussions with brokers now about potentially joining us later in 2022. We're really keen to hear from more private medical brokers that are looking to join us and we're really keen to hear from any other specialist brokers to talk about how they might become part of the group."
One of the central ways in which Aston Lark differentiates itself from other brokers, Blanc said, is by being able to look after all of a client's general insurance needs - from private car and household all the way up to big corporate business, including global business - but also being able to look after their employee benefits all the way from individual private medical right up to big corporate pension schemes. As the group has grown and brought on so many new businesses and teams, it's becoming easier than ever to achieve real cross-selling opportunities.
"So it really is business as usual," he said, "in so far as all the Aston Lark team will be focused on looking after existing clients while also trying to win new clients. Our M&A team will continue doing the great work they do, looking to bring in businesses to join Aston Lark. The leadership team will be spending a lot of with the Howden and A-Plan leadership team, working on plans for what we can do together once the actual completion happens. There is lots to do and never a dull moment. And in the meantime, we just crack on with it, looking after our clients."