Peter Blanc on how the "stars just aligned" to make the Aston Lark-Howden deal happen | Insurance Business UK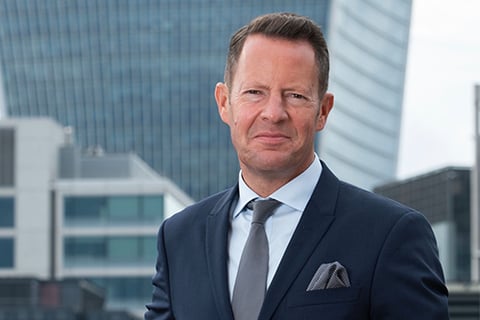 Last week's revelation that Aston Lark was set to join forces with Howden and A-Plan to create a UK broking powerhouse set heads spinning across the insurance profession and the excitement has yet to die down for Peter Blanc (pictured), group CEO of Aston Lark and his team. They're all still in that stage where they recognise that opportunities stretching ahead are boundless, he said in conversation with Insurance Business, and he has been delighted by the positive reception the deal has generated across the market.
Read more: Howden snaps up Aston Lark in giant transaction
The initial reaction of a lot of people was that they did not see it coming, he said, but in reality, the transition makes so much sense. Sitting between Howden with its offices around the world and its footprint in the corporate, big-ticket space, and A-Plan, with its personal lines, high street and digital imprint, there is Aston Lark doing everything in the middle needed to complete the picture.
"And by bringing it all together, we become this full-spectrum broker able to do everything from an individual's private car and household, all the way up to major corporate – as well as literally everything in between, across personal lines, general insurance, life, pensions and private medical insurance. I'm pretty sure we will have the broadest-spectrum offering of any broker, which is really exciting. People are saying it's a genuine gamechanger and it is, because it's giving us all sorts of opportunities which will be a lot of fun."
At the core of the deal was a strong sense of the values and ethos shared by the UK-headquartered broking groups, Blanc said, as reflected by the fact that both are employee-owned businesses. Together, Howden and Aston Lark will make up one of the biggest employee-owned businesses in the UK with over 2,000 employee shareholders out of a combined international workforce of around 10,000, which makes him very proud.
Read more: Aston Lark Ireland CEO on road to becoming the broker of choice
The deal will also see very little clash of operations, as Howden has a limited presence in Ireland, which will empower Aston Lark Ireland to carry on its organic and acquisitive growth trajectory. Meanwhile, he said, the vast majority of the group's locations around the UK will be unaffected by the deal, and where there is overlap in the London Market or other regions, it is an opportunity for the businesses to join together and access a greater pool of resources.
Blanc also outlined the fortuitous turn of events that led to the evolution of the deal, highlighting how Hg Capital who had first made his introduction to Bowmark Capital in 2014 were the ones who did the deal to bring A-Plan into Howden. It was through Hg Capital that he got talking about opportunities with David Howden and Carl Shuker, whom he had already known for a long time.
"It all came about through ongoing chats with Carl Shuker who I'd been talking to for a long time, at a high level about how interesting it would be if A-Plan and Aston Lark got together, as I've always thought that [our businesses] have a very similar ethos and culture," he explained. "And separately, I was talking to Howden about how it seems to me that UK retail is an area where they could be stronger. And, as they say, the stars just aligned and we ended up having a conversation just a few weeks ago. One thing led to another and before we knew it, there we were, deal done and now we're just cracking on."
It is exciting times for the businesses involved in the deal, Blanc said, and the entire Aston Lark team is looking forward to what the future holds. He noted that, understandably, everybody was initially shocked by the deal, as it came only two years into the group's journey with Goldman Sachs, but the success of those two years meant the time was right for the business to get off the private equity "rollercoaster" and find a long-term home to serve as the foundation for its continued growth ambitions.
Aston Lark's journey has always been defined by three key growth areas – acquisitive growth, organic growth, and talent development and retention. That remains the case, Blanc said, and the group will carry on doing what it's best at. All kinds of exciting M&A activity is on the horizon, none of which will slow down as the deal goes through the regulatory approval process - as proven by Aston Lark's 24th deal of the year, announced yesterday. Post-approval, there will be time to think about branding changes, he said, but for now, the market can expect to see plenty of deals bearing the Aston Lark name.
When the acquisition is complete, Blanc believes it will only strengthen the group's value proposition for brokers considering selling their businesses, as a shared concern among so many entrepreneurs is the long-term survival of their business. Now that Aston Lark has found its "forever home", incoming firms can take comfort from that and benefit from the stability that offers.
"And I don't think anybody actually likes big company culture," he said. "And I mentioned to David Howden that it was a concern of mine and he said, 'yeah, I couldn't agree more. The last thing we want to be is a 'big company'.' So, it's funny but we had exactly the same outlook - we want to be a big company that looks and feels like a small company because that's what everybody wants to work for."
Going forward, the key areas of focus for Blanc and his team, in addition to making sure that the right kind of businesses continue to be welcomed into the group, will be on ensuring the smooth and sensitive combination of Howden, A-Plan and Aston Lark.
"I'll be gutted if we lose so much as a single client or a single member of staff through the integration process," he said. "We've got the emotional intelligence to really listen to people and to make the right decisions around integration so that we end up with an incredibly strong and happy business… And it has all been good fun. It's a case of three really nice businesses coming together to make something even better. So, one plus one plus one will hopefully equal more than three, all being well."