Digital platform Go-Insur recognised for work with marine start-up | Insurance Business UK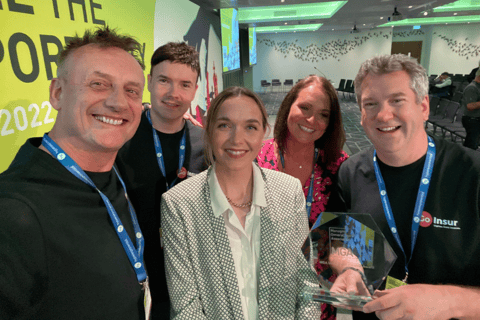 Digital insurance platform Go-Insur received the MGA Initiative of the Year Award at the
Managing General Agents'​ Association (MGAA) annual conference last week. The award was for Go-Insur's work for London market MGA start-up Vessel Protect.
The award recognises product innovation and market solutions that benefit distribution and carriers in a profitable and efficient manner. Olympic gold medallist Victoria Pendleton (pictured above with the Go-Insur team) presented the award.
Vessel Protect's digital initiative, powered by Go-Insur, has had a positive impact on its war risks business, offering brokers the convenience of instant quoting and binding of policies, anytime and anywhere.
The initiative allows brokers to transact K&R risks in two minutes. Equivalent risks traded traditionally have turnaround times of three to four hours, and transactions are limited to working hours with the additional challenge of time zone complications, Go-Insur said.
"Big congratulations to the Go-Insur team on their success at the MGAA Awards. This is excellent news and we're absolutely thrilled," said Chris Goddard, CEO of Vessel Protect. "It is a testimony to the amazing efforts and dedication the team have given into making our vision a reality. We could not be happier in picking such an incredible partner. This is only the start for our digital roadmap, and we look forward to continuing to work with Go-Insur to innovate and drive change in our industry."