It's a question for the ages: which state holds the dubious distinction of housing America's worst drivers? Just in time for the increase in Easter holiday traffic and related accident claims,
CarInsuranceComparison.com has the answer
.
By trawling through National Highway Traffic Safety Administration statistics on fatalities, failure to obey traffic signals, drunk driving, ticketing and careless driving, researchers were able to definitely label Louisiana drivers as the worst in the nation.
It seems the South has a bit of a problem, as drivers in South Carolina, Mississippi, Texas and Alabama followed not far behind.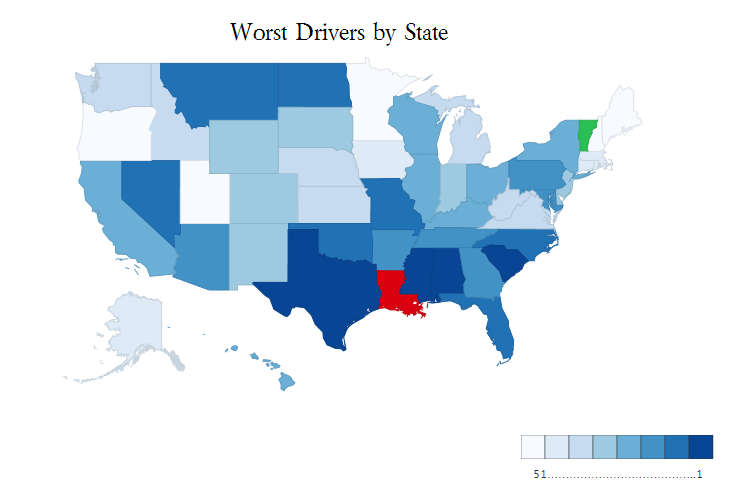 New Orleans insurance agent Allen Bordeaux said he's not surprised by the figures.
"It seems it's always pretty much been this way as far back as I can remember," Bordeaux said. "I hear that drivers here a little bit more adventurous than in other places. They tend to run yellow lights regularly and things of that nature."
Bordeaux said this lack of attention to detail is reflected in the policies he sells, with Louisiana being "at the bottom of the barrel for a while, as far as rates go."
"It's relative to where we live, the condition of the highways and streets," he said. "It probably also has something to do with the amount of people trying to get around every day."
Conversely, drivers in Vermont, Utah, New Hampshire, Minnesota and Oregon are among the best behaved, according to CarInsuranceComparison.com's analysis.
Jill Palbot, an auto insurance producer in Provo, Utah, said the analysis rang true for her.
"It's hard to say without any experience with other states, but I think the drivers around me are good drivers," Palbot said, adding that the low number of accidents in her state was reflected in typically low auto policies in Utah.
The report comes as holiday traffic heats up and almost a third of drivers report becoming more aggressive on the road when yuletide stressors come into play, according to a recent report from
State Farm
.
"The pressure of the holiday, the pressure of having to find something and running all over to find it and all of those things would tend to distract them," David Brown, a University of Alabama professor who studies holiday traffic told the Washington Post. "Their mind is on other things, and the next thing you know they're pulling out in front of somebody."
In preparation for the increased holiday traffic, accidents and insurance claims, the National Association of Insurance Commissioners recommends producers go over existing auto coverage with clients, including liability limits and protection against injury and damage.
Image Source: CarInsuranceComparison.com
You may also enjoy:
"Blue-collar workers pay more green for auto insurance: Report"
"3 non-driving variables that raise auto insurance costs"
"The 7 most expensive moving violations in auto insurance"