Motorcycle thefts: The most stolen models and hot areas for crime | Insurance Business America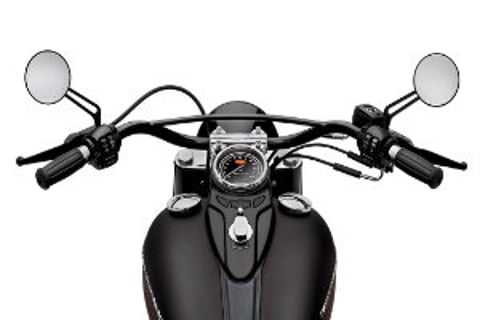 Producers with clients who ride motorcycles designed by Honda, Yamaha or Suzuki may want to be on their guard. So may those representing bikers living in Florida or Texas. And the time to be especially wary for all these groups? July.
That's what a look at 2012 motorcycle thefts has taught the National Insurance Crime Bureau. In a recent report, the NICB analyzed data from bike thefts across the country, including model, make, and year, as well as when and where the bikes were stolen.
Based on this information, insurance rates—as well as the importance of having an appropriate insurance policy—may fluctuate for people in certain areas with certain bikes.
The most stolen motorcycle makes
2007 Suzukis are sporting the biggest proverbial target for thieves, with 1,179 of the bikes stolen last year. Not far behind are 2006 Suzukis, and 2006 and 2007 Hondas.
Yamaha makes an appearance in the number five slot, with 885 2009 Yamahas stolen in 2012.
The three models—Suzuki, Honda and Yamaha—comprise the top 10 motorcycle thefts, with years ranging from 2005 to 2009. Altogether, they account for nearly 20% of total thefts. Kawasakis, Harleys and Vespas fell further down the list in the top 15.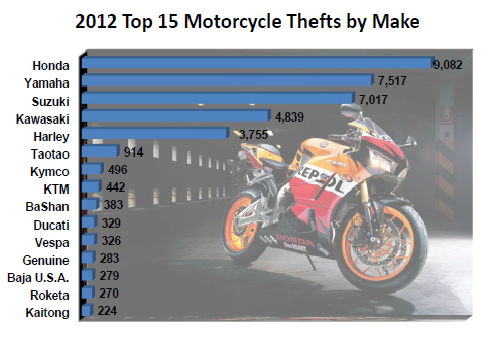 The biggest hotbeds for theft
Of the 46,601 motorcycle thefts in the US in 2012, 13% took place in California. Florida made second place, representing 9% of all thefts, while 7% took place in Texas. North Carolina and Indiana round out the top five, with 6% and 5% of thefts, respectively.
By contrast, motorcycle owners in Vermont, North Dakota, South Dakota, Wyoming and Alaska are relatively safe for bikers. All five states represented less than 1% of motorcycle thefts in 2012.
The data did not change markedly from 2011 to 2012, the NICB noted.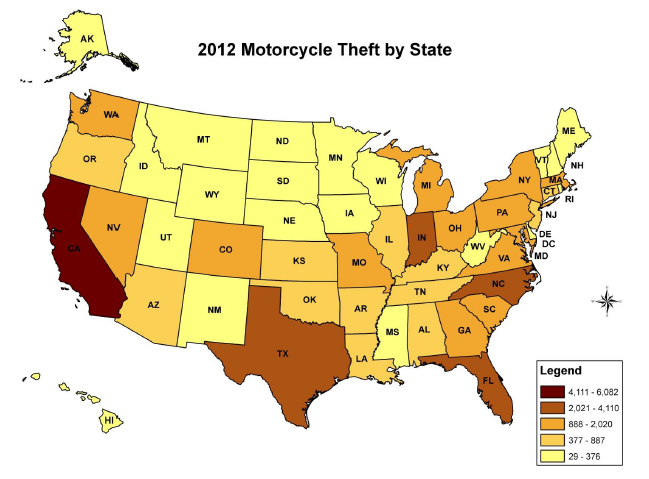 When to expect peaks in crime
Unsurprisingly, most motorcycle thefts occur in warmer months when biking is a more palatable mode of transportation. July saw the most reported motorcycle thefts, with 5,529, followed by August with 5,290 and June with 4,765.
Thieves were least active in February, when only 2,089 motorcycles were stolen. December and January also saw fewer theft reports.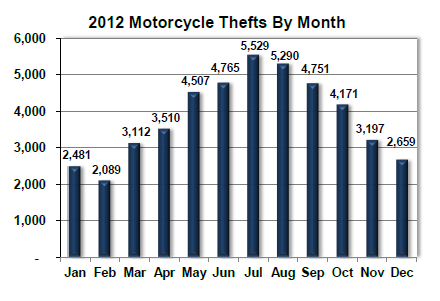 The good news?
Since 2010, motorcycle thefts have been on the decline. While 2011 to 2012 represented just a 1% decrease in thefts, 2010 to 2011 saw a 7.5% decline.
Additionally, certain policies are designed to protect a biker against motorcycle theft. Often sold by auto insurance companies, comprehensive coverage pays out when a bike is stolen. Rates can vary considerably, but are affordable for most bikers.
According to Olvier Shami of Motorcyle USA, choosing the right policy is vital for producers working with bikers. That's a decision those who specialize in bike insurance are best equipped to make.
"The ideal insurance agent is one who has witnessed first-hand the mess that the wrong insurance creates when it's truly needed," Shami said.