Climate activists stage Father's Day protest outside Lloyd's of London HQ | Insurance Business America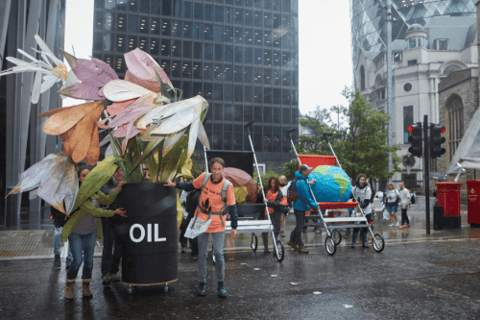 Activists staged a Father's Day-themed protest outside the UK headquarters of Lloyd's of London in a bid to encourage the market to refrain from insuring fossil fuel projects, such as the Adani coal mine in Australia.
Read more: Insurers continue to divest from coal industry – report
In keeping with the Father's Day theme, protesters, organized by activist groups Mothers Rise Up and Parents For Future, delivered a giant oil drum of dead flowers and an oversized Father's Day card to Lloyd's chairman Bruce Carnegie-Brown in a direct appeal to "stop Lloyd's legacy of climate destruction and help protect all our children's future."
The two groups are part of the Insure Our Future campaign, which brings together over 30 organizations to pressure insurance companies to halt coverage for coal, oil, and gas businesses and support the transition to clean energy.
While insurers such as AXA and Swiss Re have already stopped insuring coal, tar sands, and Arctic energy due to their climate impacts, the campaign said that Lloyd's won't stop providing cover for such projects until 2030 and has no plans to exit oil and gas.
Lloyd's currently insures around 40% of the global energy market.