Revved up auto insurance for supercars | Insurance Business America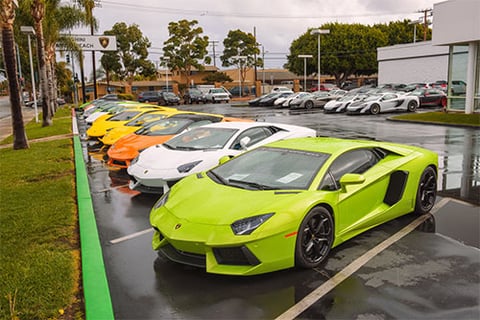 Imagine being one of the few lucky supercar fans to own a Bugatti Chiron. It has been described as a king among supercars – a fitting title considering its top speed of 261mph, its market rarity (only 500 were released for the first generation), and its astronomical price tag of around $2.6 million. It's not a vehicle that owners want to leave parked on the street overnight without insurance.
With keys to such a valuable asset, it's essential for high net worth car owners to partner with the right insurance carrier. There are certain auto insurance coverages that high net worth carriers are able to offer insureds that the standard auto markets simply cannot list on their dockets.
Charlie Graham, national high net worth business development executive at Orchid Insurance explained: "High net worth carriers, like Chubb and AIG, do not compromise when it comes to providing auto insurance policies with coverages and services that are needed when protecting some of the most unique and valuable vehicles. For example, these carriers will provide high liability limits, often up to $1 million, compared to middle-market auto carriers, who might only offer $300,000 in liability limits.
"They would also offer an optional coverage called agreed value coverage, which means the vehicle owner agrees what the car is worth when the policy is written. If the vehicle is stolen or totaled, the insurer will write a check for that agreed value amount, regardless of the car's age or mileage. If it's a vehicle that the client thinks might appreciate in value over time, the carrier might ask them to get a periodic appraisal in order to bump up the agreed value coverage. It's a really important coverage option for someone with a high-value car."
In the nightmare scenario that a Maserati driver or, perish the thought, a Bugatti Chiron driver gets into a road accident, they will likely need a level of service that a small mom and pop repair shop simply can't provide. Additionally, the technology behind supercars and high-value vehicles today is extremely complex, and any downgrading would risk ruining performance, Graham pointed out. Recognizing this, high net worth carriers like Chubb and AIG are resolute in only using original manufacturers' parts for repairs.
A further benefit of insuring with a high net worth auto insurance carrier is that when the vehicle needs repairs, the vehicle owner is often allowed to choose the dealership or repair shop they take their car to. If they don't have a preference, high-value auto carriers often have a list of trusted repair shops that meet specific standards and will not cut corners when replacing parts. In the lower-value, standard auto markets, policyholders are often told off the bat where they need to take their cars.
"Whether you are a single collector car owner or have a multimillion-dollar collection, you can benefit from the exceptional coverage and service provided by a high-value auto carrier," Graham told Insurance Business. "In addition to the coverage that's provided in the policy, these carriers work closely with the client to proactively address any exposures that may threaten the value of their asset. The client can take advantage of the network of specialists that these carriers have, including appraisers, car transport companies, or vintage vehicle restorers.
"These carriers can also advise on the proper design and maintenance of a policyholder's vehicle storage facility. At Orchid, we have a number of insureds whose vehicles are stored in a separate location, so these carriers can help to advise on state-of-the-art technology to detect potential hazards to those vehicles. They can advise on the best method for moving a valuable car collection from one location to another, and they can help with risk assessment. There are a number of services that are available in addition to the excellent coverage that's provided in their policies."